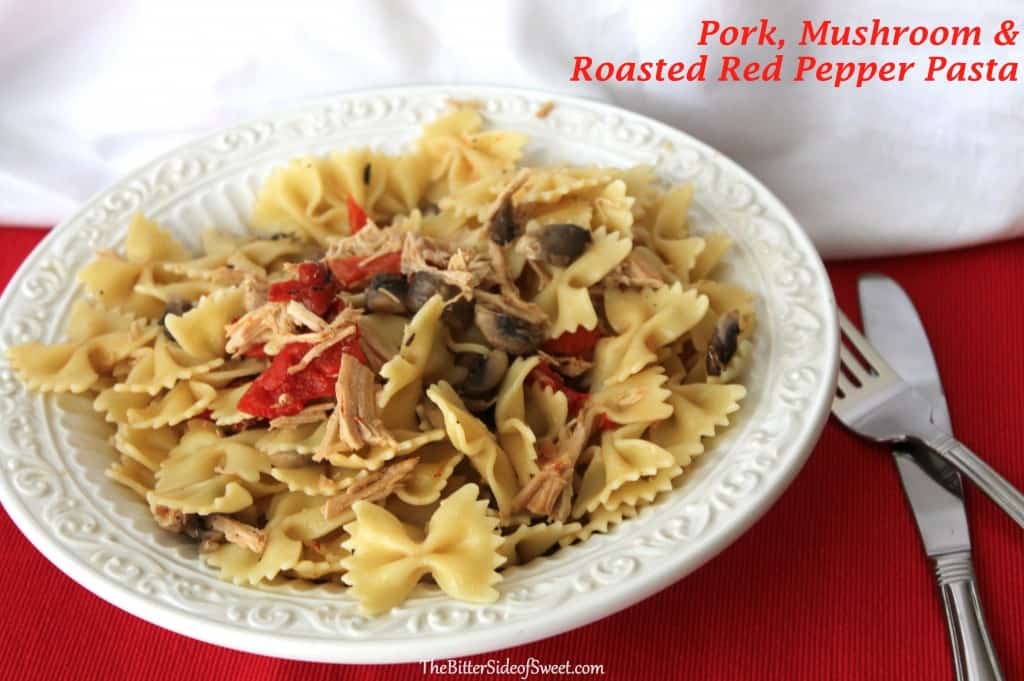 What's for dinner? Pasta! Pasta is a great quick dish to make for dinner. What is great about this recipe? Well let me tell you! You can take two great dishes and combined them and have two nights of great food. Here's how…..
So I started off by going over to Shugary Sweet's by Aimee. Great site with great recipes, you should check it out! I have seen over the last couple of months that she did some recipes with pork. I hope she doesn't mind me sharing with you guys today a link to her Balsamic Glazed Pork Tenderloin. That is dinner on night one. It helps us get to dinner on night two. This pasta!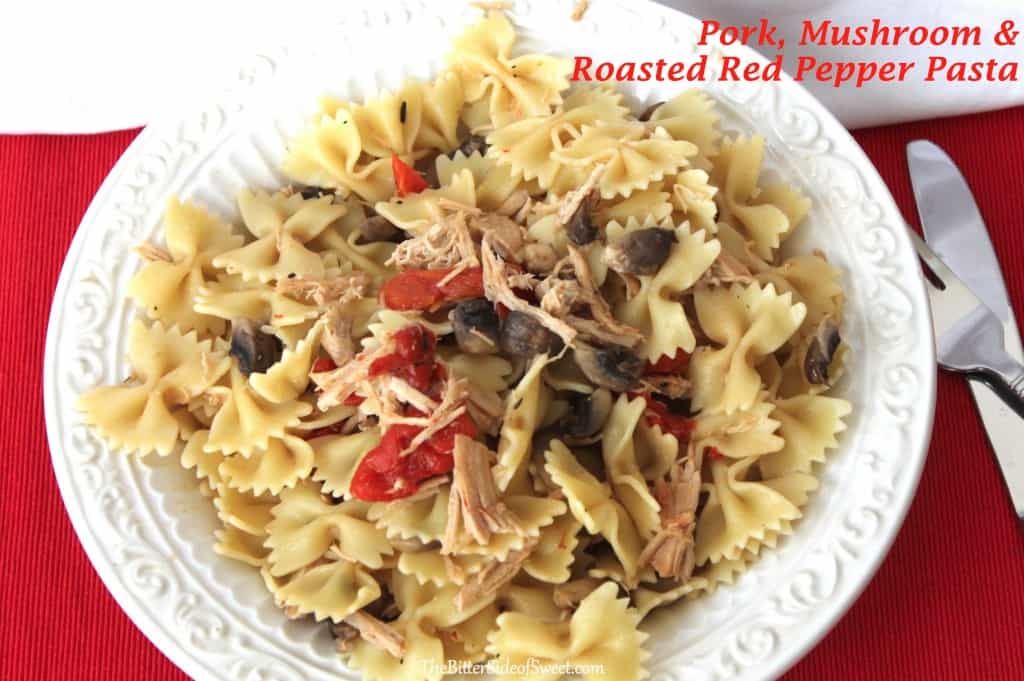 So I had this tenderloin in my freezer. I knew I wanted to make it in my crock pot because I had not used it in a while and it helps make dinner easier! So when I found the recipe I knew I wanted to use that as my guide to cooking my tenderloin. I didn't glaze the tenderloin because I knew I would put it over pasta. I just did the first steps by rubbing it with seasoning.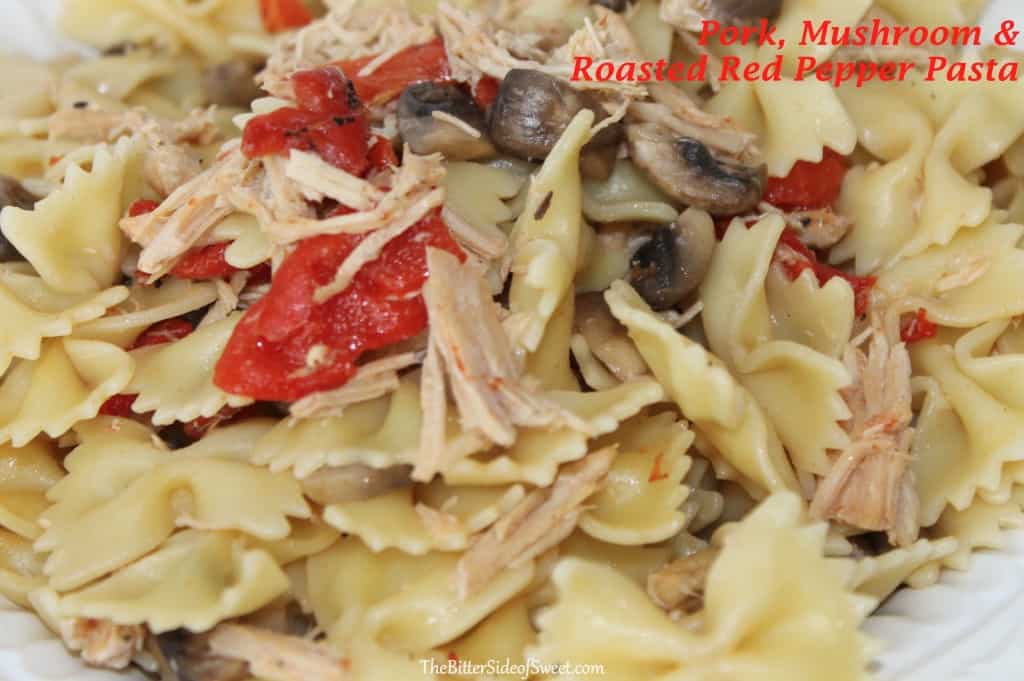 So it turns out to be a really good tenderloin and I bet oh so much better with that glaze! You should totally try taking your leftovers and throwing over pasta. It makes like the best dishes ever. It also makes it quick and low maintenance. Also you are not having to try to come up with new dinner meals every night, especially if your evenings are as busy as mine are!
The roasted red peppers I think were my favorite in the pasta. They were combined with garlic and it kicked up the flavor of this pasta to a whole new level! You can see that this is so versatile too that you can pretty much just add what vegetables you and your crew like to make it more compatible with your taste. I sautéed my mushrooms with onion, which I could eat that straight from the pan, then added the red peppers and some of the juice from the jar to add moisture into my pasta as well.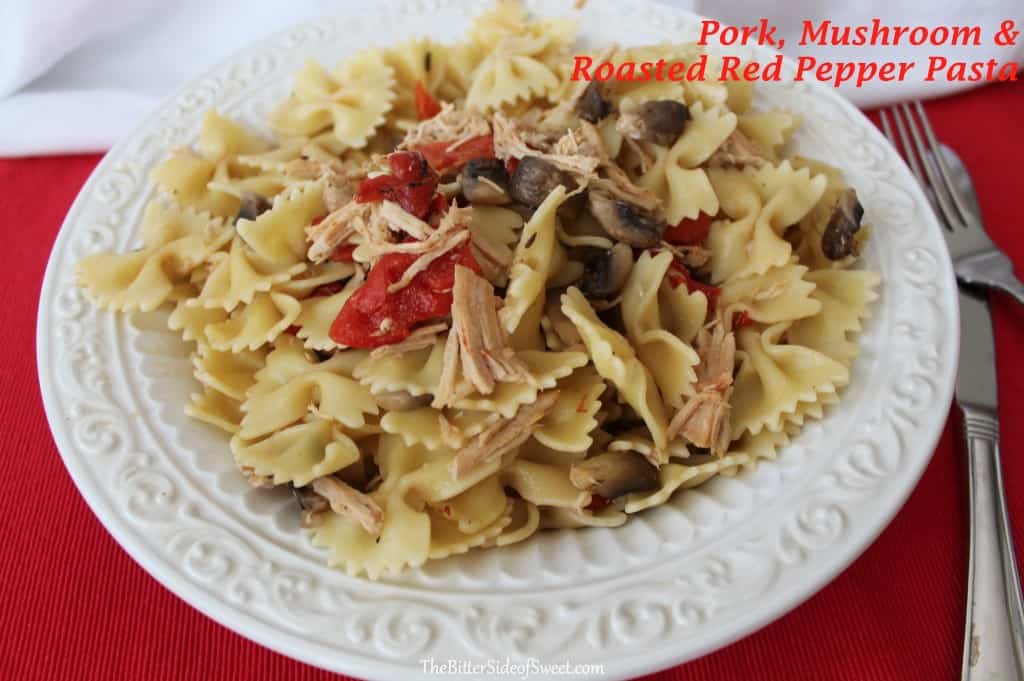 Want to connect more with TheBitterSideofSweet? Follow at:
Facebook | Bloglovin | Pinterest | Instagram | Google+
Pork, Mushroom and Roasted Red Pepper Pasta

YIELDS: 6 servings
PREP TIME: 10
COOK TIME: 20 mintues
TOTAL TIME: 30 minutes
Ingredients:
1 16 oz box of farfalle pasta ( I use Barilla)
1 12 oz jar of roasted red peppers and garlic, sliced (reserve the juice)
8 oz mushrooms, roughly chopped
4 cups shredded pork
olive oil
sea salt and table salt.
Directions:
1. Heat pot full of water to cook the farfalle in. Salt the water with sea salt, when boils add farfalle. Cook for 11-12 minutes for al dente.
2. In the mean time saute mushrooms in olive oil over medium heat until softened. Season with table salt.
3. Add roasted red peppers and pork.
4. Pour reserved roasted red pepper juice over meat and veggie mixture.
5. When pasta is done, drain and pour into bowl.
6. Add sauce and mix.
7. Sprinkle with cheese. ENJOY!
**notes**
if you need moisture in your pasta reserve some of the pasta water about 1/4 cup and pour over pasta before adding sauce. Also you can pour olive oil over the pasta as well.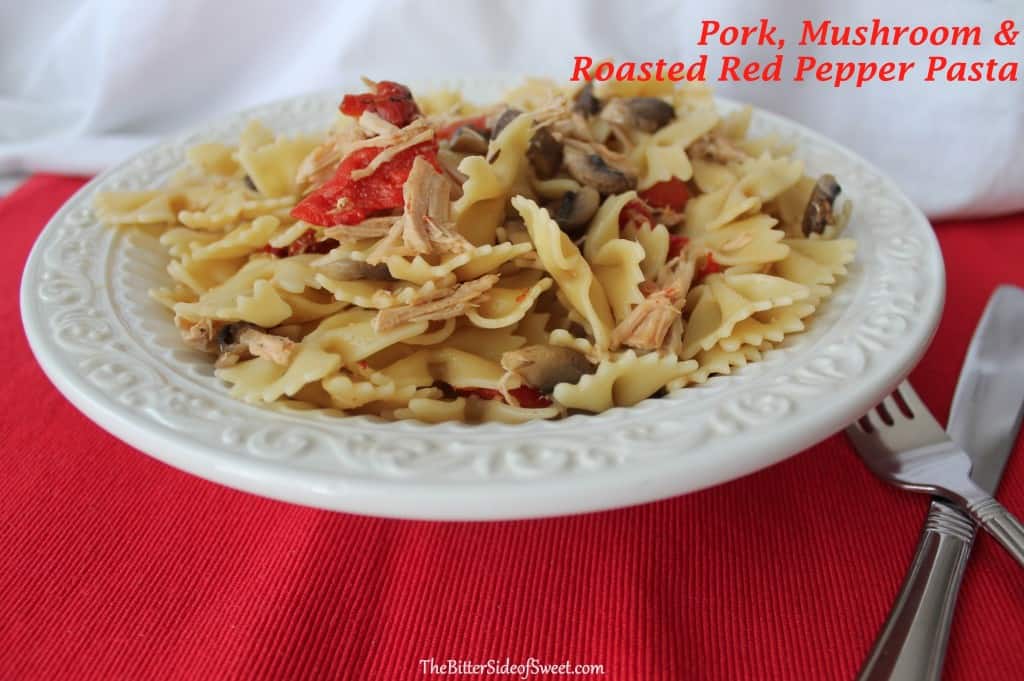 This recipe is linked over at: