Soft and chewy Peanut Butter Chocolate Chip Cookies! Made with peanut butter chips these cookies bake up in less than 10 minutes!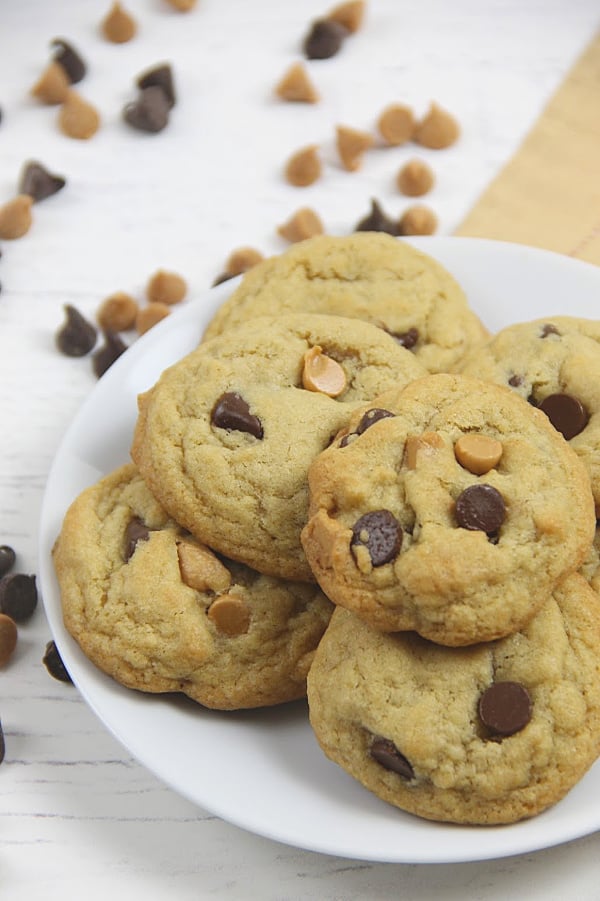 When it comes to cookies we like variety! Whether they have chocolate chips in them is not important but they do have to taste great!
Click here to save this recipe on Pinterest!
The kids have been getting into the kitchen to make cookies with me lately and we have had a blast!
These peanut butter chocolate chip cookies were my daughter's idea! She loves her peanut butter!
And although these cookies only have the chips in them to flavor them with peanut butter they still tasty amazingly good!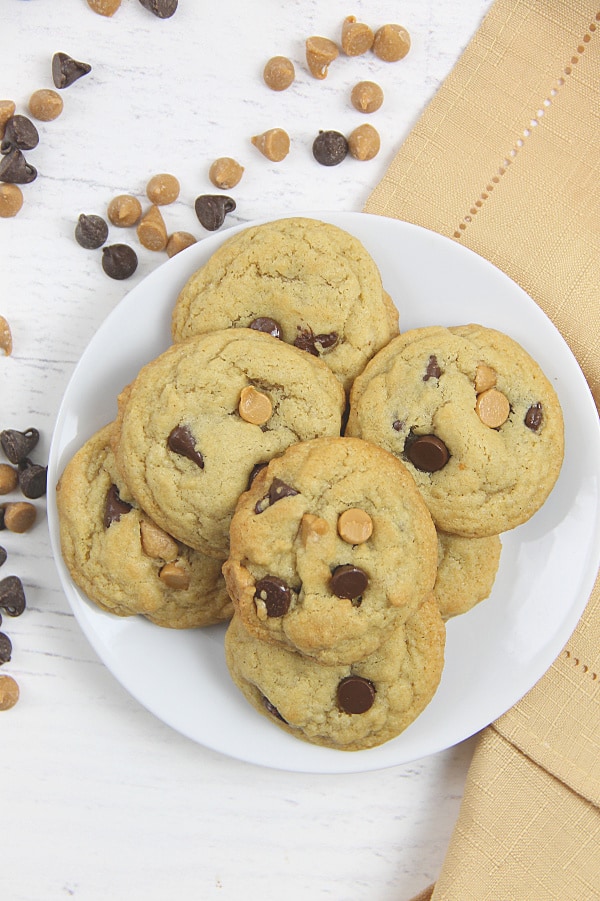 What ingredients do I use?
butter is essential to making most cookies. I like to use unsalted butter and not margarine.
all purpose flour works best for this recipe
egg! This recipe only calls for one egg. Make sure it is at room temperature.
for the chips we did a mixture of peanut butter and chocolate chip! They just go so well together!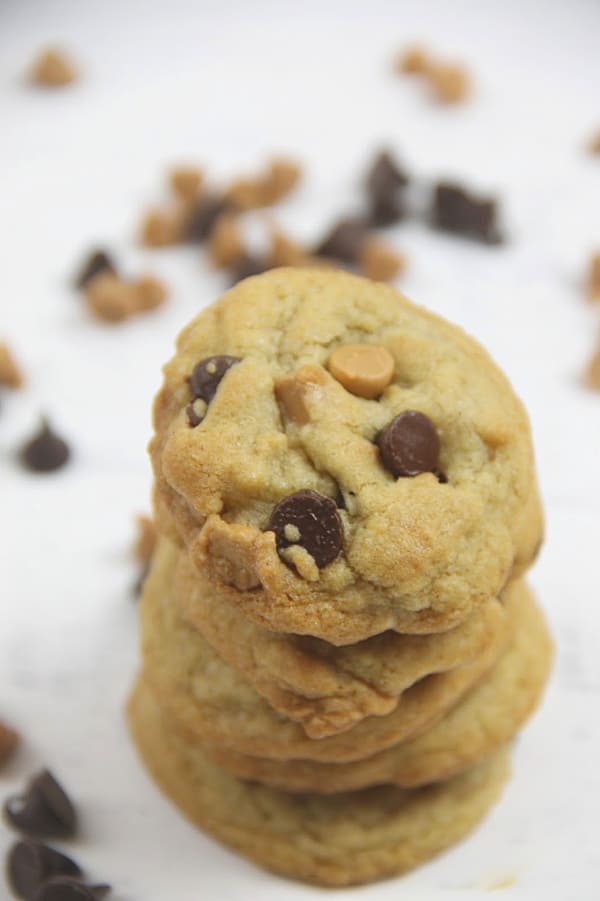 Why melt the butter?
One thing you have to understand. I currently live in Minnesota and honestly I can never get my butter to come to room temperature.
Also I don't have a microwave so using that to soften it, is kind of out of the question.
So I made a cookie with melted butter! Saves time when I get a craving for warm chocolate chip cookies that I can make at any time!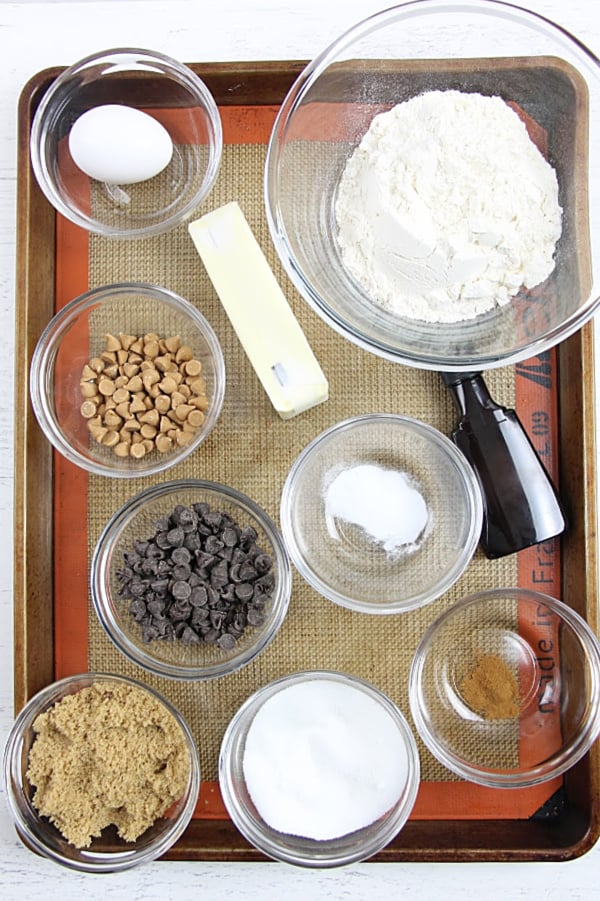 Want to follow along?
If you're on Facebook come check out this fun little group I've got going on. Instagram is a fun resource I'm using right now, too. If you make any recipes be sure to tag them with #bittersideofsweetrecipes so I can see your creations!
Want to connect more with The Bitter Side of Sweet? Follow at:
Facebook | Pinterest | Instagram | Twitter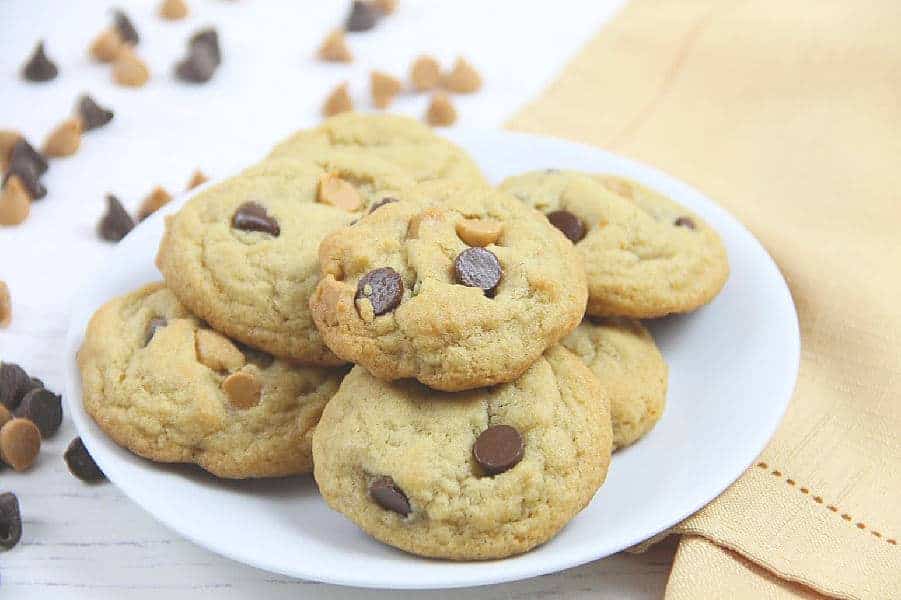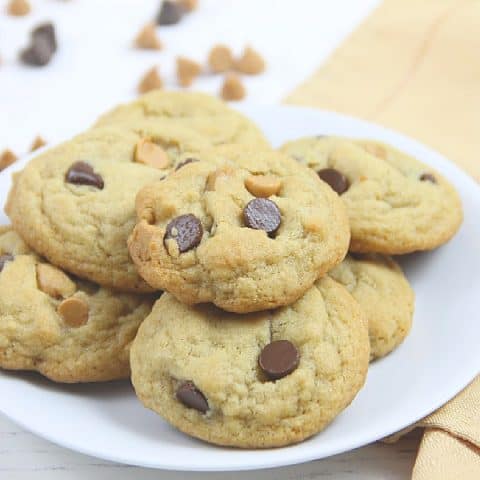 Peanut Butter Chocolate Chip Cookies
Soft and chewy peanut butter chocolate chip cookies!
Ingredients
1 stick butter, melted (8 tablespoons)
1/3 cup sugar
1/3 cup brown sugar
1 egg, room temperature
1 teaspoon vanilla extract
1 cup all purpose flour + 2 tablespoons
1/2 teaspoon baking soda
1/2 teaspoon cinnamon
1/4 cup peanut butter chips
1/4 cup chocolate chips
Instructions
Preheat oven to 375 ℉. Line baking sheet with parchment paper or silicon mat. Set aside.
In mixing bowl add butter and sugars. Whisk till incorporated.
Whisk in egg and vanilla.
Stir in flour, baking soda and cinnamon till incorporated.
Stir in peanut butter chips and chocolate chips.
Using a cookie scoop, scoop onto baking sheet.
Bake for 9-11 minutes or just until golden brown.
Cool for 5 minutes.
More cookies from around the web!