Quick and easy smoothie with tropical flavors of coconut, pineapple and banana! This Coconut Pineapple Banana Smoothie is so simple and perfect for new moms and dads!
And a virtual baby shower!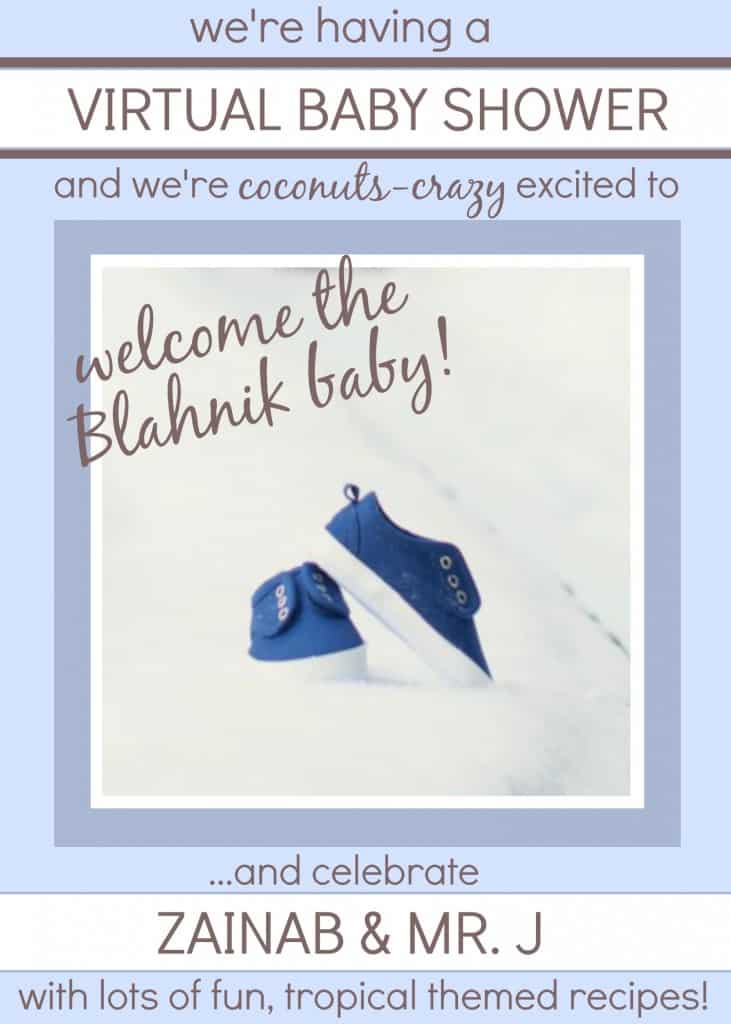 You might be trying to figure out what is going on here? Why do I have anything coconut on my site? Maybe you knew, maybe you didn't but I am not a coconut fan. At all. It's a texture thing and a flavor thing. We will get to that another day. Anyways so why a recipe that includes coconut?
Well I am doing this for a dear friend, Zainab, over at Blahnik Baker. You see she is about to be a mommy soon. What a special event in her life! So me and some of her blogging friends decided to get together and celebrate this occasion with her!
Now Zainab loves all things coconut. She has over 30 recipes on her site dedicated to coconut. So for us it was simple, we needed to give her more coconut.
I chose this smoothie because let's face it. After having a baby, ain't no body got time to cook or eat or sleep or anything else. But being a new mom and dad you need to keep your strength up. A quick smoothie can do that for you, especially if it is great tasting!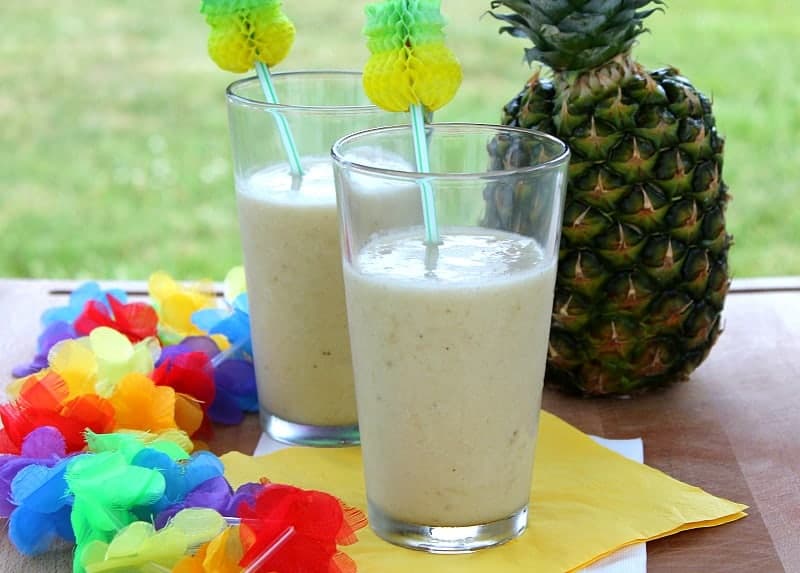 Some how some coconut water ended up in my house and I thought to myself, what in the world am I going to do with this? Well I was making a smoothie one day and I said maybe I can use it in there.
So I dumped some in and sure enough it was good. I was shocked. I actually liked it! There are pineapples and bananas in this smoothie as well so the flavors are all blended together so you might not actually know there was coconut in it.
If you wanted to  you could add some shredded coconut into it, but I will leave that up for you to decided. ENJOY!
Congratulations Zainb and Mr.J!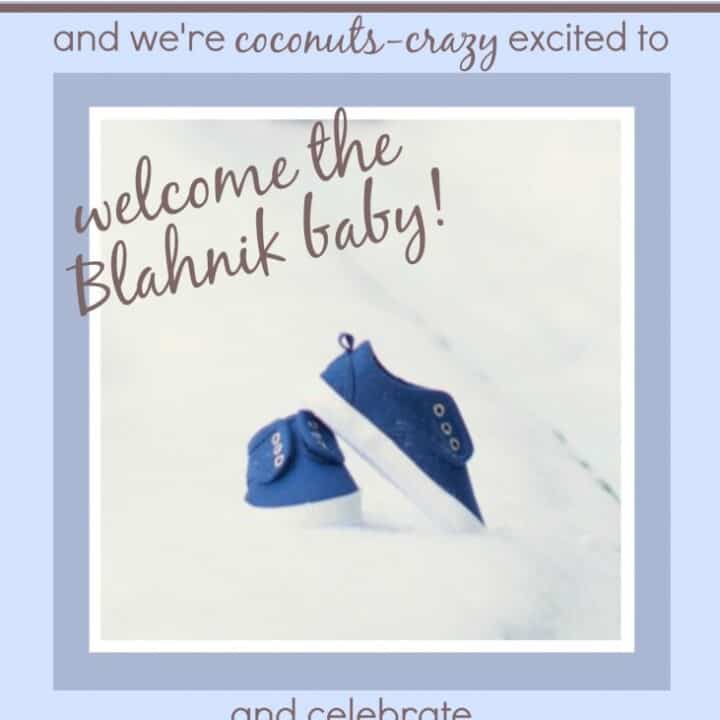 Coconut Pineapple Banana Smoothie ( A Baby Shower)
Quick and easy smoothie with tropical flavors of coconut, pineapple and banana!
Ingredients
4 ounces pineapple tidbits
2 frozen banana, sliced
1 1/2 cups coconut water
Instructions
Add all ingredients to your blender.
Blend until smooth.
Pour and enjoy!
Recommended Products
As an Amazon Associate and member of other affiliate programs, I earn from qualifying purchases.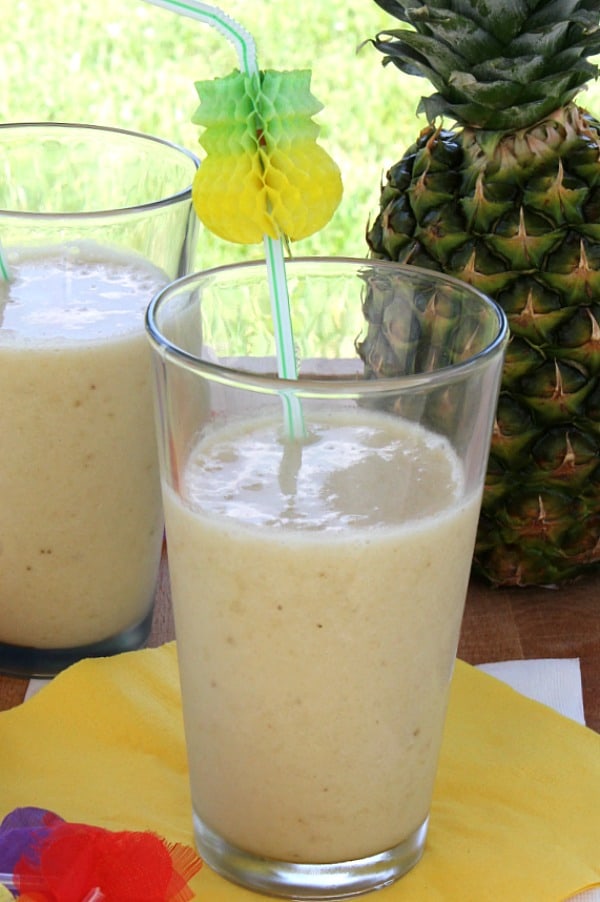 Make sure you hope around to all of Zainab's blogging friends to see what kind of coconut fun they had in the kitchen!
Blackberry Coconut Cupcakes, by Baking a Moment
Blueberry Coconut Meusli Bars, by The Spiffy Cookie
Blueberry-Ginger Coconut Cheesecake Popsicles, by Floating Kitchen
Caramel Coconut Cluster Bars, by Eats Well with Others
Chocolate Coconut Cake, by Brunch with Joy
Coconut Breakfast Pudding with Sauteed Nectarines, by Cooking and Beer
Coconut Cake, by I am Baker
Coconut Cream Pie Ice Cream, by The Recipe Rebel
Coconut Energy Bites, by The Kitchenarium
Coconut Key Lime Angel Food Cake Roll, by Flavor the Moments
Coconut Key Lime Pie Cookie Bars, by Two in the Kitchen
Coconut Key Lime Macarons, by Life Made Sweeter
Coconut, Lime, and White Chocolate Milkshake, by A Clean Bake
Coconut Pineapple Banana Smoothie, by The Bitter Side of Sweet
Coconut Pineapple Fried Rice with Shrimp, by Healthy Nibbles and Bits
Coconut Sweet Potato Muffins, by Luci's Morsels
Double Chocolate Chip Cookies with Toasted Coconut, by The Cooking Actress
Key Lime Coconut Button Sandwich Cookies, by Culinary Concoctions by Peabody
Key Lime Coconut Pound Cake, by Grandbaby Cakes
Lavender Coconut Macarons, by Broma Bakery
Macaroon Tarts with Ginger Coconut Whipped Cream and Pineapple, by A Cookie Named Desire
Mango Coconut Donuts, by Chez Catey Lou
Mango Coconut Smoothie, by Jessica in the Kitchen
Mango Summer Cake, by Keep it Sweet Desserts
Mini Coconut Cream Pies, by Hip Foodie Mom
Pina Colada Pie, by Life, Love, and Sugar
Skinny Blueberry Lime Scones, by Club Narwhal
Spiced Lentils with Toasted Coconut, by This Gal Cooks
Toasted Coconut Banana Meringue Pie, by The Sweet {Tooth} Life
Triple Coconut Rum Layer Cake, by bethcakes
Tropical Pineapple Coconut Sangria, by Shared Appetite
White Chocolate Coconut Key Lime Cookies, by Culinary Couture