It's not too late to start thinking about what pies to make for Thanksgiving. This Chocolate Pecan Pie may be something you want to add to your list!
I have memories of going to my mother's house and there always being pecan pie on the counter top for Thanksgiving. My oldest sister is the one who makes it and brings it every year. For a long time I didn't like pecan pie. I didn't like the bitterness of the pecans. Well a few years back I decided to try the pie and I have not looked back since.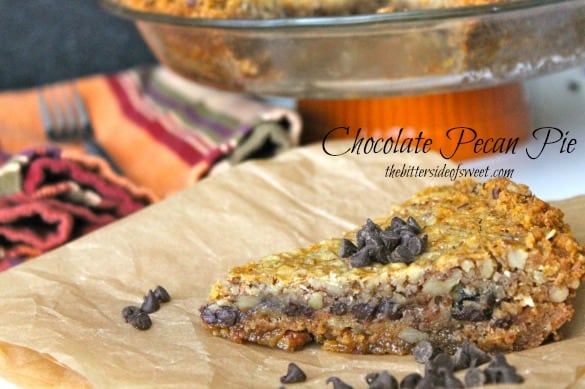 This year I asked my husband what kind of dessert he wanted for Thanksgiving. He said pie. I said pecan pie. He says oh yes! So I decided to make my own pie combining my sisters pie recipe with my own homemade crust recipe. I  made this way ahead of time and decided to freeze it till the day it is actually needed. On Saturday I pulled it out to cut a piece of it so I could snap some pictures and let me tell you the house started buzzing. Kids were all over the place looking, hoping for a small taste.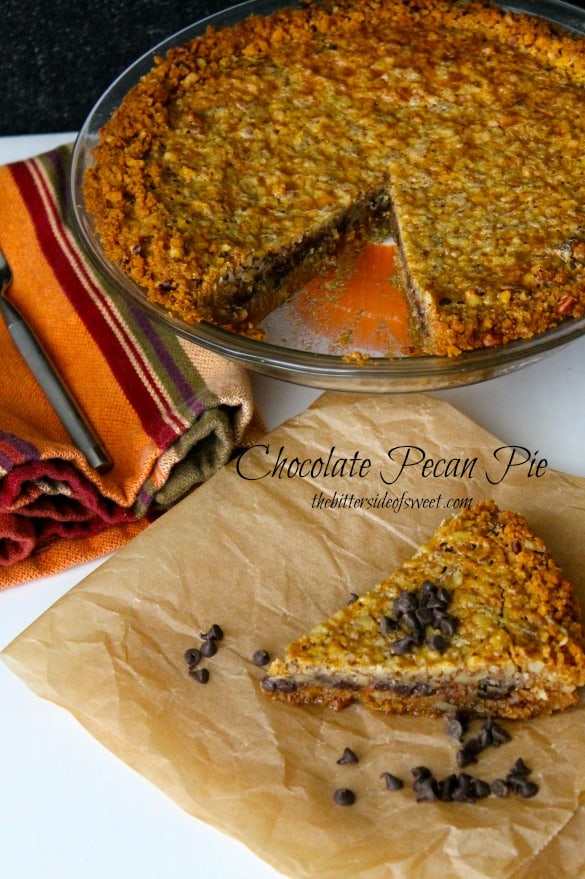 Since I had the piece already cut and ready to go I asked my husband if he wanted it. He said "well of course I do!" Then the kids started buzzing around him. Heads were popping over the back of the couch. It really was a funny site. In the end everyone got a taste and no one wants to wait for Thursday to have another. I'm thinking I need to head to the kitchen and slice another piece!! ENJOY!
Do you follow theBitterSideofSweet on FACEBOOK? I would love for you to pop over and like us!
theBitterSideofSweet on Facebook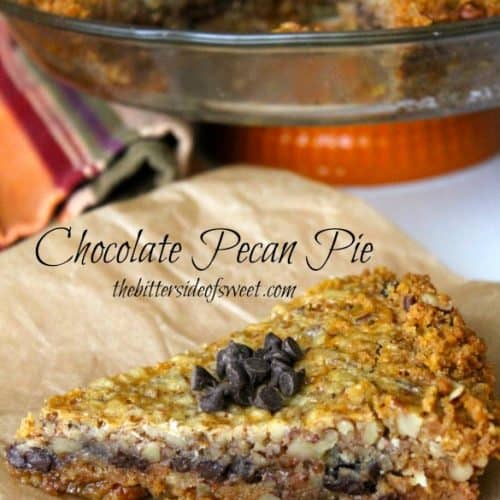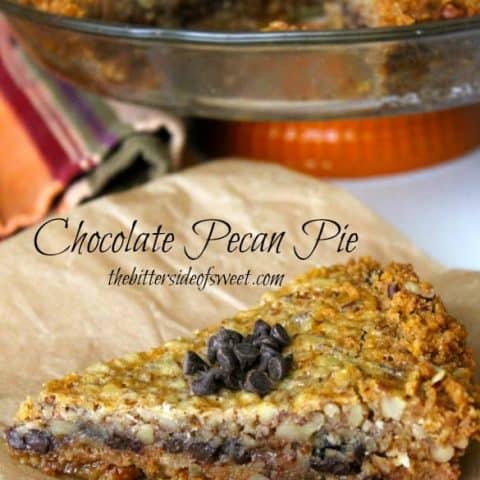 Chocolate Pecan Pie
Traditions pecan pie with added chocolate chips.
Ingredients
FOR THE PIE CRUST:
10 graham crackers
8 oz butter, 1 stick melted
½ cup chopped pecans
2 tablespoons brown sugar
1 tablespoon sugar
FOR THE PIE:
1/2 cup sugar
1/2 cup white Karo syrup
1/4 cup butter, melted
2 eggs, slightly beaten
1 cup chopped pecans
1/2 cup mini chocolate chips
Instructions
Preheat oven to 350F.
In a small pot melt the butter. Set aside.
In a food processor or in a plastic baggie crush the graham crackers.
In a bowl add crumbs pecans and sugars. Pour in butter and mix with a fork.
Press into the bottom and sides of 9 inch pie pan. Set aside.
Mix well sugar, Karo syrup and butter.
Add slightly beaten eggs.
Stir in pecans and chocolate chips.
Pour into pie pan.
Bake at 350 for 15 minutes. Turn oven down to 300F and continue to bake for 25 minutes. Pie should jiggle slightly in the center when done.
Completely cool. Serve and ENJOY!
Want more pie ideas? Here you go!!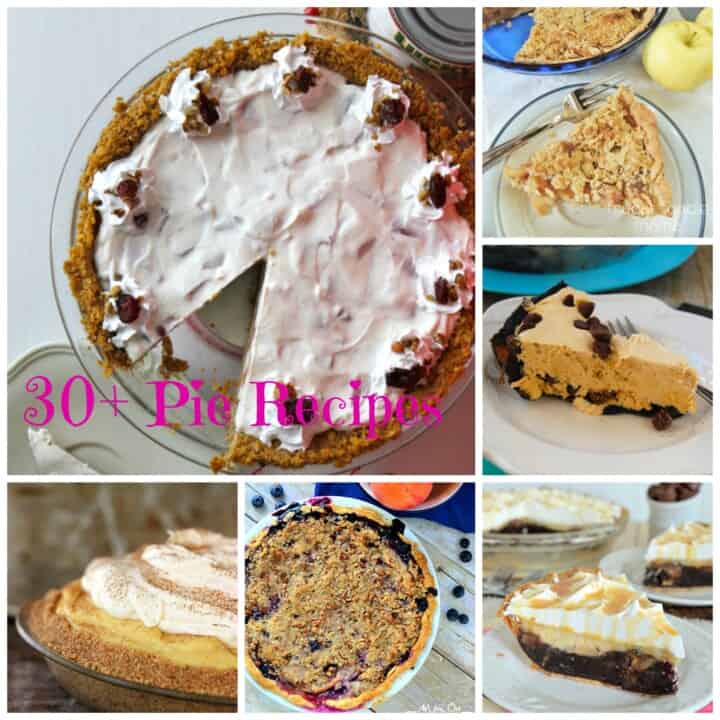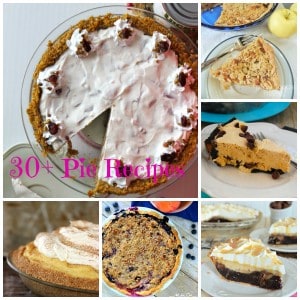 Black Cherry Frozen Yogurt Pie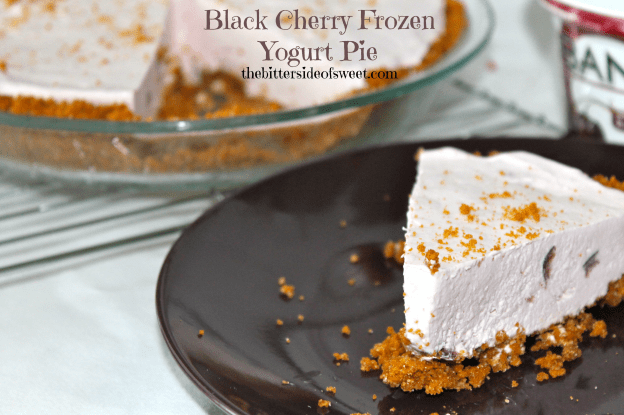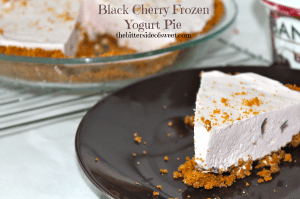 Apple Cranberry Frozen Yogurt Pie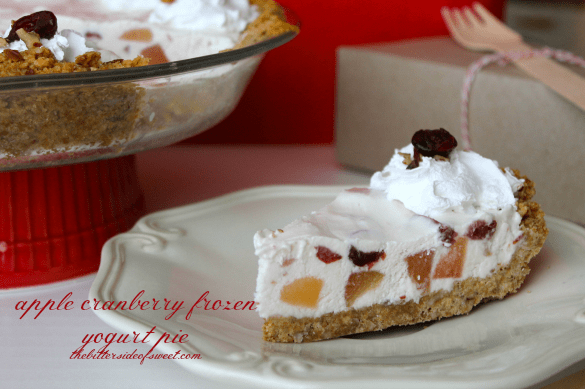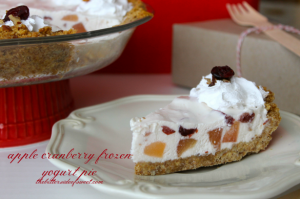 Want to connect more with TheBitterSideofSweet? Follow at:
Facebook | Bloglovin | Pinterest | Instagram | Google+ | Twitter
this recipe is linked at these parties!