Chocolate Peanut Butter Marshmallow Treats are an ooey, gooey treat! With two different types of cereal and lots of marshmallows, these will not disappoint!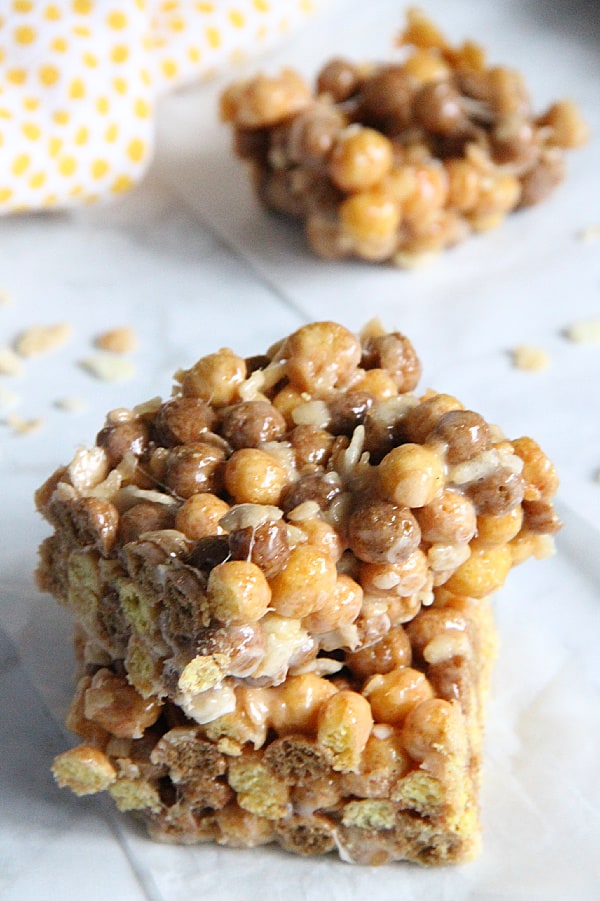 Click here to save this recipe on Pinterest!
Marshmallow treats are my favorite! I can say all day long that I make them for the kids, but who am I kidding! They are for me 🙂
Seriously though, the crunch of the cereal with the gooeyness of the marshmallow makes for the ultimate dessert!
How to make these?
To make these, you only need a few ingredients! I like to mix different types of cereal into my treats so for this one I used rice krispie cereal and I also used reese's puff cereal.
The puff cereal gives you that taste of chocolate and peanut butter that you might be looking for. The rice cereal gives you a taste of the classic marshmallow treat! It's a win-win!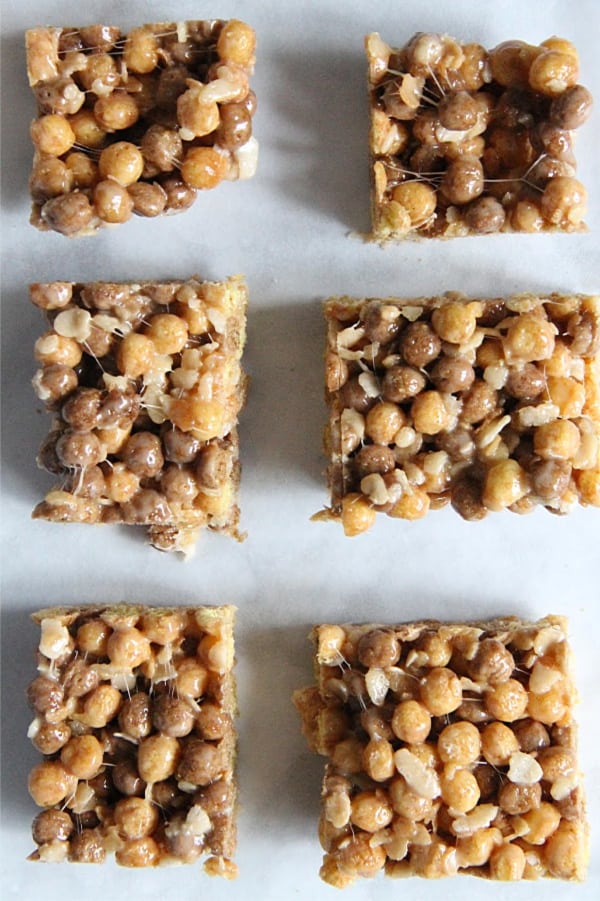 STOVE TOP OR MICROWAVE?
You actually could use either way. Sadly we do not have a microwave right now so I'm forced to make them on my stove. It really isn't that big of a deal except it takes about 5 extra minutes.
The microwave melts the marshmallows super quick. The stove top version you need to be super careful that you don't burn the marshmallows. That is never fun!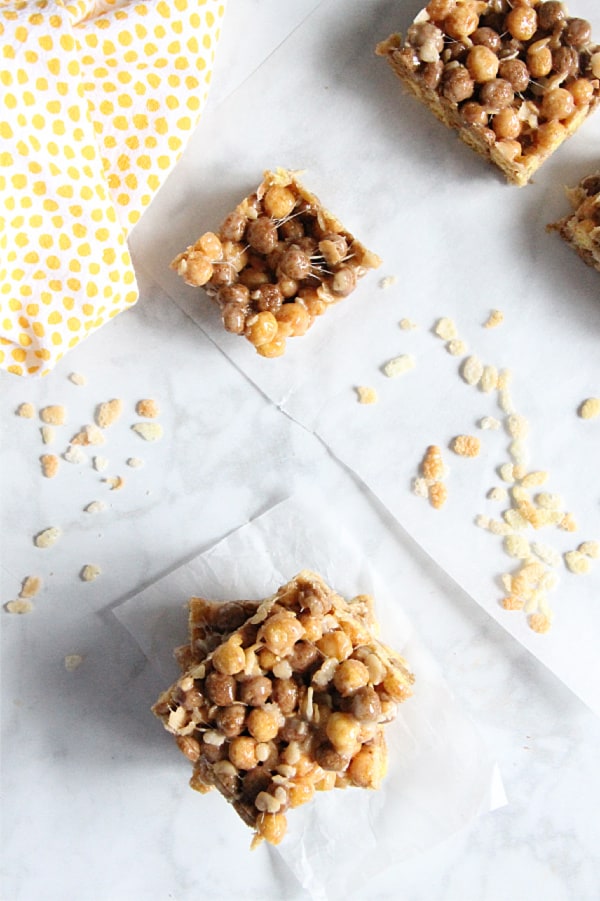 Can you freeze these?
Why yes you can! I do it all of the time! The best way to freeze them is wrap them first in parchment or wax paper. This just helps them not stick together while they freeze.
They are perfect individual desserts that can be grabbed out of the freezer at anytime!
I would suggest allowing them to come to room temperature for about 10 minutes. Although I do eat them frozen and LOVE them!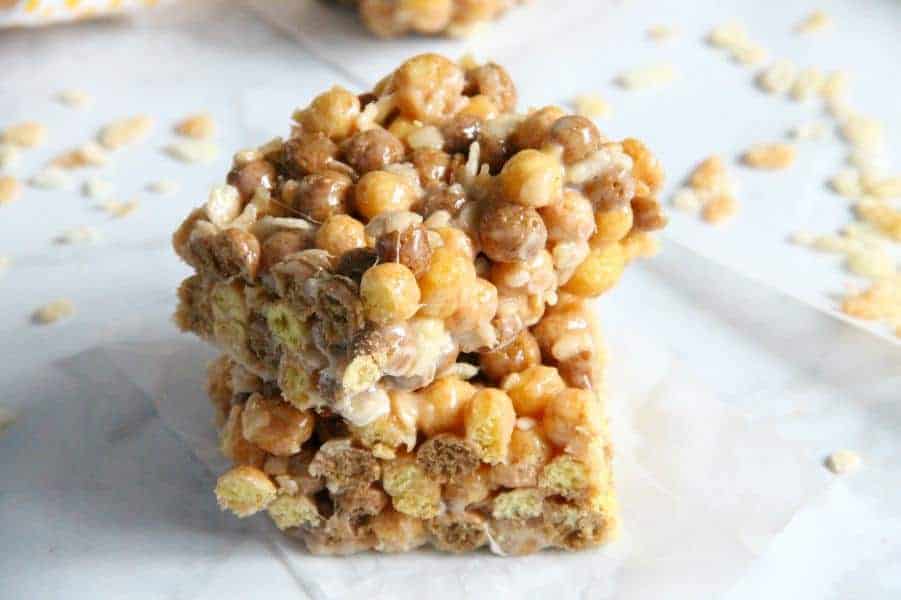 Want to follow along?
If you're on Facebook come check out this fun little group I've got going on. Instagram is a fun resource I'm using right now, too. If you make any recipes be sure to tag them with #bittersideofsweetrecipes so I can see your creations!
Want to connect more with The Bitter Side of Sweet? Follow at:
Facebook | Pinterest | Instagram | Twitter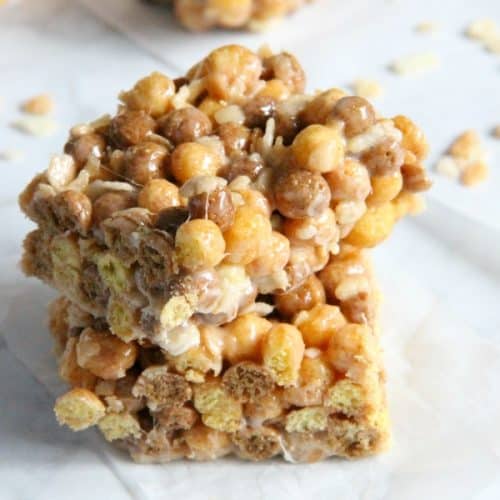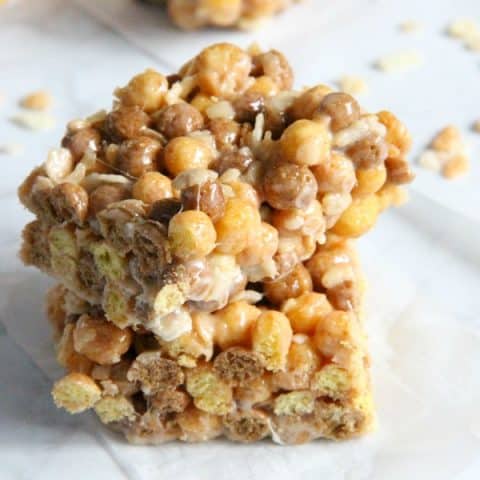 Chocolate Peanut Butter Marshmallow Treats
Additional Time:
20 minutes
Ooey, gooey chocolate peanut butter marshmallow treats made with your favorite cereals!
Ingredients
4 tablespoons butter
10 ounce bag mini marshmallows
3 cups reese's puff cereal
1 cup Rice Krispies Cereal
1 cup reese's puffl reserved
Instructions
In a large pot melt butter and marshmallows for about 2 minutes. Stir.
Slowly stir in cereals.
Add an additional 1 cup of reese's puff cereal. Stir well.
Pour into an 8X8 pan. Spread evenly in pan.
Freeze for 20 minutes.
Cut and ENJOY!
More recipes from around the web: