Cherry Pie Scones are an easy breakfast scones with a twist of cherry pie flavoring.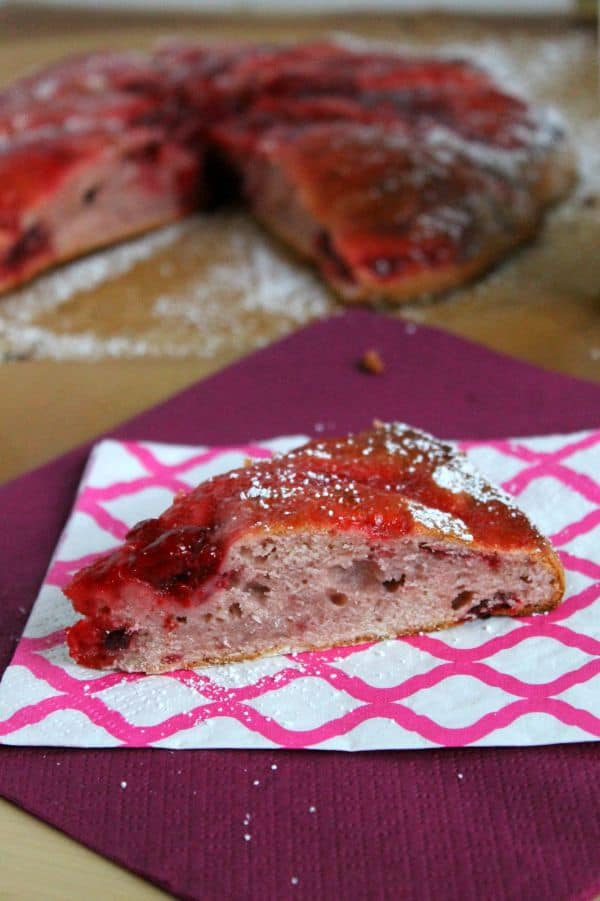 Today I am getting a little personal with you. Today a group of bloggers and myself are sharing recipes and stories to celebrate October being Breast Cancer Awareness Month. If you are looking for the recipe, please scroll down. You will find it. Also make sure to check out all of the other bloggers recipes! They look fantastic!
Somewhere in our lives most, not all, but most of us have been touched by cancer in one way or another. Weather by a family member having it or a friend.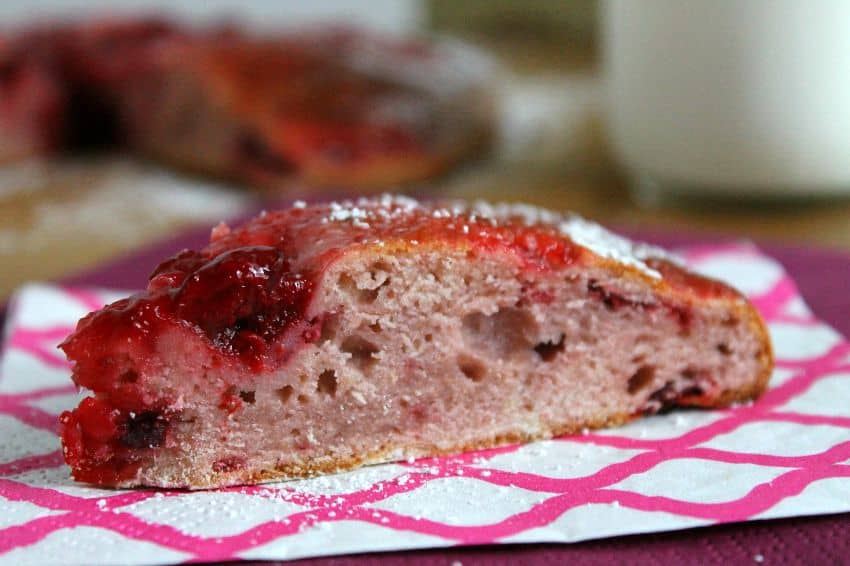 I was touched first by it with my grandmother, Mamaw as we called her. I don't have a lot of memories because she lived 14 hours away from us. I just remember visiting one time and seeing her look sick and with a bandana on her head. I was young and naive to really understand what was going on.
My Mamaw seemed to get better but then she had her cancer come back in a different part of her body. I remember being in the hospital room when she passed. I was there with my mom and uncles. I remember just standing there watching my mom hold her hand as she passed.
It was a lasting moment that I will never forget.
I talked to my mom about this day. That I was going to do a post. I asked what was my Mamaw was famous for making when it came to desserts. She said she liked to make angel food cake and pies!
I attempted my hand once at angel food cake and thought maybe I should make something different.
I thought about pie but I really wanted something that combined what my Mamaw would of liked with my own style.
So I made Cherry Pie Scones.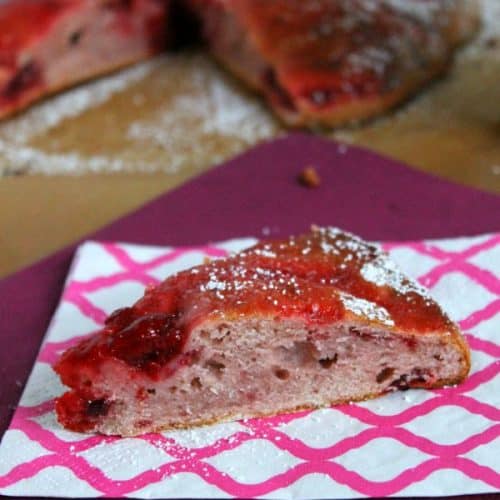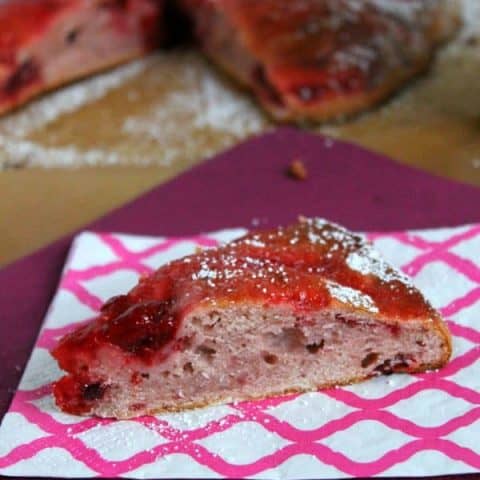 Cherry Pie Scones
Easy breakfast scones with a cherry pie twist.
Ingredients
2 3/4 cups flour
2 teaspoon baking powder
3 tablespoons sugar
1/2 stick cold butter, cubed
2 eggs
1/3 cup milk
1 cup cherry pie filling
1/2 cup reserved for top
Instructions
Preheat over to 450 degrees.
Mix together flour, baking powder, sugar and butter until mixture is crumbly.
Add egg and milk and continue to mix until combined.
Continue to mix while adding in cherry pie filling.
Dough will be sticky, add another cup of flour.
Line a baking sheet with parchment.
Dump mixture out onto parchment paper.
Shape into round disk.
Cut into 8 equal pieces.
Spread 1/2 cup cherry pie filling on top.
Bake for 15 minutes.
Cool and ENJOY!
Recipe adapted from Joy of Cooking Classic Scones pg.640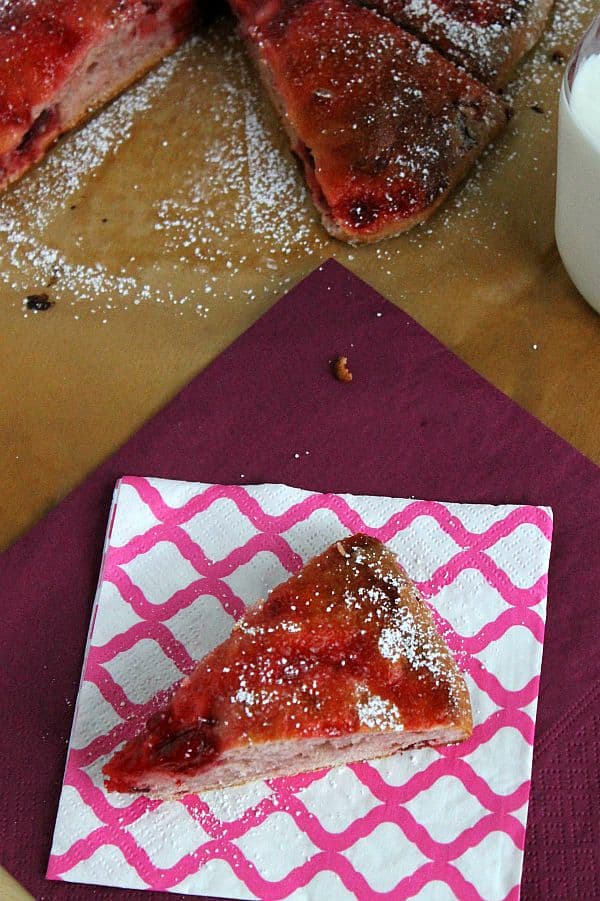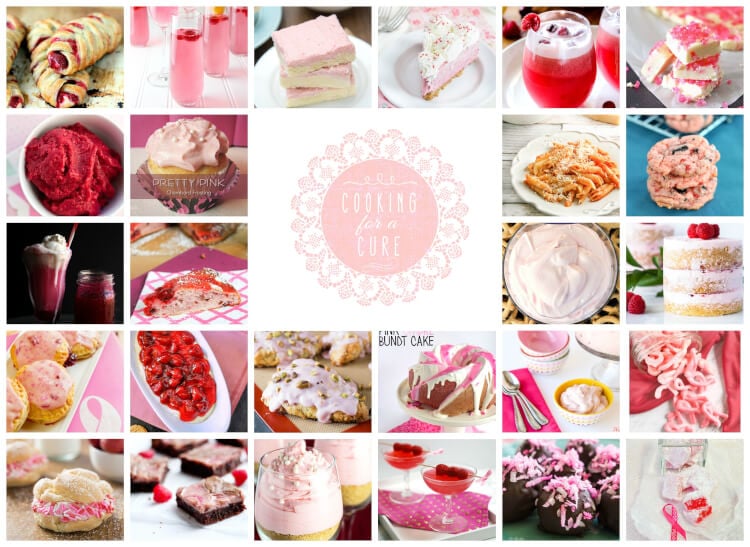 Strawberries & Cream Pastries by Domestic Superhero / Drink Pink Mocktail by Love Bakes Good Cakes / Strawberry Frosted Sugar Cookie Bars by Like Mother, Like Daughter / No Bake Raspberry Cheesecake by Sugar & Soul / Cranberry Raspberry Punch by Carlsbad Cravings / Pink Rock Candy Fudge by Kleinworth & Co. / Raspberry Sorbet by Food, Folks, Fun / Pretty Pink Chambord Frosting by Who Needs A Cape? / Lightened up Pink Vodka Sauce by A Dish of Daily Life / Strawberry Oreo Cake Mix Cookies by Just Us Four / Prickly Pear Soda Floats by Club Narwhal / Cherry Pie Scones by The Bitter Side of Sweet / Pink Fluff Dip by Mamal Diane / Pretty Pink Raspberry Vanilla Mini Cakes by Liv for Cake / Pink Pop Tarts by Life Currents / Strawberry Cheesecake Dip by The Love Nerds / Glazed Cherry Buttermilk Scones by Tastes of Lizzy T / Raspberry Vanilla Pink Ombre Bundt Cake by Cookie Dough and Oven Mitt / Berry Bliss by 365(ish) Days of Pinterest / Meringue Cookies by Mamma Loves Food / Cream Puffs with Strawberry Filling by Cooking on the Front Burner / Raspberry Cheesecake Brownies by Culinary Couture / No Bake Pink Lemonade Cheesecake Parfaits by Homemade Hooplah / Vanilla Berry Cocktail by Twin Stripe / Snowball Truffles by House of Yumm / Turkish Delight by With a Blast