Today we celebrate Pi day for those who are math whizzes or Pie day for those of us who like to bake! Since I am no math whiz I decided to bake Cherry Chocolate Pecan Hand Pies!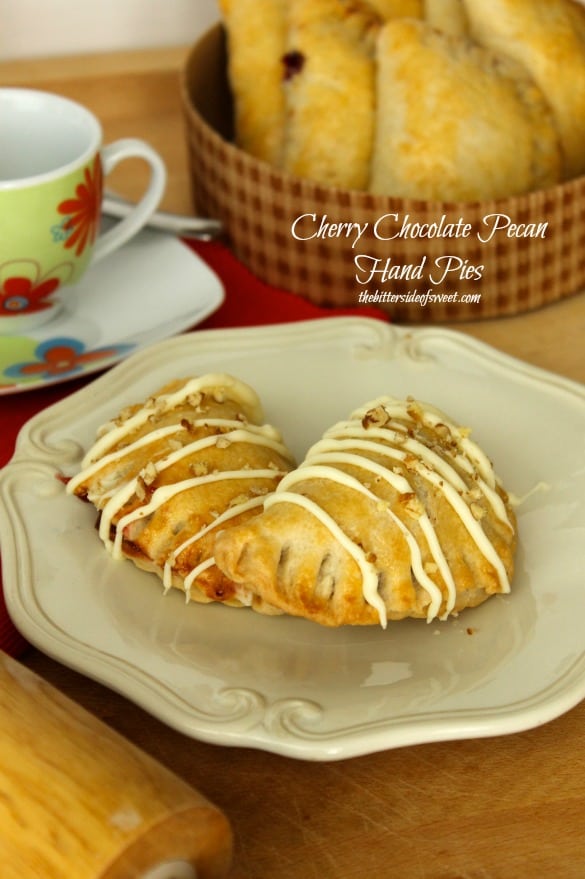 So about these pies. Hand pies. I have never made hand pies but I always thought they were intriguing. They really didn't take that long to prepare and I was able to take my time and do step by step. They were so simple and the ending product was so satisfying. The mixture of the cherries and pecans topped off with white chocolate made these the ultimate dessert! I may or may not of had a few while I was taking these pictures but trust me. They are delish!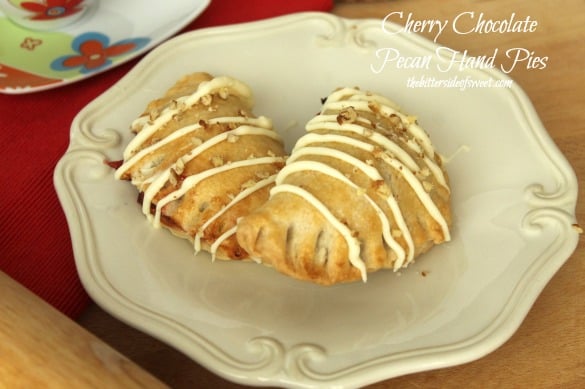 Also today myself and a group of bloggers have all gotten together to help our friend Julie from White Lights on Wednesday to celebrate her coming up nuptials. She is getting married on 3.14.15. So today marks one year till then and she wanted to celebrate in a BIG way! With pie! Lots of pie!
You can see all the amazing pie recipes being shared today by clicking the images below. ENJOY!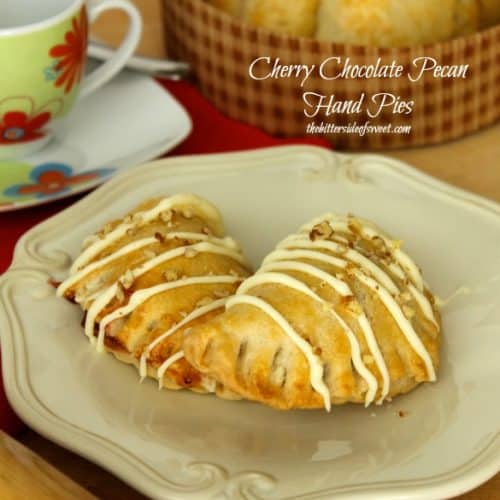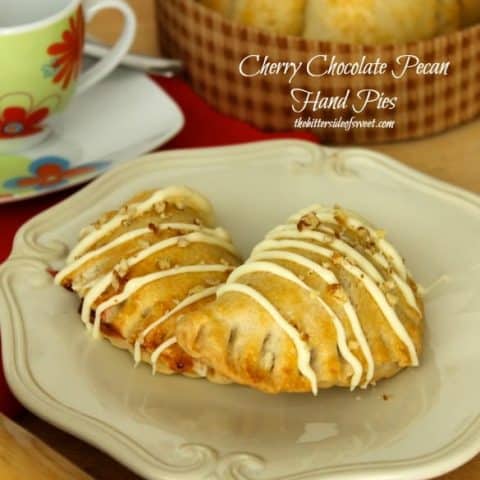 Cherry Chocolate Pecan Hand Pies #piday
Total Time:
1 hour
10 minutes
mini pie desserts filled with cherry and pecans
Ingredients
FOR THE CRUST:
1 1/2 cup flour
1 stick margarine, diced
8 tablespoons iced water
FOR THE FILLING:
1 can cherry pie filling
3/4 cups pecans, chopped
1/2 cup white chocolate chips
Instructions
FOR THE CRUST:
In bowl add flour and margarine. Using fork or pastry blade to blend ingredients together till the mixture looks course like sand or crumbs.
Add a tablespoon of water at a time to flour mixture, till ball forms.
Split in two, wrap in plastic wrap and freeze for 20 minutes.
Preheat oven 350 F. Line 2 baking sheets with parchment paper or Silpat.
In a medium size bowl add pie filling, pecans and chocolate chips.
Remove one dough ball from freeze. Cover your working area with flour. Roll dough out to a thickness of 1/8 inch. Using a round cookie cutter 3 inches in diameter cut 5 circles. Remaining scraps can be added to the other dough.
Place circles on baking sheet, add 1 tablespoon of pie filling in the center.
Close and press edges with a fork to seal. Using an egg wash brush the tops and sides. Pull remaining dough out of freezer and repeat steps.
Bake for 35 minutes or until golden brown.
Notes
There will be about 2 cups of filling left that can be used to make more hand pies.