Smoothies are one of those quick and easy snacks or breakfast drinks that everyone in the house can enjoy! This Banana Almond Smoothie was perfect for the kiddos!I
Blogger Disclosure: Posts may include links to my affiliate account at Amazon.com, and The Bitter Side of Sweet earns a few cents on the dollar if readers purchase the items I recommend, so thanks for supporting my blog when you shop at Amazon!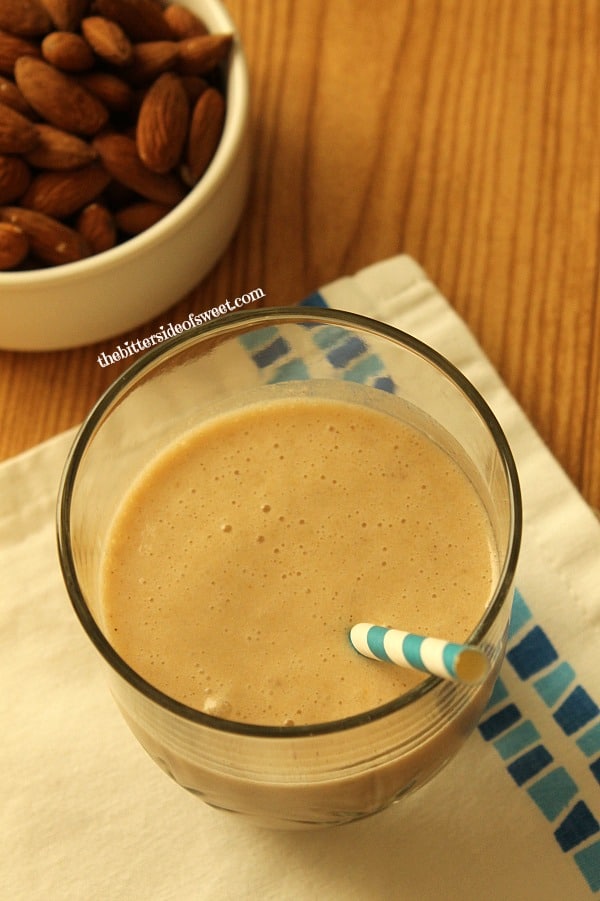 I am so excited to bring to you today this smoothie! When my friend Cate from Chez Catey Lou asked if I wanted to join her and a couple of other bloggers in giving away this book Almonds: Recipes, History, Culture I said of course! So Cate sent over a list of recipes and of course I had to pick the smoothie. It was just perfect for our family. We love to whip them up at breakfast time or for their afternoon snacks.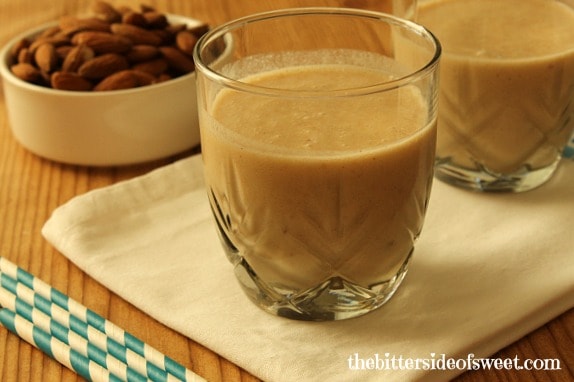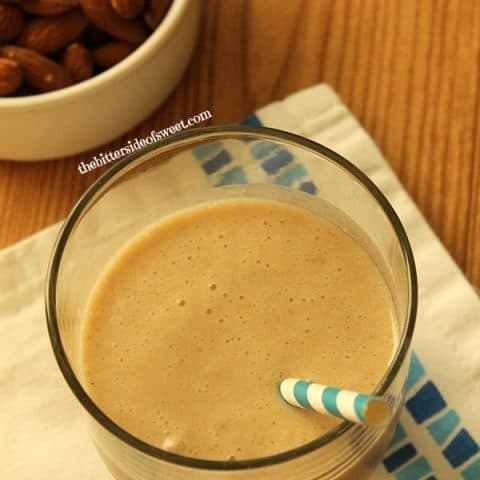 Banana Almond Smoothie (and a giveaway)
Rich and creamy smoothie without the need of ice cubes full of almond flavor!
Ingredients
1 large frozen banana, cut into chunks
1 cup 250 ml unsweetened almond milk
1 tablespoon unsalted creamy almond butter
1 teaspoon honey or light brown sugar
1/2 teaspoon vanilla extract
Pinch of cinnamon
Instructions
Combine all ingredients and puree in a blender until smooth.
Add additional honey or sugar if desired.
Serve immediately
Recommended Products
As an Amazon Associate and member of other affiliate programs, I earn from qualifying purchases.
The recipe was super easy. I just had to make sure I placed my bananas in the freezer ahead of time so they would be nice and frozen when it was time to actually make the smoothie. It was creamy and full of almond flavor! I can't wait to try other recipes from this cookbook about Almonds! Don't forget to enter to win a copy of this fabulous book!!I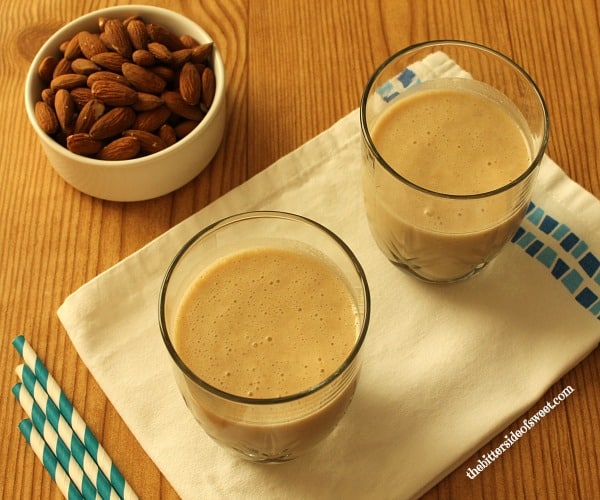 If you would like to check out the other bloggers recipes here is a list:
Soba Noodles with Spicy Almond Butter Sauce from Chez CateyLou
Bucatini with Pesto Trapanese from Culinary Couture
Almond Butter from URBAN BAKES
Bulgur Salad with Chickpeas, Pomegranate Seeds, and Almonds from Cooking and Beer
Brussels Sprouts with Bacon and Almonds from Chelsea's Messy Apron
Pumpkin Cannoli from Baking a Moment
Banana Almond Smoothie from The Bitter Side of Sweet
Roasted Almonds with Lemon and Rosemary from Spoonful of Flour
Almond Crusted Pork Chops from Foodtastic Mom