A childhood favorite gets a makeover with these Ants On A Log Parfait! You'll love this combination of peanut butter, yogurt, celery and raisins!
Click here to save this recipe on Pinterest!
You guys! I am so excited about this post today! When I was a kid one of my all time favorite snacks was Ants On A Log. I remember coming home from school and pulling out the peanut butter, celery and raisins to make them.
Now for quite sometime my kids have had an aversion to raisins but suddenly they've had a change of heart.
So when I started thinking about how I wanted to make these I knew peanut butter was involved.
The big question was, could I get away with adding celery?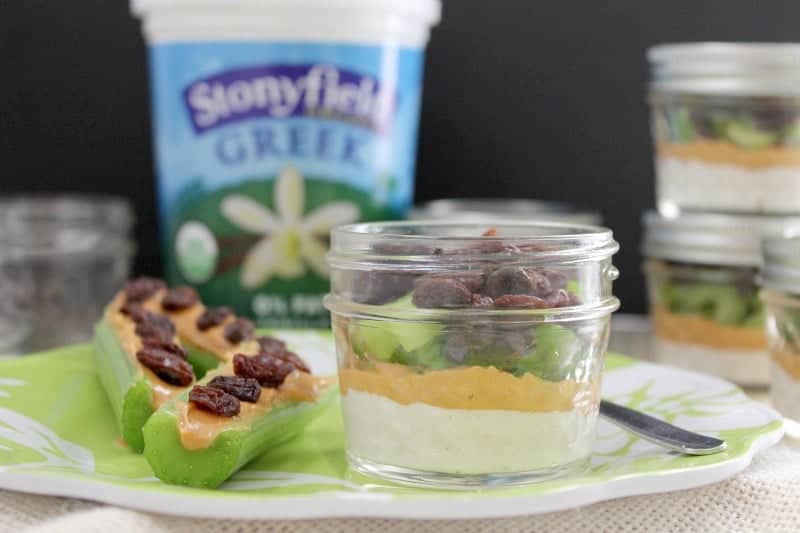 Then it hit me. Why not? Celery goes great with peanut butter. Well does it go great with greek yogurt. My friends I am here today to tell you YES!
All of the flavors mixed so well together it was as if they were meant to be together! Okay that is just me, but really it's amazing!
So I know your next question is, well how long does the celery last? The small canning jars were just perfect for keeping the celery fresh in these parfaits!
I made a ton of them over the last few weeks and the girls have been grabbing them for afternoon snacks or even taking them in their lunch boxes.
I also grab them while I am working at my computer or getting a quick breakfast because it is so filling and satisfying!
Let me tell you, the celery always has its crunch! I hope you will give this childhood favorite a try! ENJOY!
If you're on Facebook come check out this fun little group I've got going on. Instagram is a fun resource I'm using right now. If you make an recipes make sure to tag them #bittersideofsweetrecipes so I can see your creations!
Want to connect more with The Bitter Side of Sweet? Follow at:
Facebook | Pinterest | Instagram | Twitter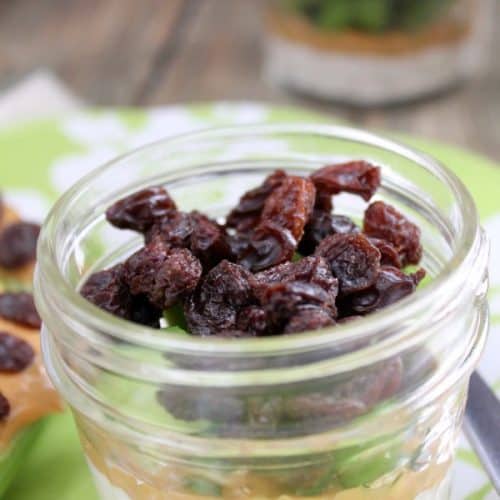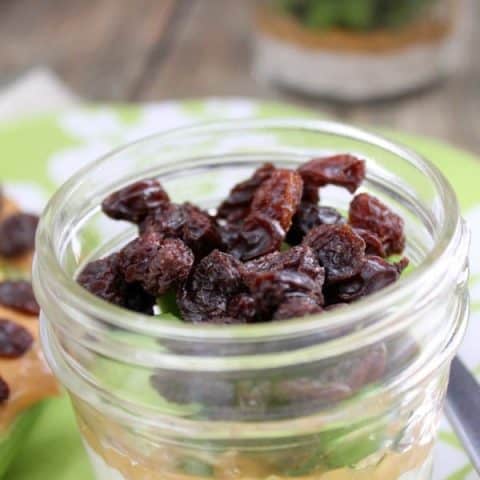 Ants On A Log Parfait
Ingredients
6 Jelly Jars
1 1/2 cups vanilla greek yogurt
1 1/2 cups peanut butter, melted
6 stalks celery, diced
1 cup raisins
Instructions
Place 1/4 cup yogurt in each jar.
Top with 1/4 cup peanut butter.
Top with celery.
Top with raisins.
Refrigerate till ready to eat! ENJOY!
Notes
Can be refrigerated up to 1 week.