Easy to follow recipe to make some great tasting Tuna Salad Deviled Eggs.
I am honored to be a Stonyfield Clean Plate Club Member. This post is in partnership with Stonyfield, Le Creuset and KitchenIQ. As always, all opinions are 100% my own. Thanks for supporting the brands that allow me to share quality content and recipes with you!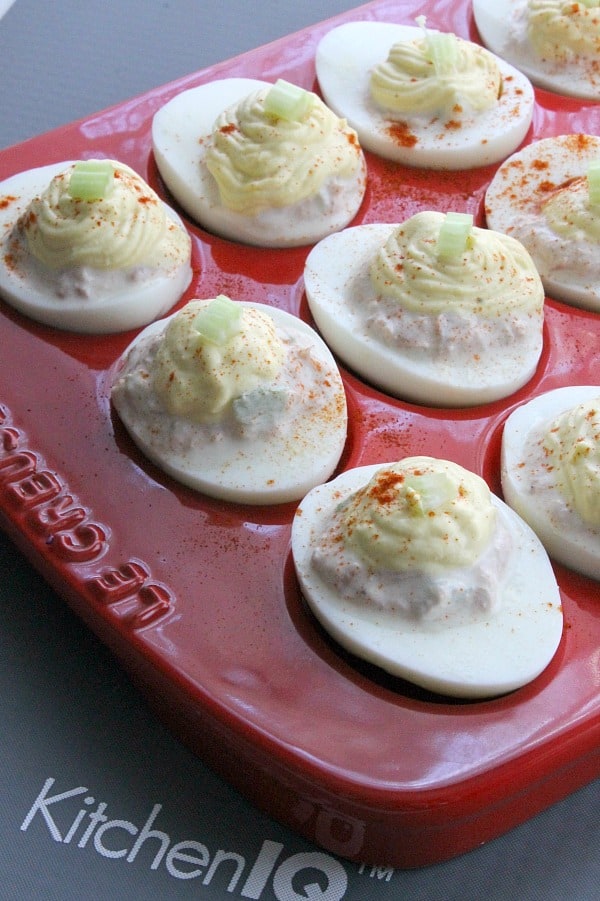 I'm so glad summer is not over yet! We have been having such a blast in and out of the kitchen! The kids have been spending their last days before heading back to school riding bikes, running through sprinklers and eating me out of house and home. But that is what summer is, right?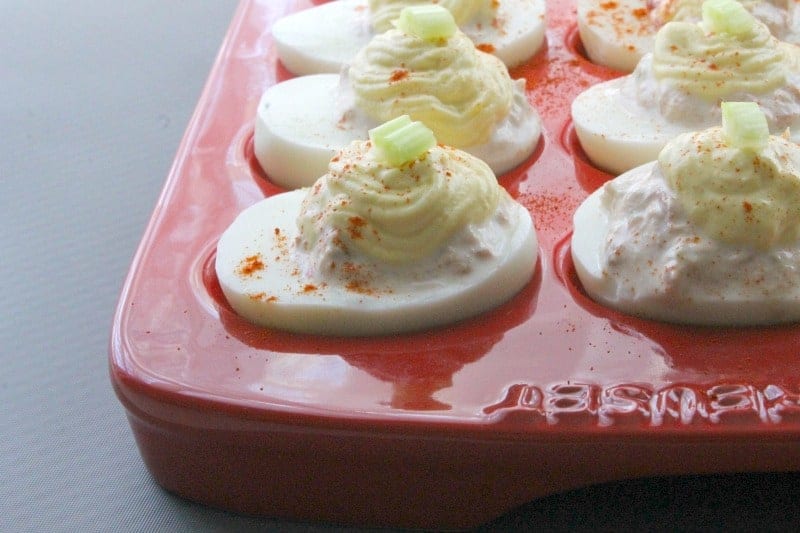 Sadly though, school starts for us in about two weeks! We can't seem to figure out where the time has gone. Seems like it is because we spent a lot of time this summer traveling and running the kids back and forth to various camps while we were in town.
Just because we are headed back to school soon doesn't mean we can't enjoy the lovely weather we have been having here in Indiana. Our grilling season is going into high gear!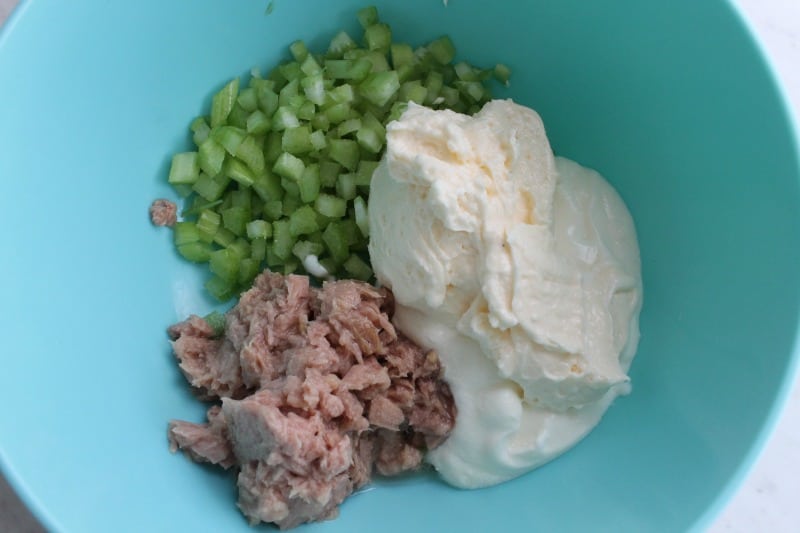 Most of all though we have been enjoying the foods coming out of our kitchen such as these Tuna Salad Deviled Eggs! They combined two wonderful recipes into one. It was a please to us the egg platter from Le Creuset! I found out as well that you can use it in the oven which is pretty cool and I can't wait to try that out! The cutting boards and measuring spoons that I received from KitchenIQ were exactly what my kitchen needed. I threw all of my other plastic boards away and now only use these. Beware don't use a serrated knife on these boards, it will leave marks! Oops! ENJOY!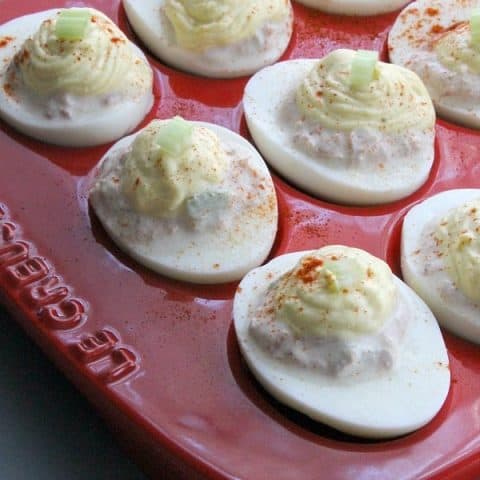 Tuna Salad Deviled Eggs
Ingredients
For the tuna salad:
5 ounce can tuna, drained
2 stalks celery, chopped
1/4 cup mayonnaise
1/4 cup Stonyfield Smooth & Creamy Whole Milk Yogurt Plain
1/4 teaspoon salt
For the eggs:
12 eggs
1/4 cup mayonnaise
1/4 cup Stonyfield Smooth & Creamy Whole Milk Yogurt Plain
1/2 teaspoon salt
paprika
celery for garnish
Instructions
Mix together tuna, celery, 1/4 cup mayonnaise, 1/4 cup yogurt and salt in bowl and set aside.
In large pot fill with water. Add eggs. Bring to a boil and cook for 2 minutes. Turn off stove, cover pot and allow pot to sit for 15 minutes. Drain eggs and completely cool.
When eggs are cool take off shell. Slice in half and place yolks in a small bowl.
Add 1/4 cup mayonnaise, 1/4 cup yogurt and 1/2 teaspoon salt to egg yolks and mix together until smooth and creamy. Set aside.
Place on teaspoon of tuna salad mixture into each egg white.
Pipe egg yolk mixture onto each egg white.
Top with a garnish of celery and paprika.
Refrigerate for 1 hour. Serve cold and ENJOY!