Sweet Potato Roasted Butternut Squash Quinoa Soup is perfect when you are look for a hearty meal on cold days! Now that is a mouthful for sure!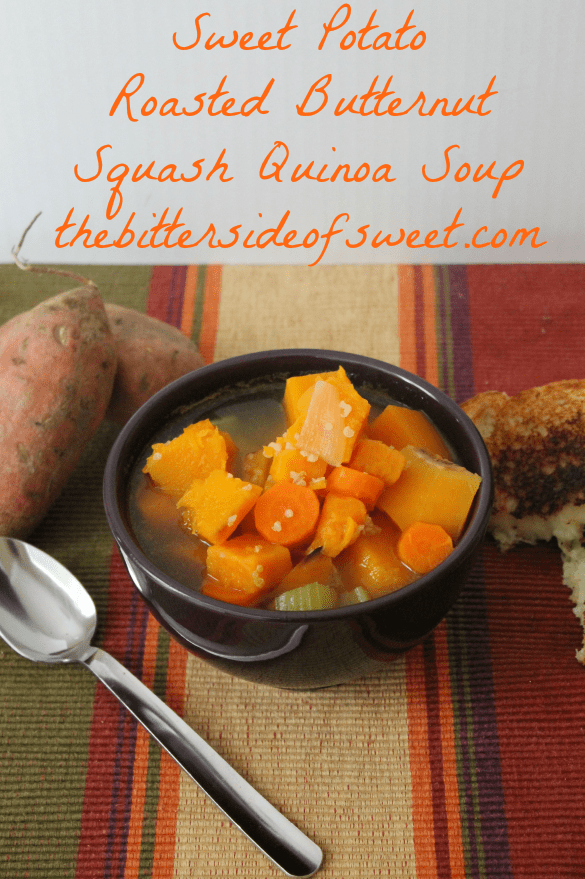 I wanted you to be sure what was in this soup when I named it. It has a lot of flavor. A lot of heartiness (if that is a word) and is exactly what is needed when you want to spend little time in the kitchen.
This week I am going to need this soup again for sure! My week is jammed packed and I am not sure how I am going to get it all done, so I am just going to take a deep breath and hit one day at a time! Hoping I forget nothing in the process, which I ALWAYS do! My daughter has her birthday this week and we have some things planned with some of her friends the day before and then with us the day of. Then I need to get cracking on a pie recipe I am going to give to you guys next Monday and I am going out of town for a few days with the big kiddos on a youth trip! (OH HELP ME! What did I volunteer for?) Just kidding, I am look forward to being with the older two a few days away from the house!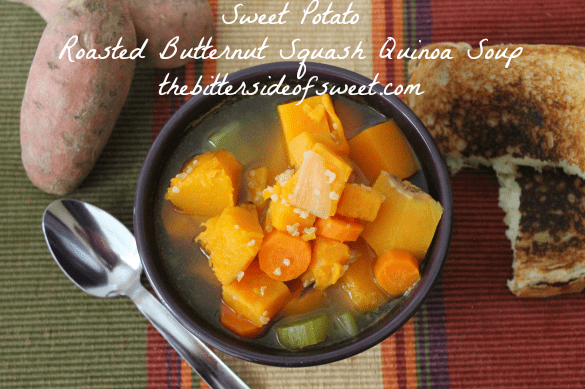 So with this soup it is pretty much your basic ingredients. Carrots, onions and celery. Then I added 2 small sweet potatoes to the mix and I roasted a butternut squash and added that as well. At the end to this soup, as I do for most of my soups, I added a grain. So I threw in some quinoa cooked it for a little while longer and viola! You are done! Be prepared with the sweet potato and butternut squash this soup tasted sweet to me but it was a good sweet! ENJOY!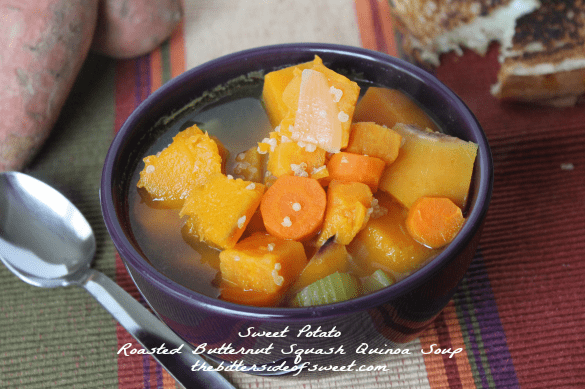 Want to connect more with TheBitterSideofSweet? Follow at:
Facebook | Bloglovin | Pinterest | Instagram | Google+ | Twitter
Sweet Potato Butternut Squash Quinoa Soup
Cook Time:
1 hour
5 minutes
Total Time:
1 hour
25 minutes
Hearty soup full of winter vegetables and quinoa.
Ingredients
1 medium sized butternut squash, peeled
6 cups water
1/2 vegetable bouillon cube
2 carrots, peeled and chopped
2 celery, chopped
1 onion, chopped
2 small sweet potatoes, peeled and diced
1/2 cup quinoa
olive oil and salt
Instructions
TO ROAST THE SQUASH:
Preheat oven to 400F. Spray a baking sheet with cooking spray.
Peel squash and cut in half. Scoop all of the seeds out of the center.
Place on baking sheet, drizzle with olive oil and sprinkle with salt then roast for 25 minutes. When done allow to cool for 5 minutes, then dice and set aside.
FOR THE SOUP:
Add water, bouillon cube, carrots, celery, onion and sweet potatoes to a large pot.
On medium heat bring to a boil and cook for 25 minutes.
Reduce heat allowing soup to simmer. Add squash and quinoa.
Cook for 15 minutes. Cool for 5 minutes and serve warm! ENJOY!
Need more soups? Here you go!
Lima Bean Polska Kielbasa Soup