Bake these the night before and have a wonderful Roasted Banana Plum Muffin for breakfast!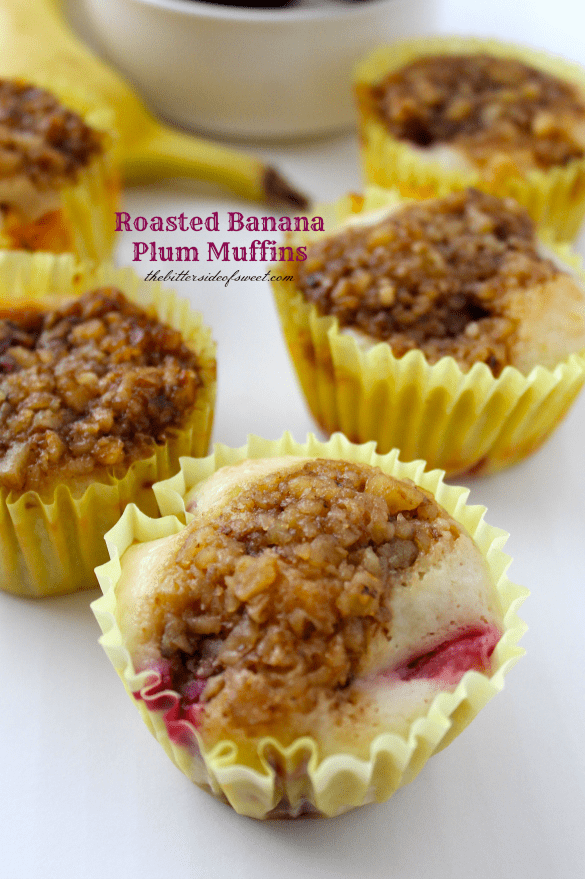 Recently I discovered roasted bananas. All of my discoveries are things I find online or see on cooking shows. Which actually I never have time to watch, so thank goodness for food blogs!! Roasted bananas are my current obsession. I want to add them to whatever I am baking. If you have not tried them you really need to. Roasting a banana really intensifies the flavor of the banana.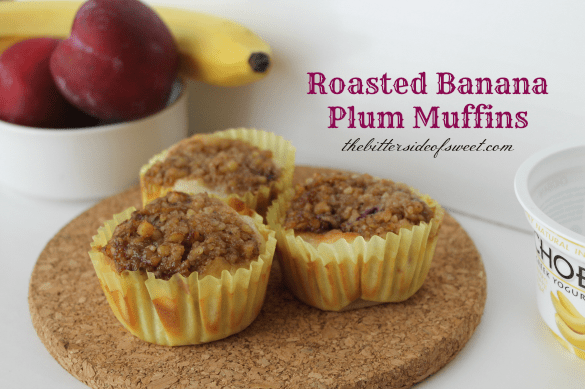 Basically what you do is you take the whole banana and place it on a cookie sheet. Put it into the oven at 350 degrees and bake it for 10 minutes. Simple and easy. If you follow me on Instagram you can find a picture that I made of how the bananas look before and after baking them. You can cook these up while you are putting together these muffins. When they are done just mash them up and put them into the mixture.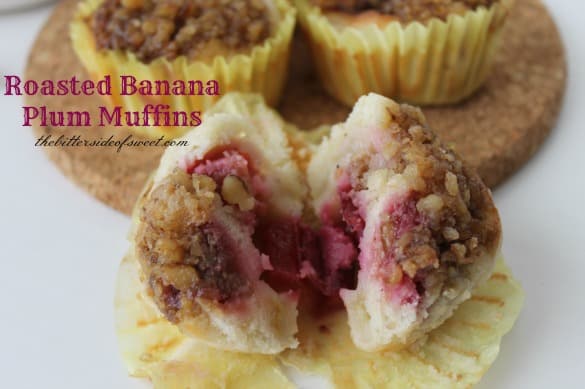 I added plums to my muffins because I wanted a little bit of color and another boost in flavor. As if these bananas do not have enough flavor I went and added more by putting a walnut crust on top of them. I melted butter and brown sugar together. Then added chopped walnuts and put just a spoonful right on top before I cooked them. We have been munching on muffins each morning for breakfast all week (and maybe for snacks too).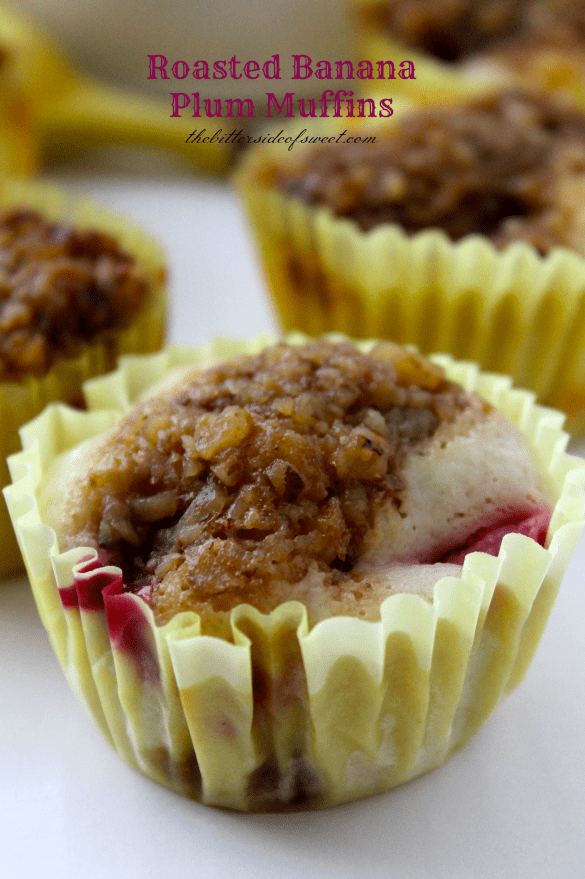 One thing I wanted to share with you about the muffins are the liners. After baking them I of course needed to dig in but the muffin really stuck to the liner. I though it was a failure. Then I waited for them to cool off and still they stuck. Well I waited overnight to see what would happen and bingo! The liners came off perfectly. So I am going to recommend to bake these the night before and allow them to cool completely before you tear into them. Asking why this happened on Facebook I found out this happens when you have no oil or any kind of fat in your recipe(you can always spray the liner if you want to eat them right away). These have banana Greek yogurt in place of the oil so there is no fat indeed. The yogurt and fruits in these muffins make them very moist and soft. I would also recommend storing them in the refrigerator as well! ENJOY!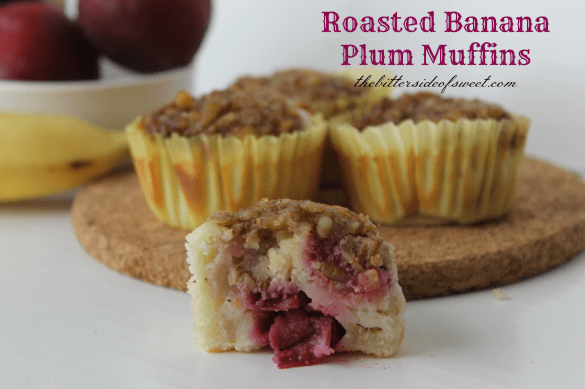 Want to connect more with TheBitterSideofSweet? Follow at:
Facebook | Bloglovin | Pinterest | Instagram | Google+ | Twitter
Roasted Banana Plum Muffins
Moist banana and plum flavored muffin topped with a walnut crust.
Ingredients
1 1/2 cups flour
1 1/2 teaspoon baking powder
½ teaspoon salt
1 cup sugar
1 egg
3/4 cup milk
6 oz banana Greek yogurt, I use Chobani
2 roasted bananas, mashed
2 plums, diced
FOR THE WALNUT TOPPING:
3 tablespoon butter
2 1/2 tablespoons dark brown sugar
1/2 cup chopped walnuts
Instructions
Preheat oven to 400. Prepare 2-12 cup muffin tins with liners. (this recipe makes 16 muffins)
In mixing bowl add the flour, baking soda, salt and sugar. Stir together.
Add egg, milk and Greek yogurt into the flour mixture.Mix well.
Stir in roasted bananas and plums.
Divide batter into muffin tin.
Prepare walnut topping by melting butter and dark brown sugar together.
Stir in walnuts.
Spoon 1/2 tablespoon of walnut topping onto each muffin.
Bake for 12-15 minutes or until tooth pick inserted comes out clean.
Cool and ENJOY!
Notes
Store in refrigerator up to 3 days.
Recommended Products
As an Amazon Associate and member of other affiliate programs, I earn from qualifying purchases.
Want more from theBitterSideofSweet? Here you go!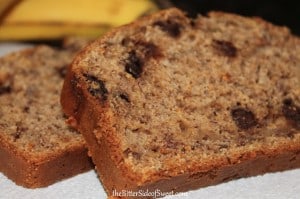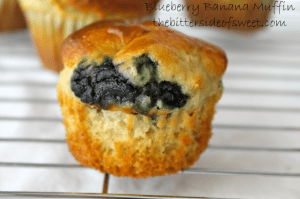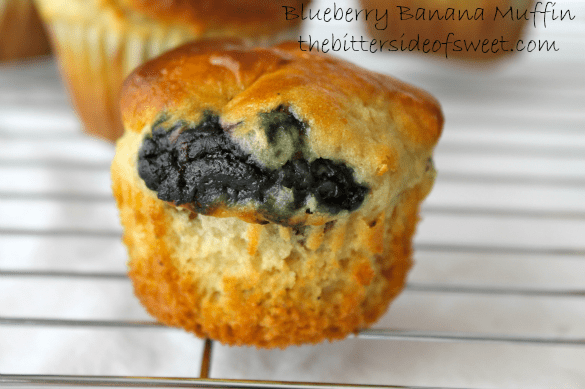 Blueberry White Chocolate Pancakes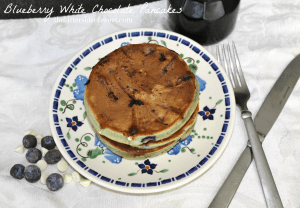 This recipe may be linked at these sites!