A creamy, slightly sweet Ricotta Pie!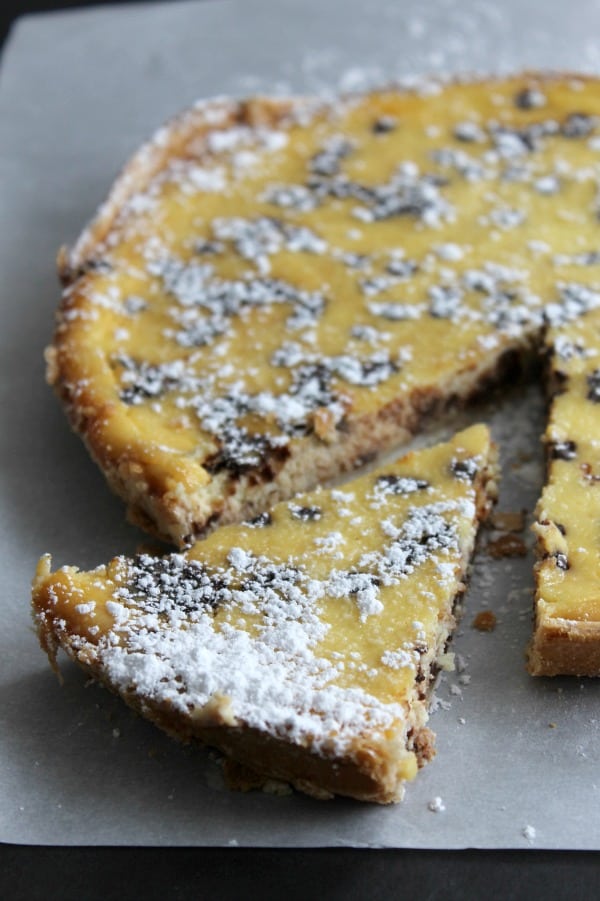 Today I am sharing with you a pie that stole my family's hearts. Let me explain……
A few years ago we took a summer trip to visit the in laws in Vicenza, Italy. While we were there my husband took us to places that were off the beaten path. If you ever have the chance to visit a different country, definitely get with locals and find local spots. You will learn so much more about a country then you will doing the "tourist" route.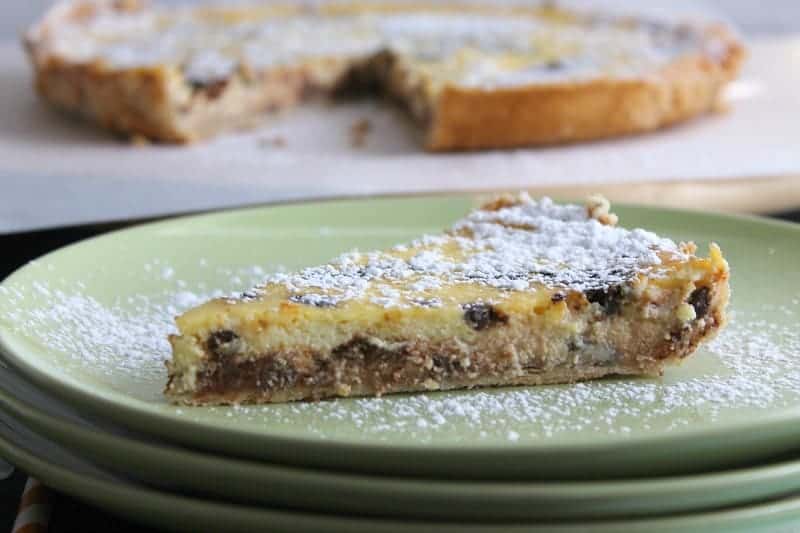 So one day my hubby wanted to take us up in the mountains a little to do some walking. It is his favorite past time when he is home and the weather is nice.
The kids and us loaded up the car and headed out of town. We stopped along the way to buy some fresh prosciutto, pane (bread) and formaggio (cheese).
Well we got lucky that day because when we stopped at the cheese stand they had fresh ricotta pie. Myself and the kids had never had it so we grabbed a few slices to take with us.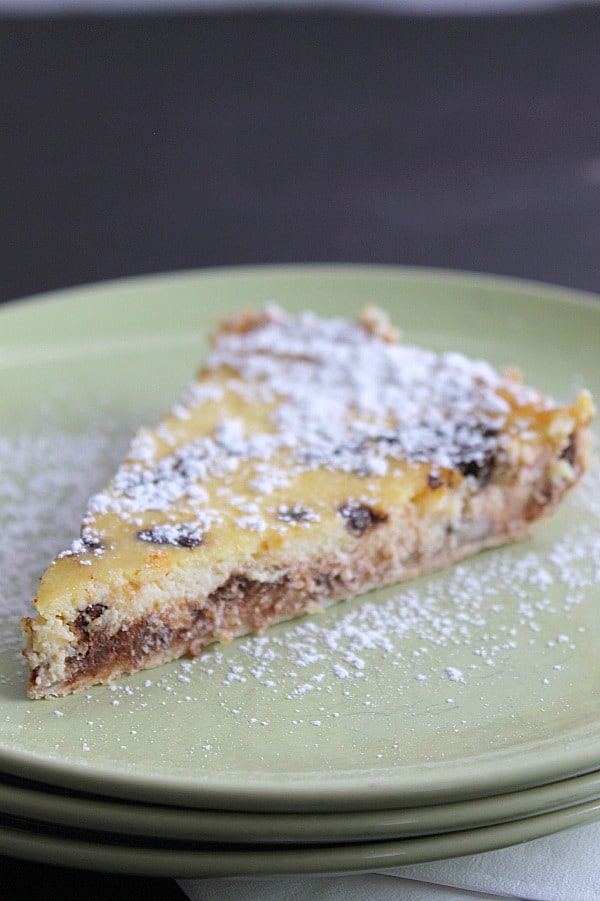 And then magic happened for us. We drove down the road a little while longer and found a clear patch of grass for us to lay our blanket out and have our picnic. The best part was that there were cows roaming all around as they headed down the mountain to graze.
This is one of our fondest memories. Sitting alongside of a mountain with cows wondering all around us eating our ricotta pie. It was the BEST pie we had ever eaten and have yet to recreate.
This is my attempt to but it's not nearly close enough for me. We loved this version as well with the creaminess of the ricotta and the sweetness of the chocolate chips. I hope you enjoy it as much as we did!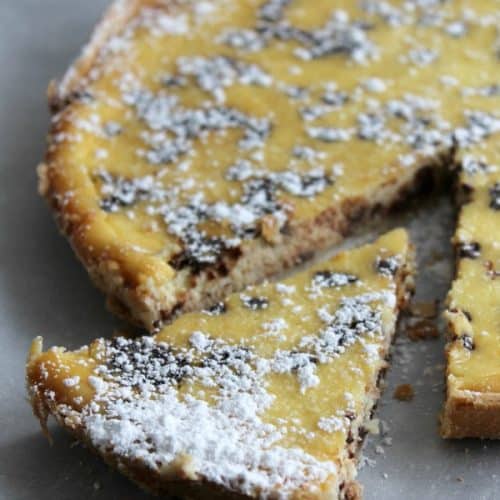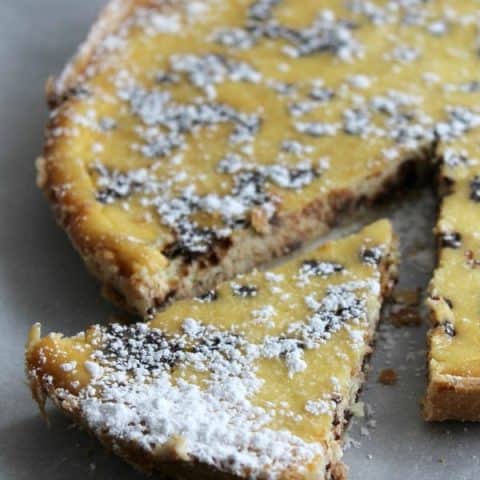 Ricotta Pie
Ingredients
15 ounces ricotta cheese
1 cup milk
1/2 cup sugar
1 egg, room temperature
1 egg yolk, room temperature
1 teaspoon vanilla
3/4 cup chocolate chips
1 9 inch refrigerated pie crust
Instructions
Preheat oven to 400 degrees.
In large bowl mix together ricotta and milk.
Add sugar, egg, egg yolk and vanilla. Mix till smooth and creamy.
Stir in chocolate chips.
Using a 9 inch pie pan roll out crust and lay in pan. (I sprayed my pie pan with non stick cooking spray)
Pour in ricotta mixture.
Bake in oven for 40-50 minutes or until crust is golden brown and the middle of pie does not jiggle.
Allow to completely cool. Serve and ENJOY!
Notes
I placed my pie in the refrigerator for an hour so that I could serve it chilled. Store in refrigerator for up to 3 days.
Remember last year when I went to this amazing Food Wine Conference in Orlando? This year they are having a contest with one of their platinum sponsors Florida Diary Farmers and want to see how you cook up inspired dishes with your favorite dairy!
Food Wine Conference will be held this year May 14-16 at Rosen Shingle Creek in Orlando, Florida. Make sure you hope over to find out more!
Follow Florida Dairy Farmers on Facebook, Twitter, Pinterest, Instagram, and YouTube
Follow Food Wine Conference on Facebook, Twitter, Instagram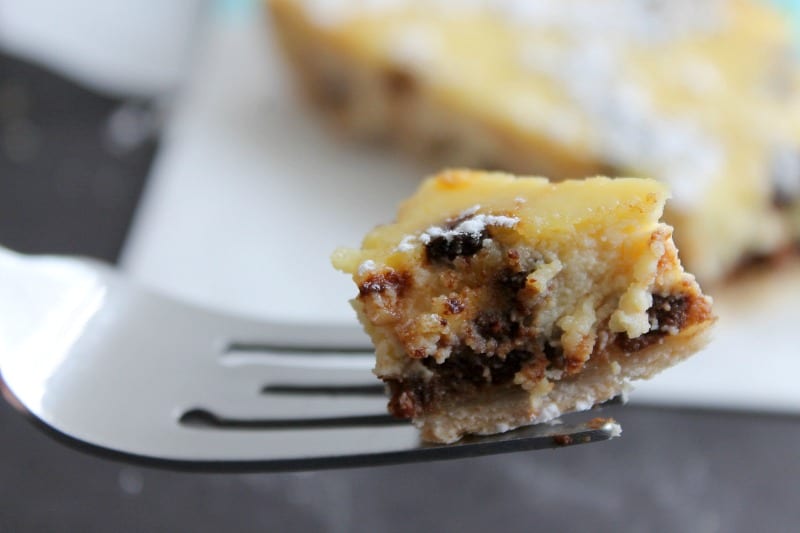 Want to connect more with TheBitterSideofSweet? Follow at:
Facebook | Pinterest | Instagram | Twitter