Red Velvet Muddy Buddies are a easy party snack that will quickly disappear!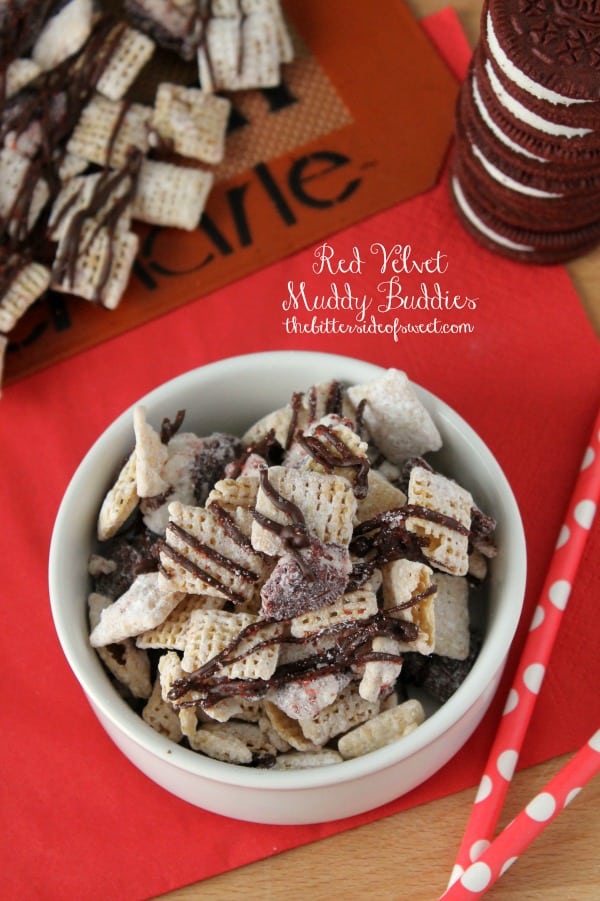 So who says red velvet has to be a Valentine's thing? I love it all year round and can not get enough of all things red velvet!
I decided to do some research on red velvet and to find out why it is so popular in February. Well apparently, in my own opinion, because it's red and the color coordinates with the holiday.
Okay seriously red velvet made its come back as a favorite type of cake in 1989 when it was mentioned in the movie Steel Magnolias. Oh my gosh, fabulous movie, right? I cry every. single. time. But honestly the red velvet armadillo cake did not seem appetizing.
Anyways, now that red velvet is back to stay my daughter said I should do a red velvet week so I took her up on the challenge. I like quick and easy desserts and snacks because with 4 kids running around who has time to make fabulous cakes every single week? I do not!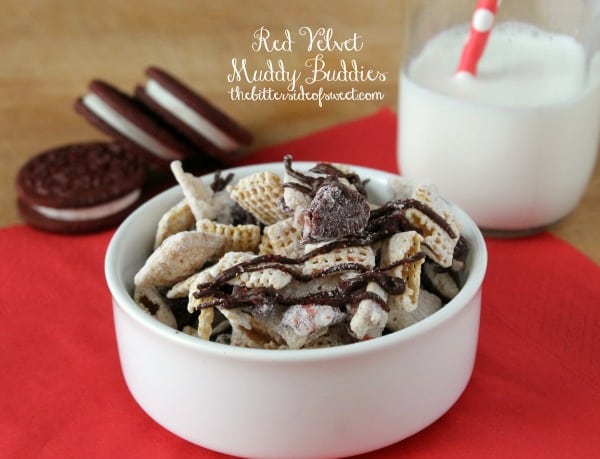 So to put these muddy buddies together takes no time at all. And the chocolate drizzle on top is totally optional so you can technically be eating these in about 3 minutes from start to finish! Count me in! ENJOY!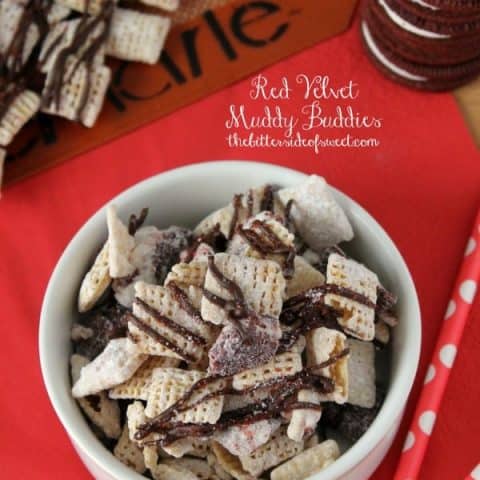 Red Velvet Muddy Buddies
Red Velvet Muddy Buddies are a quick party snack that will quickly disappear!
Ingredients
2 ounces almond bark
3 cups toasted corn cereal
6 red velvet oreos, chopped into pieces
1/4 cup powdered sugar
FOR THE DRIZZLE, optional:
1/3 cup mini chocolate chips
2 teaspoons red sprinkles
Instructions
Measure out cereal into a medium size bowl. Set aside.
In a microwavable bowl melt almond bark for one minute or until completely melted and smooth.
Pour over cereal and stir till completely coated.
Stir in powdered sugar until coated.
Mix in oreos.
OPTIONAL DRIZZLE:
On a cookie sheet covered with parchment paper spread out muddy buddies.
Melt chocolate chips over double boiler. Pour into piping bag.
Drizzle over muddy buddies.
Top with sprinkles.
Allow chocolate to harden before eating.