Red Lentil Soup is a thick and creamy soup with the flavors of red lentils, zucchini, tomato and the secret ingredient of greek yogurt!
This post is sponsored by Bob's Red Mill and Stonyfield. All opinions are 100% my own!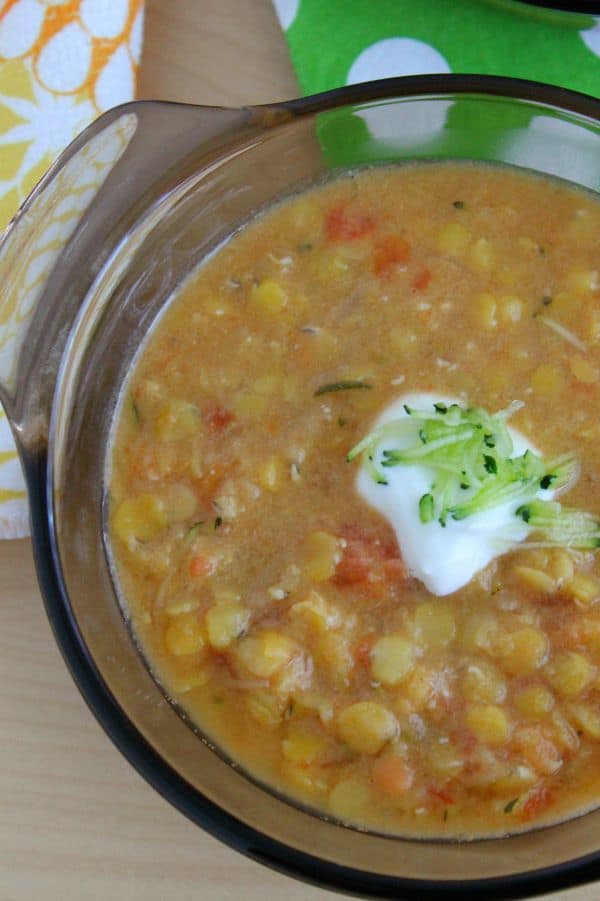 Let's talk soups for a few moments, shall we? Okay so I have never been a big soup maker. I would normally take a can and open it up. Or crush some noodles and be done with it.
My hubby and my mother in law have changed my opinion on how soups should be made. They can both take the simplest ingredients and make them into something so healthy and delicious, you always crave more.
There is something about their Italian beings that can make anything taste good. I could make the exact same dish, with the exact same ingredients and it doesn't have that Italian flare to it.
But that doesn't stop me from trying.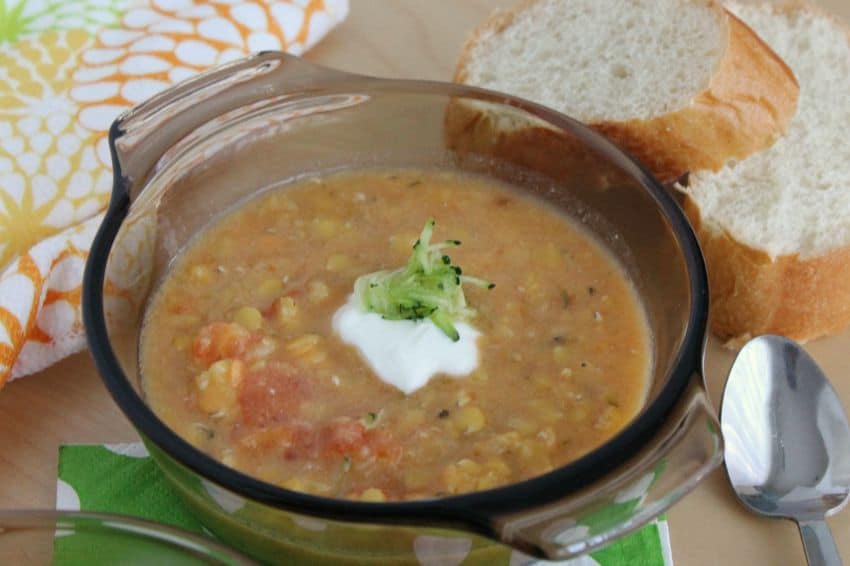 The one thing that I have learned from both of them is that soup gets better over time. Yes you can make it and eat it right away but a day or two later and you have a completely different flavor to your soup. The longer the ingredients marry together the longer they have a chance to really integrate.
So with this soup, I made it twice. Bob's Red Mill sent me some Red Lentils and Orca Beans, so i decide to put some of them in a soup. The first time I cooked it all in my slow cooker and we ate it in the evening. But I thought it was too runny.
I went back and tried it again. Thinking about what my hubby and mother in law do, I took my time.
You can make the lentils a few days ahead of time. In fact after letting them sit a few days a peppery flavor came out even though I had not put any pepper in. I am assuming it was from the broth I used.
You can put the lentils in your slow cooker so that part is all hands off. You just dump your ingredients in and let it cook for a few hours. When it is time to make the tomato base with my secret ingredient, StonyField Greek Yogurt it only takes about 15 minutes and then you can eat the soup immediately! ENJOY!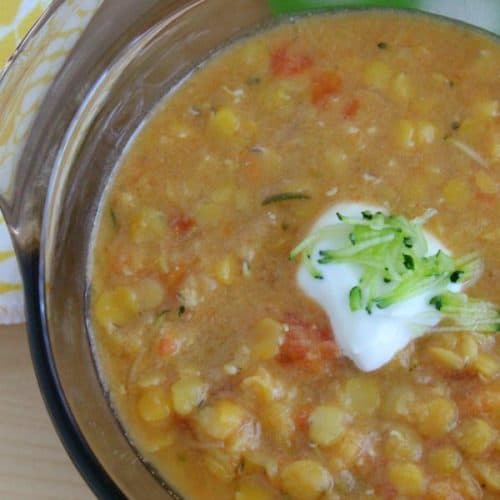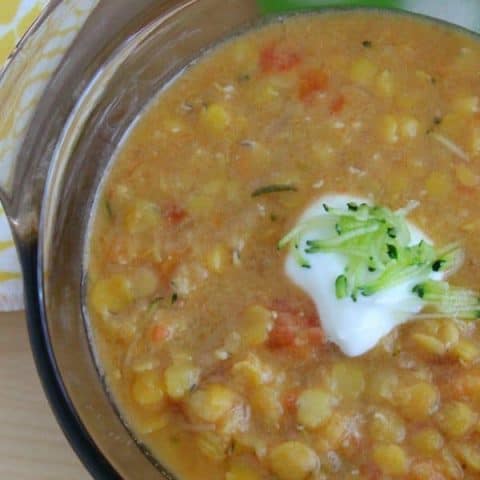 Red Lentil Soup
Cook Time:
3 hours
30 minutes
Total Time:
3 hours
50 minutes
A thick and creamy soup with the flavors of red lentils, zucchini, tomato and the secret ingredient of greek yogurt!
Ingredients
1 1/2 cupc Bob's Red Mill Red Lentils, rinsed
3 cups vegetable broth
2 cups water
2 teaspoon salt
4 to matoes, cut in half
drizzle of olive oil
dash of salt
1/2 cup Stonyfield Greek Yogurt
1 cup shredded zucchini
Instructions
Pour lentils, broth, water and salt into slow cooker. Cook on low for 3 hours. Set aside and cool.
In large pot add tomatoes, olive oil and salt. Cook for 12 minutes or until tomatoes are soft and mushy. Mash them.
Slowly add in greek yogurt and stir until completely combined.
Add lentils to tomatoes. Stir.
Stir in zucchini.
Cook for 15 minutes.
Serve and ENJOY!