Having a party? Need an afternoon snack for the kids? Just need to use up that leftover pesto you have? Here is a Pesto and Bacon Pizza Appetizer that will make everyone come back for more!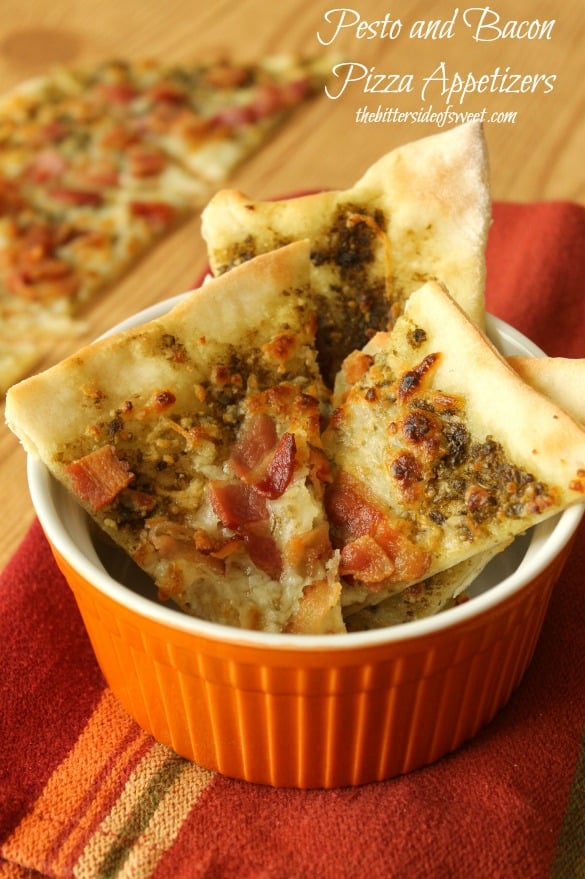 So last week my husband reminded me that we had some pesto left in the fridge and maybe we could make something with it. I completely forgot it was there, so I was happy to oblige.
So I started brainstorming on what I wanted to use it on. Well the obvious would of been pesto pasta but I wasn't in the mood for pasta. So I started thinking snack. I have been in a snacking mood lately. I have also been trying to think of things we could snack on for when we watch the Super Bowl. Pesto and bacon, believe it or not, go amazingly well together. The saltiness of the bacon and the garlic basil flavors from the pesto packs a big punch.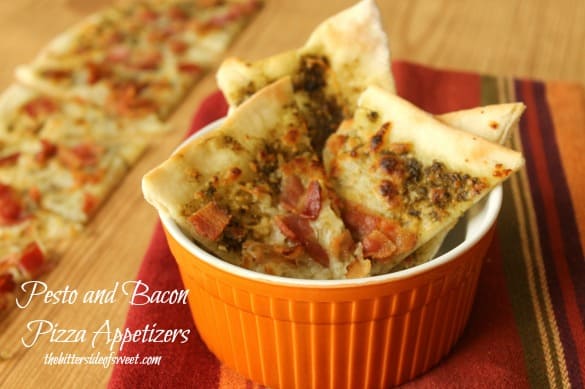 To make these it is super easy. I microwaved my bacon while I was preparing the pizza dough and after that it just took a few minutes to assemble them together. I decided this time I was going to roll my pizza dough out real thin, because I wanted to add a crispy texture to these appetizers. You know, give it some crunch! What is also great about this appetizer is that you can make it ahead of time, even a couple of hours and then when you are ready to serve them, pop them into the oven on broil for a minute or so and they are like new! ENJOY!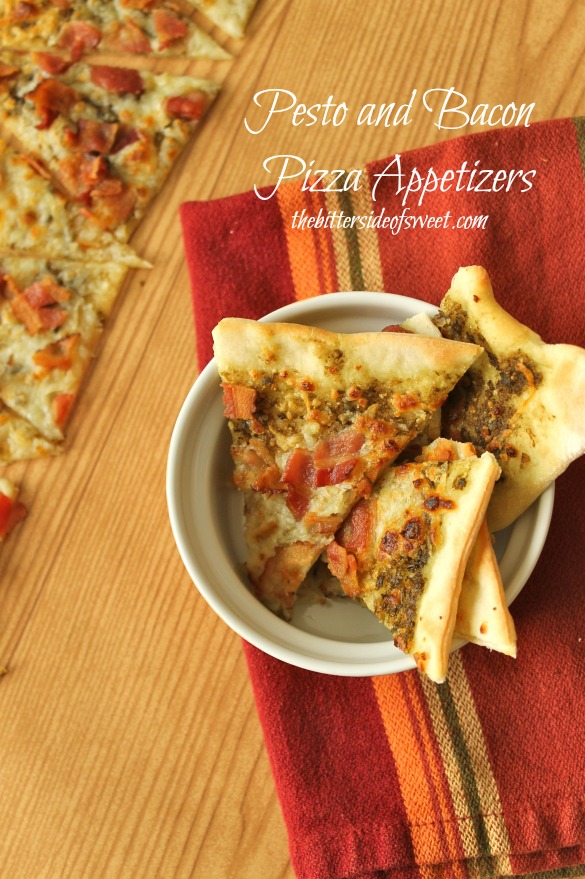 Want to connect more with TheBitterSideofSweet? Follow at:
Facebook | Bloglovin | Pinterest | Instagram | Google+ | Twitter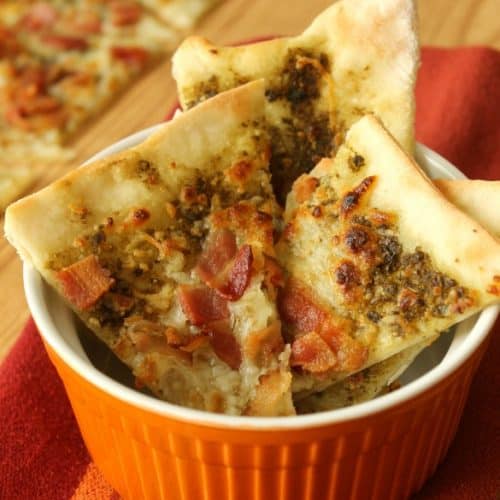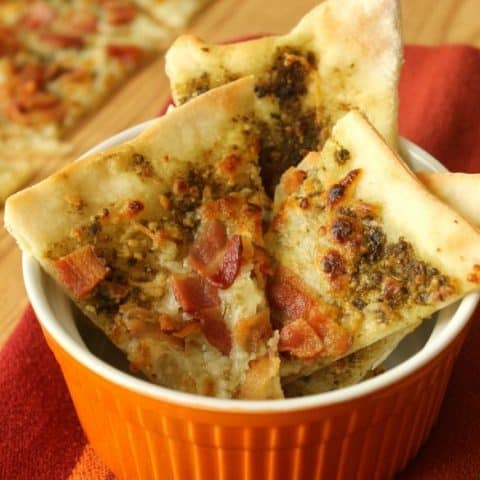 Pesto and Bacon Pizza Appetizer
crispy appetizer complimented with pesto and bacon
Ingredients
1 pizza dough ball
6 tablespoons pesto
2 cups mozzarella cheese
10 slices bacon, cooked and chopped
extra virgin olive oil
Instructions
Preheat oven to 400F. Prepare 2 baking sheet pans.
Roll dough out into a rectangle with long side on top and bottom and the short ends on the side. Size should be about 10x18(WxL). Cut dough in half by making a vertical line in the middle.
On one half of dough sprinkle with olive oil.
Spread 3 tablespoons of pesto onto dough.
Sprinkle with 1 cup of cheese. Then sprinkle with 5 slices of bacon.
Repeat steps with the other half of the dough.
Transfer each half to baking sheet.
Bake for 8 minutes or until edges are brown.
Remove and allow to cool for 2 minutes.
Cut each half into triangles.
Serve and ENJOY!