Want to make an easy, quick dessert? Then look no further because these No Bake M&M Peanut Butter Delights are just what you are looking for!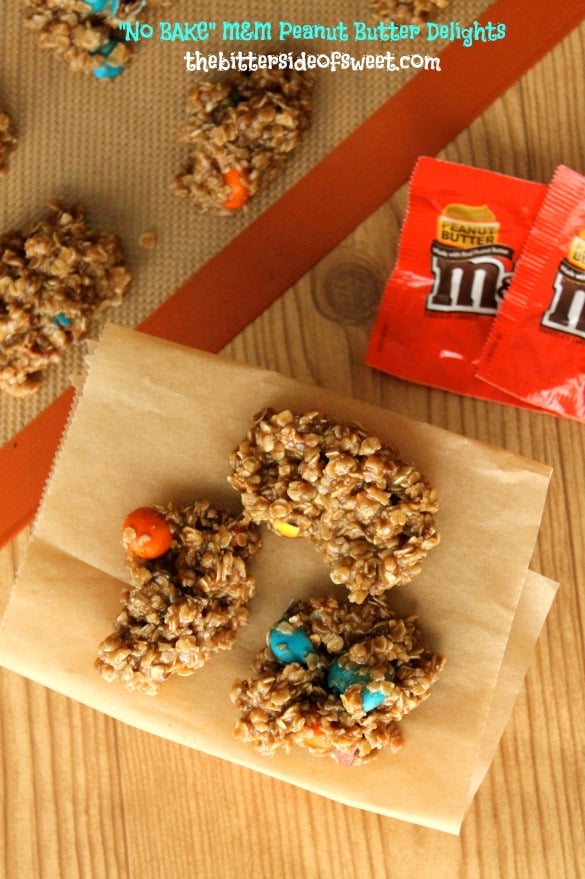 When I was a kid I remembered we used to always make no bake peanut butter delights. We would line the wax paper on the counter tops and mix up all of the ingredients in the big pot on the stove and then we would drop them on the wax paper and allow them to cool. It was hard waiting for these to set. When my kids had snow days this week, I set out to make an easy treat to have for them. Something I had all of the ingredients for and something that would not take too much effort. So glad I did! Because this brought back my childhood memories as I made some with my own children!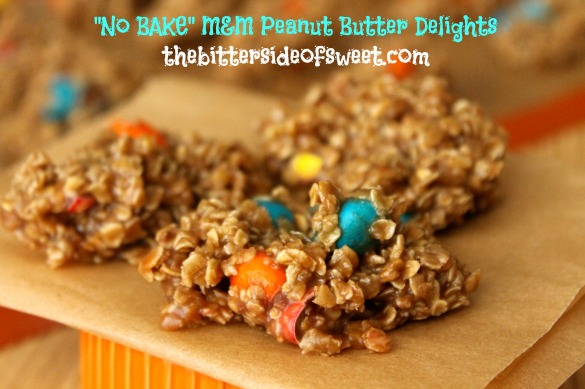 I did have to tweak the original recipe because there was one ingredient I didn't have. Cocoa powder! I had the container in my baking cabinet and when I pulled it out and opened it up, empty! Completely empty! So I had to figure out a way to add the chocolate and then my eyes landed on my almond bark. I have a package of it in my cabinet and thought that it could work. It did!! Also to bump up the flavor of the peanut butter I added peanut butter M&M's. So glad I did that as well. It added a little color to them which made them just right! ENJOY!!
Want to connect more with TheBitterSideofSweet? Follow at:
Facebook | Bloglovin | Pinterest | Instagram | Google+ | Twitter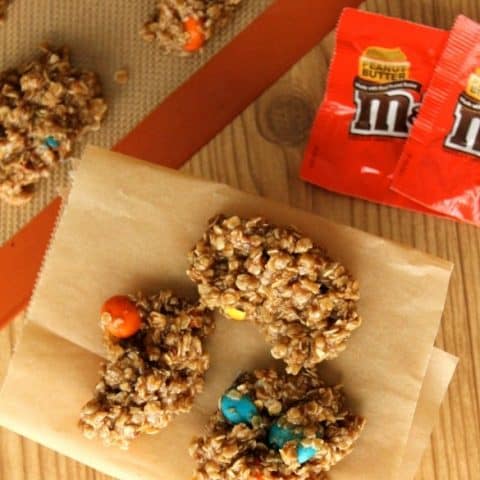 No Bake M&M Peanut Butter Delights
quick easy no bake treats full of chocolate and peanut butter flavor!
Ingredients
1 cup sugar
1/2 cup milk
1/2 stick or 4 tablespoons butter
1/4 teaspoon vanilla extract
2 oz cube of chocolate almond bark
1/2 cup peanut butter
2 cups quick cooking oats
1 cup M&M's peanut butter, chopped
Instructions
Prepare a cookie tray by lining with parchment paper.
Add oats to a large bowl and set aside.
In a microwavable bowl melt almond bark for 1 minute or until completely melted. Stir and set aside.
In a large pot on medium heat bring to a boil sugar, milk, butter, vanilla, and almond bark. Boil for one minute.
Add peanut butter and stir till melted.
Pour over oats and stir till combined.
Add in M&M's and stir.
Drop onto parchment paper. Allow to cool for 1 hour and ENJOY!
Notes
This recipe makes 15 delights.
You can also place in freezer after you drop onto cookie sheet and they are ready in 20 minutes!
this recipe may be linked at these sites!