This Jalapeño Meatball Ring is the perfect game day food to feed a hungry crowd!
"This #HalftimeHero creation is brought to you by Farm Rich. All opinions expressed are my own."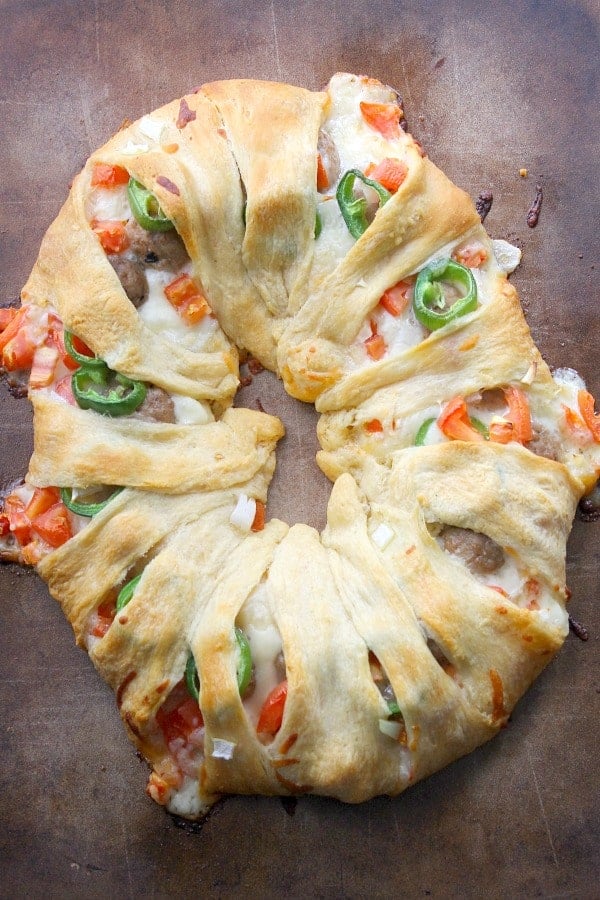 So tell me guys, what do you do for the weekends?
Are you outdoors soaking up the winter sun, running the kiddos around town from here or there or taking some time and binge watching tv?
I know what I would like to be doing, binge watching tv!
But that doesn't always happen in our house.
Most Saturdays I am running my daughter back and forth to ballet and my hubby spends most of the weekend at work.
Click here to save this recipe on Pinterest!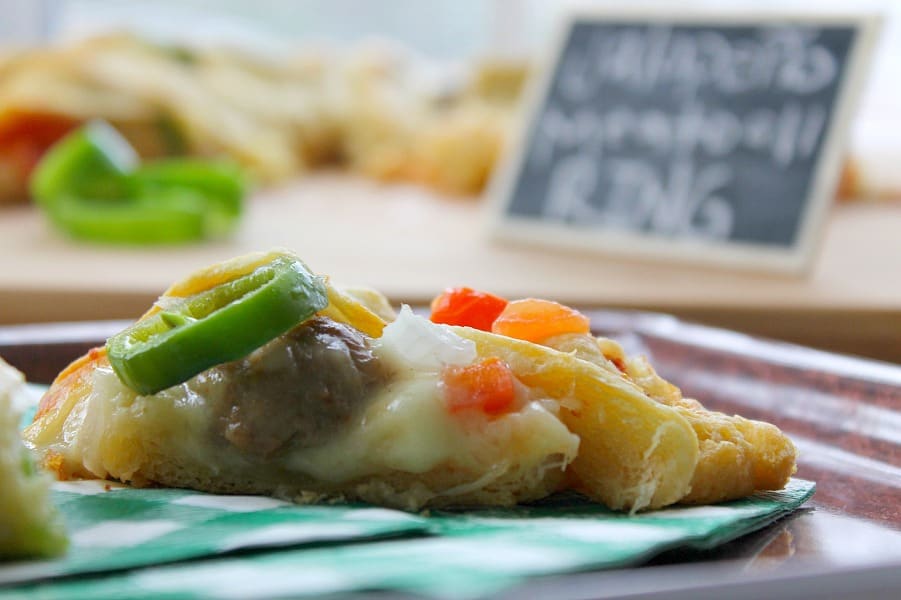 Just because I can't binge watch TV, we do take the time to spend family time together with the family.
Saturday afternoons I am hustling around getting pizza dough ready for our weekly pizza night.
Sunday afternoons I spend time in the kitchen cooking new things I haven't made before such as this Jalapeño Meatball Ring.
This is the perfect snack to eat around the TV on Sunday afternoons while watching football.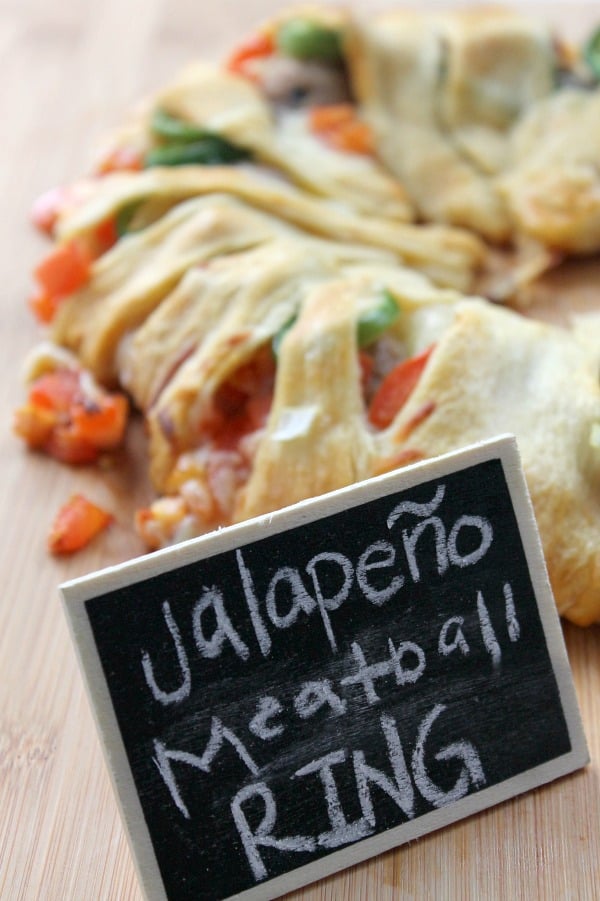 We have had a chance to watch a few of the playoff games that are happening right now, have you? Is your team still in?
Either way when it comes to the big game we can make all kinds of snack and goodies for it!
For myself, that is the best part! I love to make this cheesy sausage dip but I loved even more making this ring!
Farm Rich has so many products that helps making your game day snacks easy!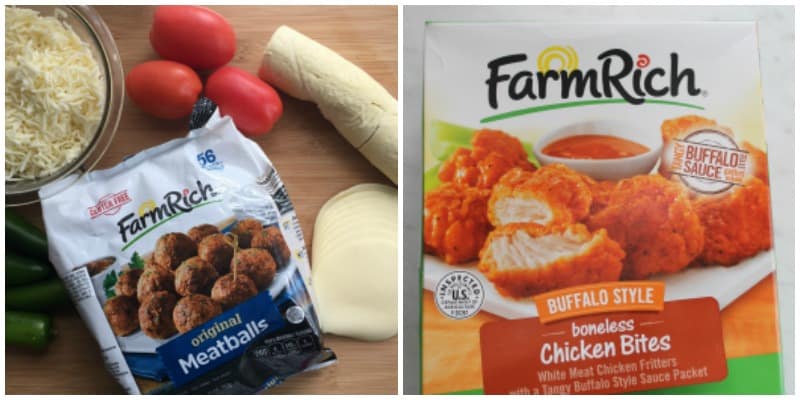 I have used the meatballs several times because you can make them in the microwave and they are ready in just a few minutes! My other favorite snacks were the boneless chicken bites!
I love to eat anything with buffalo sauce and crave it!
To make this ring is super simple, and you could be like me and really stuff it! 🙂 ENJOY!
If you're on Facebook come check out this fun little group I've got going on. Instagram is a fun resource I'm using right now. If you make any recipes make sure to tag them #bittersideofsweetrecipes so I can see your creations!
Want to connect more with The Bitter Side of Sweet? Follow at:
Facebook | Pinterest | Instagram | Twitter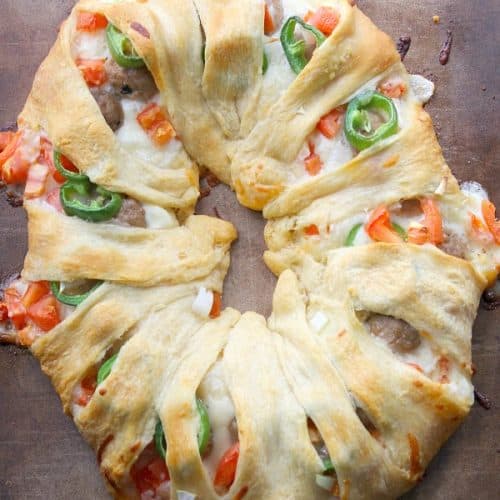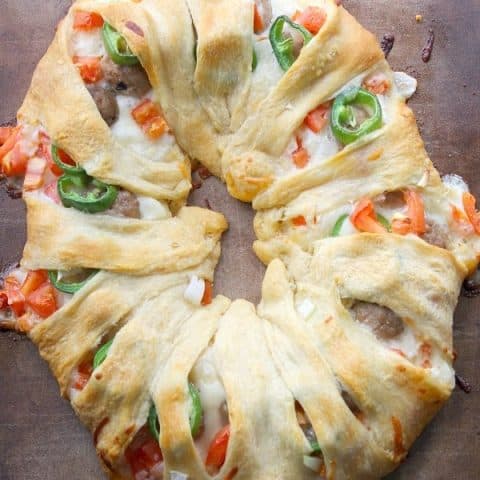 Jalapeno Meatball Ring
Ingredients
2 cans crescent rolls
6 slices provolone cheese, divided in half
1/2 bag Farm Rich Original Meatballs
1 cup shredded mozzarella cheese
3 roma tomatoes, chopped
1/2 white onion, diced
3 jalapeños, sliced
Instructions
Preheat oven to 375 degrees F. Use non stick cookie sheet or cover with parchment paper.
Prepare 1/2 bag Farm Rich Original Meatballs according to microwave instructions. Cut meatballs in half and set aside.
Unroll both crescent roll cans and separate into 16 triangles. Arrange triangles overlapping the edges in a circle.
Top with provolone, meatballs, mozzarella cheese, tomatoes, onions and jalapeños.
Place in oven and bake for 15-20 minutes or until golden brown.
Allow to cool for 2 minutes before slicing. Serve and ENJOY!