These chewy coconut chai latte bars are perfectly spiced with all the flavors of chai tea and loaded with coconut and oats.
Today I have an amazing blogger guest posting for me! I am so happy to introduce all of you to her. She has some amazing recipes and is such a sweet person! This guest post could not of come at a more perfect time. I am taking a final in one of my classes this week and then I will be done with one of my classes! So I am taking a much needed break to study! Thanks so much to Zainab for being her today and guest posting! Here's Zainab!!
**************************************************************************
Hello there! I am Zainab and I blog over at Blahnik Baker. I am very excited to be sharing this recipe for coconut chai latte bars with you today. Like Nancy, I am a student wife and understand how busy it gets trying to balance school and life. But unlike her, I do not have kids so my life is ten times less busier. So when she asked me to guest post once school gets busy for her, I was happy to come over!
I am a big tea fan. I love drinking tea at all times of the day but particularly as the first thing of the day and the last as well. My husband learned very early in our dating days that you don't mess with this girl before her morning cup of tea. When I do go to coffee shops, I get fancier teas like chai tea latte with soy milk. At Starbucks, where I have most of my coffee dates, it's one of my favorite indulgences there!
The current dumping of snow has really hindered my ability to make my usual coffee dates so I created these coconut Chai latte bars to help with my cravings of tea latte. These chewy bars are perfectly spiced with cinnamon, cardamom and ginger and I loaded them with oats and coconut for added flavor and chewiness. They are perfect for an afternoon snack, with a cup of coffee or your favorite tea latte.
Thank you Nancy for having me over today!! It was a great pleasure to meet your readers. I hope you will all stop by Blahnik Baker to say HI and check out some of my recipes. Here are a few I think you will love.
Thank you so much Zainab!! These bars look delicious!!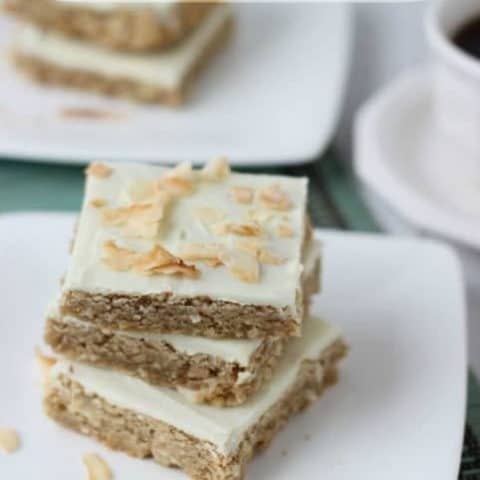 Coconut Chai Latte Bars (Guest Post)
These chewy coconut chai latte bars are perfectly spiced with all the flavors of chai tea and loaded with coconut and oats.
Ingredients
2 1/3 cups all-purpose flour
½ cup old fashioned oats
3 tablespoons malted milk powder
1 teaspoon ground cardamom
1 teaspoon ground ginger
1 teaspoon ground cinnamon
¼ teaspoon ground cloves
½ teaspoon salt
1 cup 2 sticks unsalted butter, at room temperature
1 ¾ cups packed light brown sugar
1 large egg
2 teaspoons vanilla extract
½ cup unsweetened coconut flakes
9 ounces white chocolate chip
Instructions
Preheat the oven to 350 degrees F. Grease a 9 x 13 inch baking pan. Line with parchment paper and then grease the parchment. In a medium bowl, whisk together the flour, oats, malted milk, spices and salt. Set aside.
In a large bowl, cream the butter and brown sugar with a mixer on medium-high speed until light and fluffy, about 3-5 minutes. Beat in egg and vanilla extract until well combine. Scrape down bowl as needed. Reduce speed to low, beat in the dry ingredients in two batches. Mix until just incorporated. Using a spatula, fold in the coconut flakes.
Spread batter evenly in prepared pan. Bake until golden brown and edges start pulling away from the sides of the pan, about 20 - 25 minutes. Remove pan from the oven and sprinkle white chocolate chips, then return to the oven until chocolate softens, about 1 minute. Remove from oven and using an offset spatula or bread knife, spread chocolate into a smooth layer. Top with coconut flakes. Let cool completely in pan then lift out of pan using parchment. Cut in squares.
this recipe may be linked at these sites!