Nothing taste better than the combination of sweet and salty. That is what you get with these Chocolate Pretzel Pecan Shortbread Bars!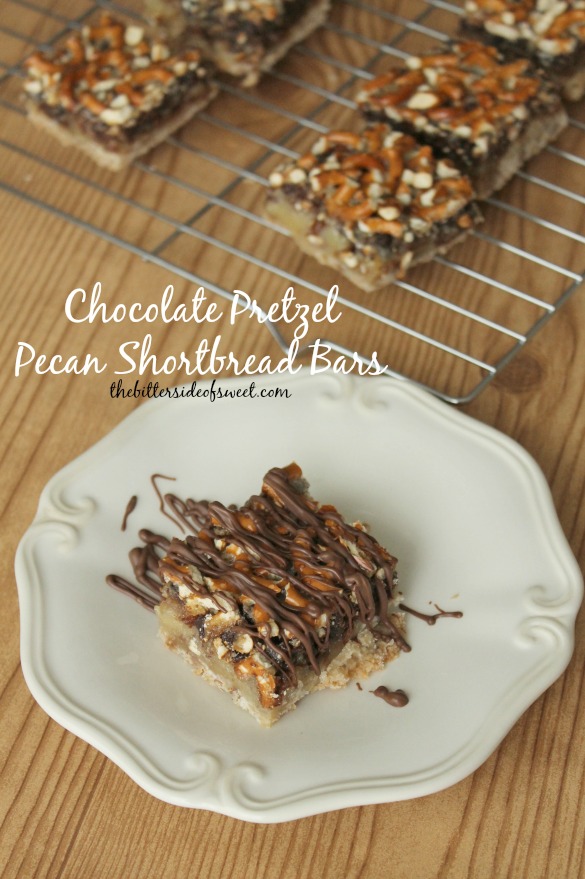 I have been telling you A LOT lately that things have certainly been crazy around here. School, kids, blog and life sometimes it can be hard to try and manage everything. Can I tell you that I just feel so grateful that I have all of these things to manage and I need to remind myself of that every day.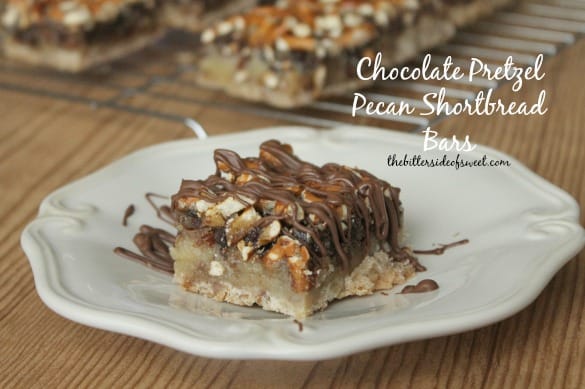 In the midst of all of this I have been trying to figure out what to call this here dessert. Like for 3 weeks trying to figure it out.  Isn't that funny? I could not figure out exactly what they were. Turtle something or other. Pecan pie bar. Just calling it for what it was, Chocolate Pretzel Pecan Shortbread Bars, seemed like the best solution. It is a combination of all of these ingredients.
Despite the name can we just say AMAZING!! I made these twice in about a week at the beginning of February. Took them to two church events which was a good thing or I would of eaten them entirely by myself. Seriously no self control people!
There is a process with these bars. You have to bake the crust first. Then add the top layer and bake again. They need to cool completely and then refrigerated. Trust me, it is worth it. I tried to skip the refrigeration time the second go around and it really made a difference on how these tasted. ENJOY!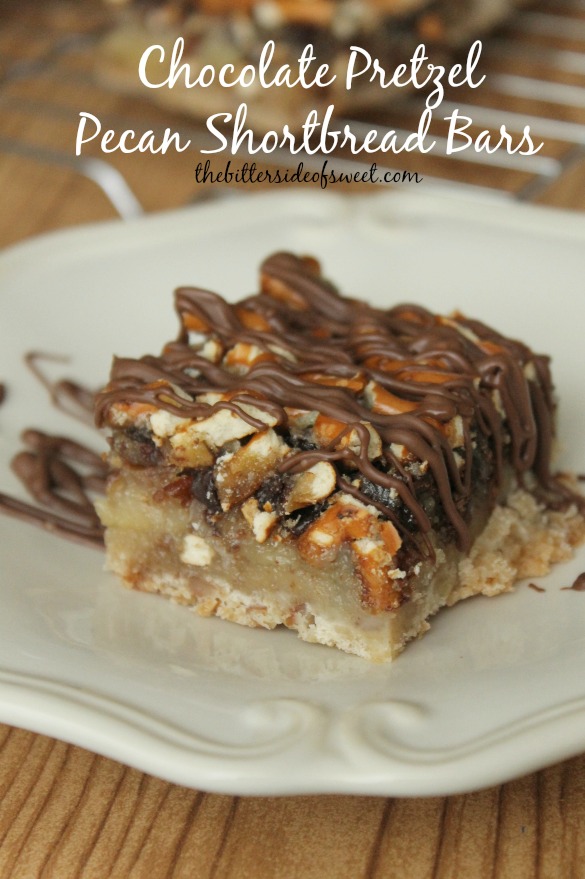 Want to connect more with TheBitterSideofSweet? Follow at:
Facebook | Bloglovin | Pinterest | Instagram | Google+ | Twitter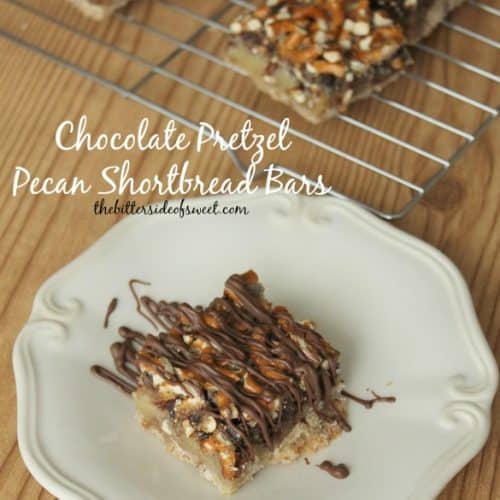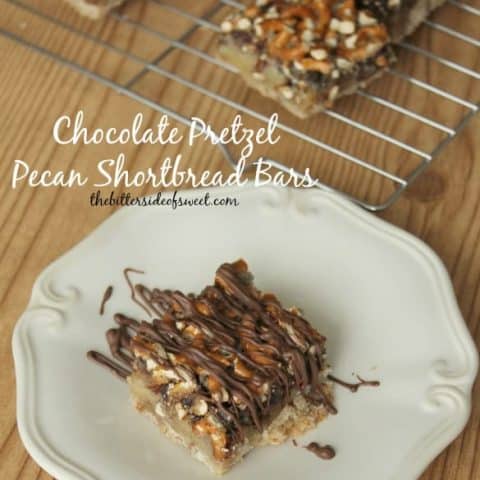 Chocolate Pretzel Pecan Shortbread Bars
Prep Time:
4 hours
30 minutes
Sweet and salty dessert with a shortbread crust and a pecan pie filling!
Ingredients
FOR THE CRUST:
2 cups flour
1/3 cup brown sugar
1/2 cup pecans, chopped
1 stick butter, cold
FOR THE FILLING:
1 cup sugar
1 cup white Karo syrup
1/2 cup butter, melted
4 eggs, slightly beaten
2 cup chopped pecans
1 cup mini chocolate chips
1 cup pretzels chopped
Instructions
Preheat oven to 350 F.
Prepare a 9 x 13 pan by spraying it and lining with a piece of parchment paper. Then spray the parchment paper.
Mix the flour and brown sugar together. Cut into mixture the butter till it looks crumbly. Stir in pecans. Spread into pan and bake for 10 minutes. When done allow to cool while you prepare the filling.
In a large bowl add sugar, karo syrup and butter. Mix well together.
In a separate bowl, lightly beat eggs.
Add to sugar mixture and stir.
Pour over shortbread and spread evenly.
Evenly spread out the 2 cups of pecans over the egg mixture.
Then layer the mini chocolate chips on top of pecans.
Then layer the pretzels on top of the chocolate chips.
Press the pretzels down lightly into the batter.
Put back in oven and cook for 30 minutes or until middle no longer jiggles.
Cool at room temperature.
Then chill bars for 4 hours or overnight. ENJOY!
this recipe is linked at these sites!