Have you ever seen a commercial on TV of the same thing over and over again to the point you could not stop thinking about it because you absolutely had to have it? Yeah that happened to me and that is how these Chocolate Chip Cookie Dough Rice Krispy Treats came about.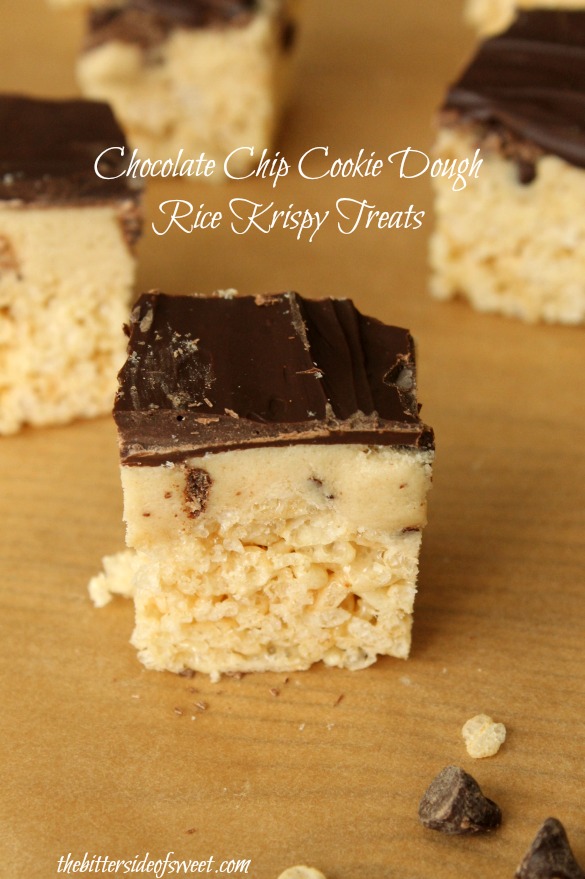 So the month of April comes around and the internet exploded with cookie dough recipes. Not sure who declared it cookie dough month but I was certainly willing to participate. I actually made these over a month ago and am just now getting around to sharing them with you! I made them twice and twice had to send them away from the house. They are deliciously addicting! They are sweet for sure and the combination was a surprise to all who tried them!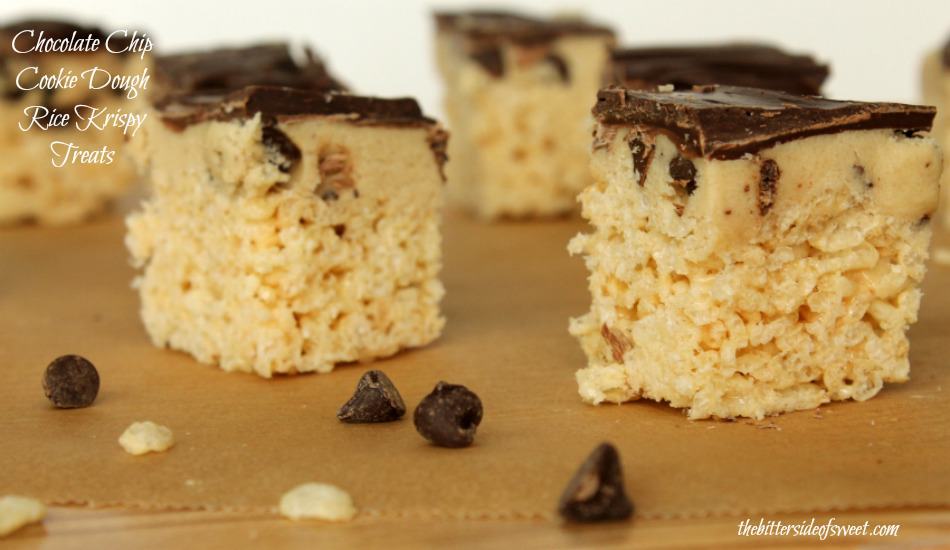 So these are pretty easy to put together with very basic ingredients you may already have around the house! But there is a process and some waiting time for each layer to harden up a bit. Basically you make the rice krispy treats and spread them in a 9X13 pan. While you wait for those to harden you can throw your chocolate chip cookie dough together. It's eggless so it is perfectly safe to eat! Then while you wait for the next layer to get cold in the refrigerator you melt your Candiquick or chocolate chips. You pour them on top and allow to harden. Then you commence in trying to not to eat every single one of these rich delicious treats! ENJOY!

Want to connect more with TheBitterSideofSweet? Follow at:
Facebook | Bloglovin | Pinterest | Instagram | Google+ | Twitter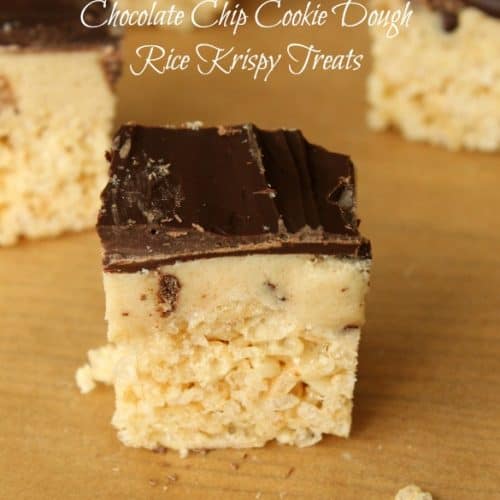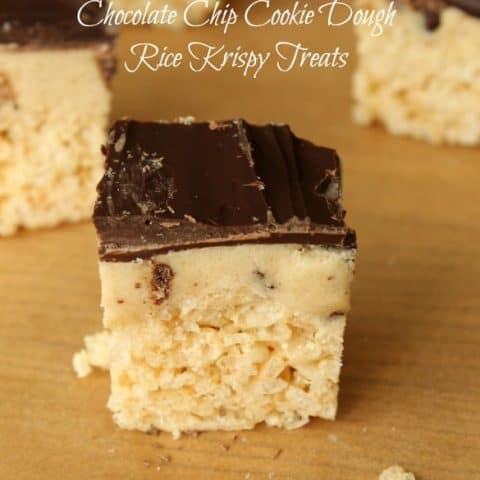 Chocolate Chip Cookie Dough Rice Krispy Treats
Deliciously rich rice krispy treats with an added layer of cookie dough to the top!
Ingredients
For the rice krispy treats:
4 tablespoons butter
4 cups mini marshmallows
4 cups rice krispy cereal
For the cookie dough:
1½ sticks butter, room temperature
¾ cup sugar
¾ cup brown sugar, packed
4 tablespoons milk
2½ cups flour
¼ teaspoon salt
1 cup chocolate chips
For the top:
16 oz of chocolate Candiquik or semi-sweet chocolate chips
Instructions
FOR THE RICE KRISPY TREATS:
Spray 9 x 13 pan. Spray with non stick cooking spray.
In a large pot melt butter and marshmallows together.
Take off heat and add cereal.
Pour into prepare pan,using waxed paper or a spatula coated with non stick cooking spray press the cereal into the pan.
Allow to cool for 15 minutes.
FOR THE COOKIE DOUGH:
In a large mixing bowl beat together the butter and sugars together.
Beat in milk till batter is smooth.
Combine flour and salt in a separate bowl. Slowly add the flour mixture into the batter and beat till the mixture is incorporated well.
Stir in chocolate chips.
Spread cookie dough on top of the layer of rice krispy treats and place in the refrigerator for 15 minutes till it is set.
Melt the Candiquik or chocolate chips in the microwave for 1 minute stirring every 15 seconds or until melted.
Spread onto the top of the cookie dough. Place back into the refrigerator for 15 minutes or until chocolate is set.
Remove from pan and cut and ENJOY!
Store the treats in the refrigerator up to 1 week.