One of my all time favorite snack foods around the holidays are muddy buddies, or puppy chow, or whatever you like to call them. These Caramel Hot Chocolate Muddy Buddies would definitely impress the guest!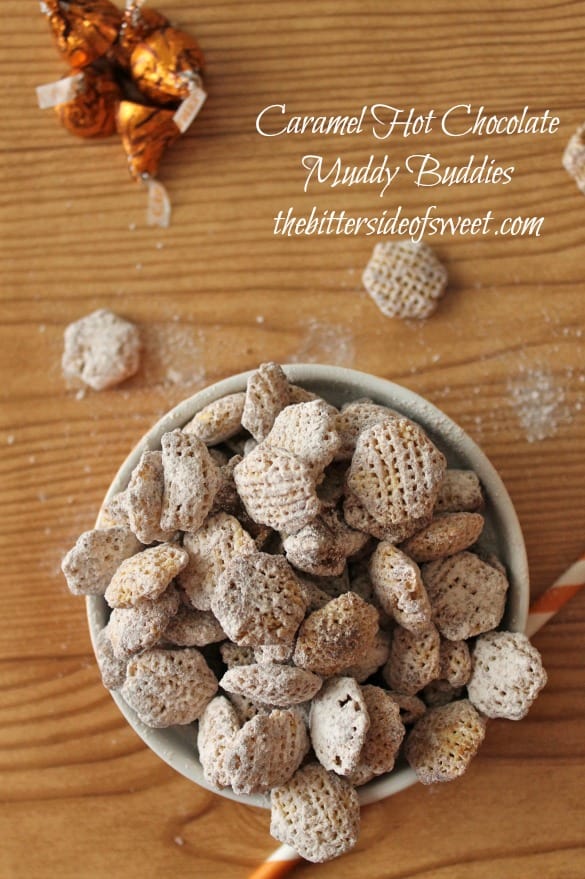 So last weekend my husband threw a music ministry dinner for all members who volunteer and are a part of the ministry. We had a very long weekend because not only was there the dinner on Saturday evening but we had choir rehearsal in the afternoon and then a concert on Sunday afternoon.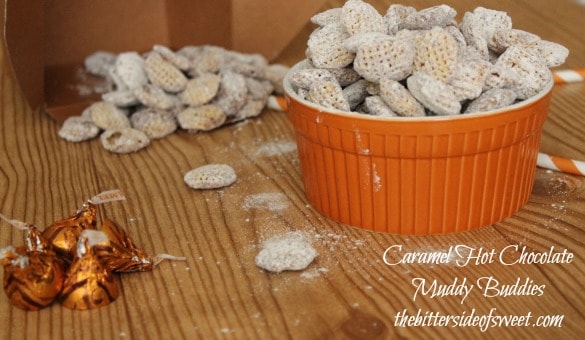 While my husband and son were away preparing and working Saturday morning at the church, my daughter and I got to working on 100 gift bags I was making for each person attending the dinner. My original idea was to do bark and cookies for the bags. Then at the last minute I scratched the bark idea and decided to do these Caramel Hot Chocolate Muddy Buddies. I am so glad I did because they were so good and so addicting!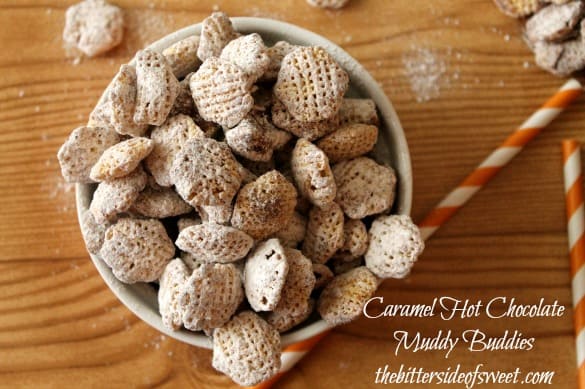 I ended up make 4 batches of these to be able to have enough to make the bags. With each batch I kept changing the recipe some and let me tell you by batch 3 I finally got it! This not only has caramel Hershey kisses and caramel hot chocolate mixed into them but there is nutella drizzled on them as well. Let me tell you who ever received the bags from batch 3, well you're welcome! They also contained the best cookies in them as well! So that is a double you're welcome! 🙂 ENJOY!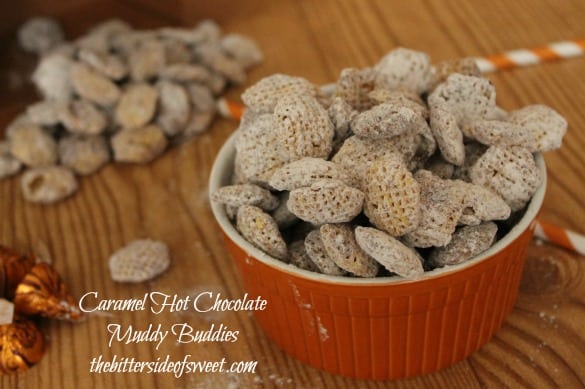 Want to connect more with TheBitterSideofSweet? Follow at:
Facebook | Bloglovin | Pinterest | Instagram | Google+ | Twitter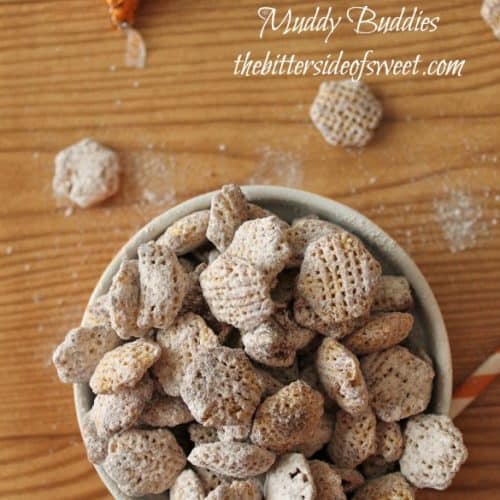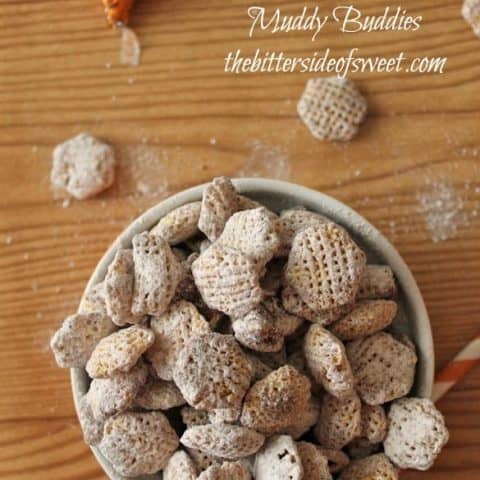 Caramel Hot Chocolate Muddy Buddies Recipe
caramel chex mix party snack full of chocolate, powdered sugar and cocoa.
Ingredients
7 cups chex mix cereal
1/2 cup nutella
15 Caramel Hershey Kisses, unwrapped
1 cup powdered sugar
1 single package Land O Lakes Caramel Hot Cocoa Mix, 1 1/4 oz
Instructions
Mix powdered sugar and cocoa mix in a bowl and set aside.
Measure out the cereal and place in a large bowl. Set aside.
Place nutella in a microwavable bowl and melt for 30 seconds. Pour over cereal and mix well.
Place kisses into a microwavable bowl and melt for 30 seconds. Stopping after 15 seconds to stir. Pour over cereal and mix well.
Using a large plastic ziplock bag add half of the powdered sugar mixture.
Add cereal and the remaining half of the powdered sugar mixture.
Close bag and shake, shake, shake until all is incorporated.
Pour back into bowl and ENJOY!
Notes
If caramel hershey kisses are melted to long they will burn.
When you pour them over the cereal it will get clumpy but it will separate some when you add it the powdered sugar.
Want more from theBitterSideofSweet? Here you go!!
Raspberry HUGS Hot Chocolate Muddy Buddies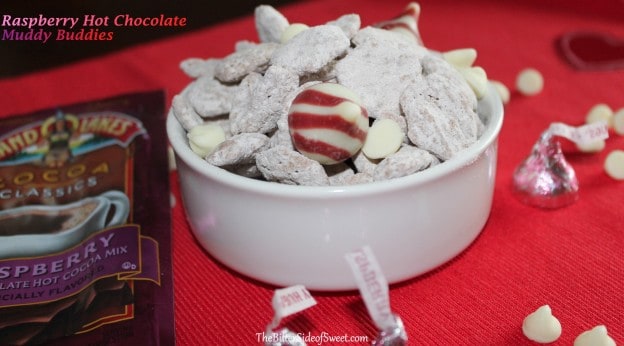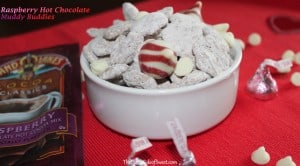 Nutella  Marshmallow Popcorn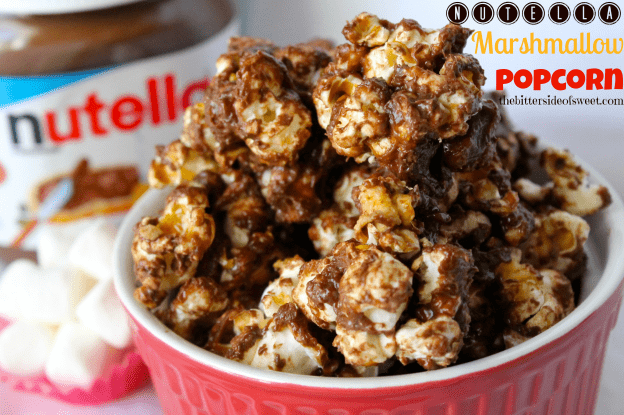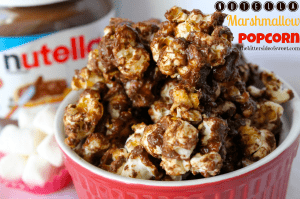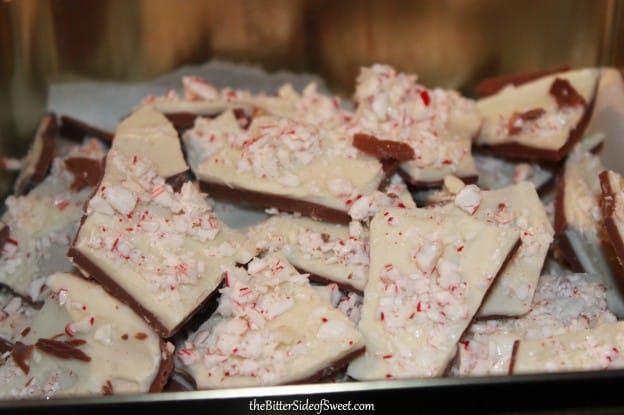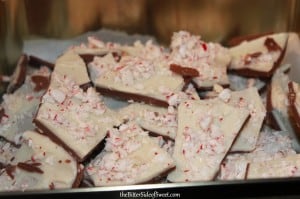 this recipe may be linked at these sites!