Celebrating a birthday or just wanting cake well I've got Black Cherry Chocolate Cake for you!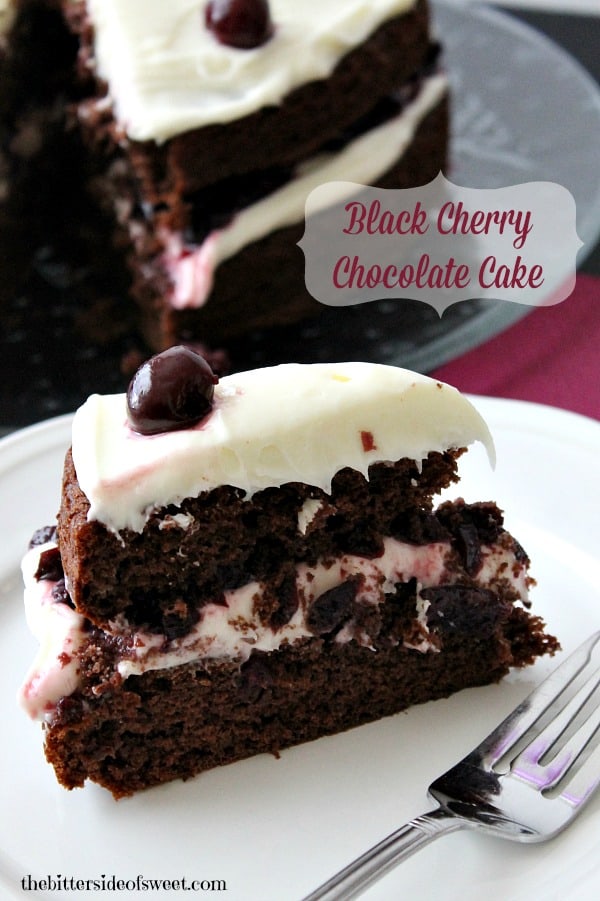 About two weeks ago I said to my husband, I want to bake a chocolate cake! He said "go for it!" Well I spent another week trying to decide what flavor I wanted it to be. Recently I have been some what obsessed with cherries. So I knew I also wanted to incorporate that flavor into the chocolate cake as well.
What started out as me wanting chocolate cake ended up me backing two different cakes on two different weekends to get exactly the kind of cake we loved. The first try the family said that the cake should have more icing. I agreed! The first cake really had just a tiny bit of icing and you couldn't see that there was even a layer of icing in the middle. So adding more icing was an easy fix. Second I thought it needed more cherries. My son didn't even realize there were cherries in the middle of the cake. Again easy fix!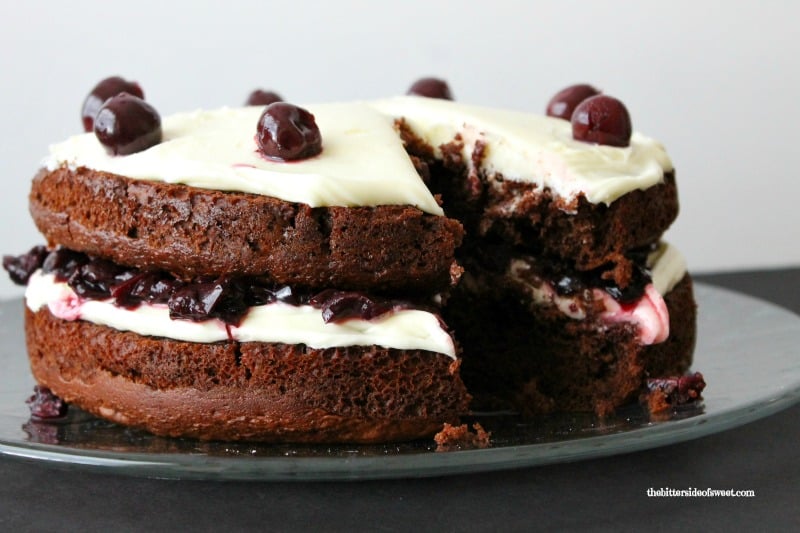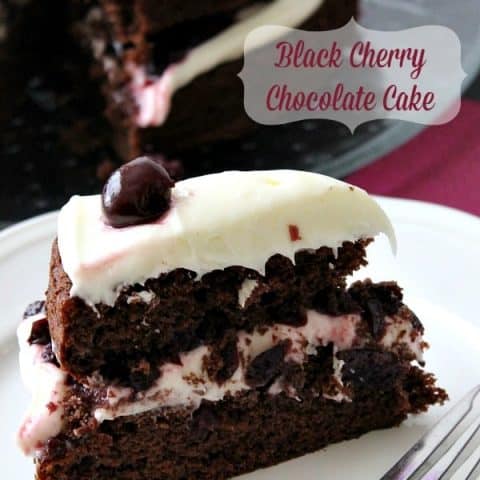 Black Cherry Chocolate Cake (+ a giveaway)
Total Time:
1 hour
25 minutes
Black Cherry Chocolate Cake with layers of icing, cherries and cake.
Ingredients
FOR THE CAKE:
1 16.5 ounce dark chocolate cake mix, you can also use devils food
6 ounces black cherry yogurt
2 eggs
1 tablespoon sour cream
2/3 cups water
1/4 cup oil
1 teaspoon cherry extract.
FOR THE ICING:
2 8 ounce blocks cream cheese, soften
3 tablespoons butter, softened
4 cups powdered sugar, sifted
15 ounce dark sweet pitted cherries, drained and chopped (Reserve 8 whole cherries for the top)
Instructions
Preheat oven to 375 degrees F. Spray 2 8 inch round pans with non stick cooking spray and set aside.
FOR THE CAKE:
Pour ingredient into mixing bowl. Mix together cake mix, yogurt, eggs, sour cream, water, oil and extract. Mix on medium speed for 2 minutes. Your batter will be creamy and fluffy.
Use 2 1/2 cups of batter for each round pan so layers will be even.
Bake for 20-25 minutes or until took pick is inserted and comes out clean.
FOR THE ICING:
In the meantime, in mixing bowl add cream cheese and butter and mix till creamy. Add one cup of powdered sugar at a time until you've add all of the sugar. Mix till creamy.
When cake is done allow to coo in pansl for 10 minutes. Then transfer to wire racks and allow to completely cool.
Wrap each layer in plastic wrap and freeze for 10 minutes. (This helps keep the crumbs out of the icing when you go to icing your cake. If you don't care about that skip this step)
TO ASSEMBLE:
Place bottom layer of cake on cake platter. Spread 2 cups icing to top of the layer with a spatula. Spread chopped cherries on top of the icing.
Add the second cake. Spread the remaining icing to the top layer. Top with cherries.
Refrigerate until ready to serve!
Today I am helping some of my blogging buddies celebrate a milestone in their blogging careers. Their blog anniversary! So today we are giving you a chance to win $500 in Paypal Cash. Now what better way to celebrate than that! GOOD LUCK! Also be sure to check out what everyone else is baking us to celebrate today!