Summer birthdays or celebrations just got a lot more festive with these Birthday Cake Oreo Yogurt Pops!
So I celebrated my birthday last week. Thank you so much to all of the birthday wishes from everyone! While I was in celebration mode I decided to make another popsicle to go along with celebrating! These pops are just as easy as the last ones I made. This time I added a little whipped cream and cookie crumbs to the outside just for fun and for my taste buds. They were very pleased!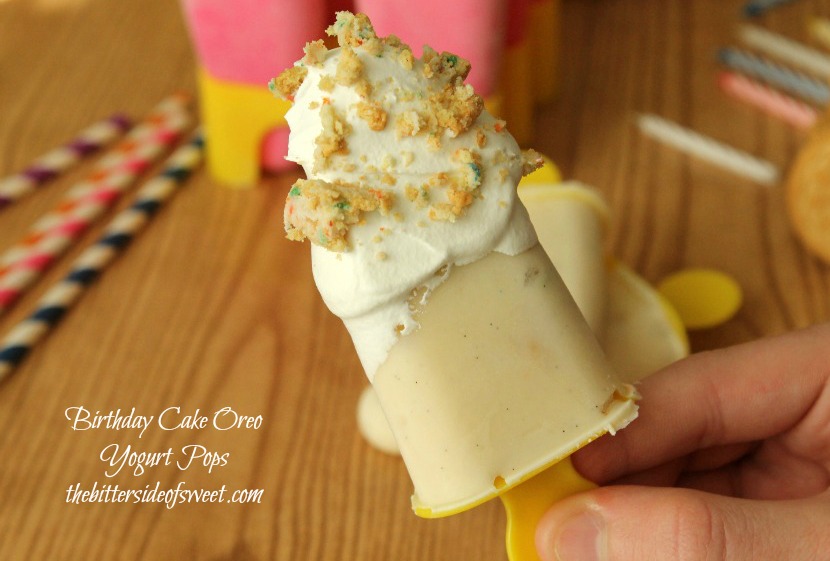 Birthday cake needs to happen on birthdays. Let's face it. It is a standard treat! I loved mixing things up a little bit by adding that flavor to my pops. You and your kids are definitely going to enjoy these if you like Oreos, if you like frozen yogurt and if you like vanilla bean wrapped up into one delicious popsicles! These pops have it all! ENJOY!
Want to connect more with TheBitterSideofSweet? Follow at:
Facebook | Bloglovin | Pinterest | Instagram | Google+ | Twitter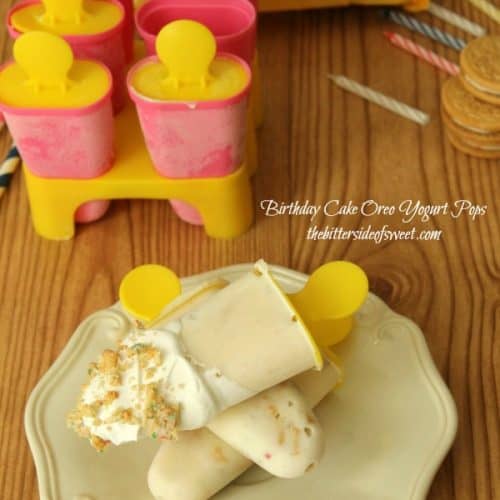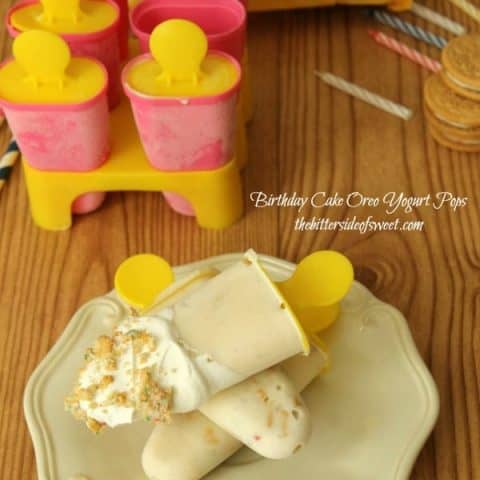 Birthday Cake Oreo Yogurt Pops
Prep Time:
4 hours
10 minutes
Total Time:
4 hours
10 minutes
Summer celebrations should always include birthday cake in a frozen treat!
Ingredients
1 cup vanilla bean greek yogurt, I used Cabot
¼ cup milk
5 Birthday Cake Oreos, crushed
6 2 oz popsicles molds
whipped cream and crushed cookies, optional
Instructions
In a large bowl stir the yogurt and milk together.
Stir in the Oreos.
Spoon into popsicles molds.
Freeze for 4 hours or overnight.
Spoon on whipped cream and crushed cookies just before serving
ENJOY!