We have had some super crazy weather here. We went from hot to cold to hot to cold. On the cold days I like a big bowl of soup to keep me warm so I made Roasted Butternut Squash Tortellini Soup.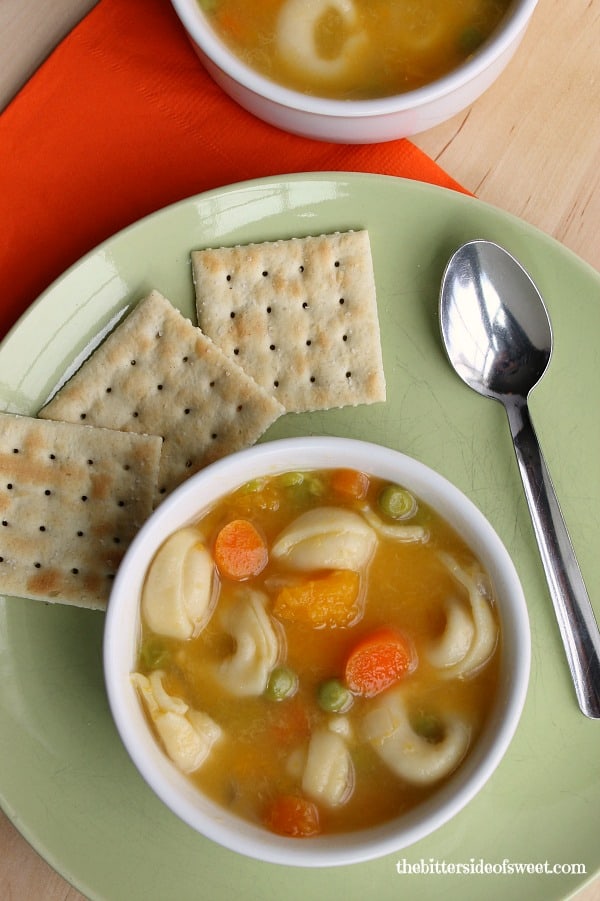 When I told my family what was in the soup the kiddos were not super thrilled. My hubby was over joyed! He loves seasonal flavors in foods. The kids actually ate it and my five year old loved the flavor of the soup as well just not the chunks of squash. For me I ate on this soup for a couple of days and it was better the next day because the flavors married together even more as it sat.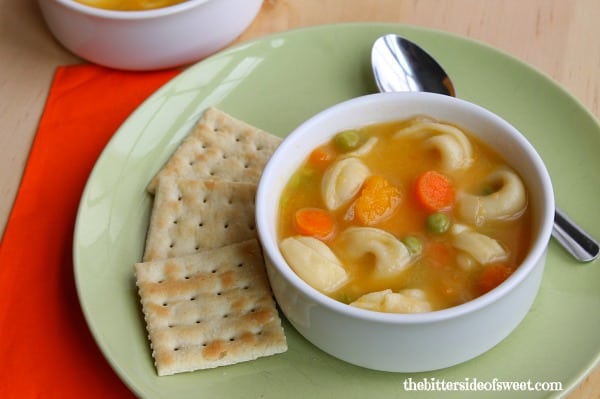 This soup is not difficult to make but it is a process because i wanted to really make sure the flavors were as intense as possible because I knew I would be serving it right away! Whenever I am making soup slowly I use my dutch oven. It happens to be one of my all time favorite pots to have in the kitchen. It is heavy but very sturdy. It holds a lot of liquid which is nice for soup making! ENJOY!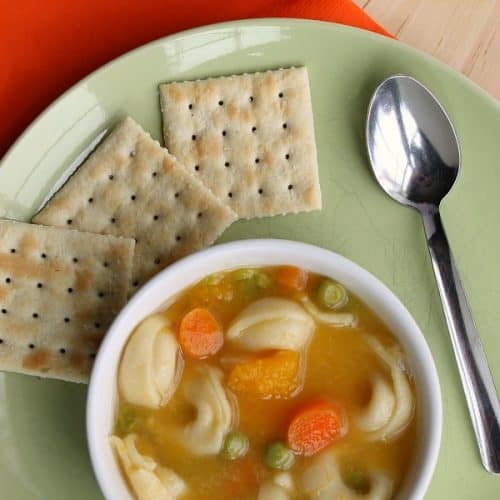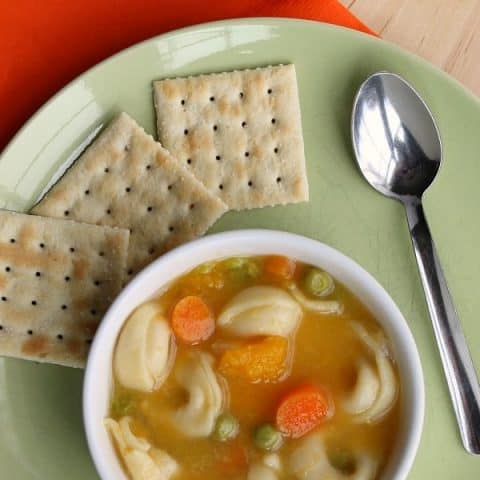 Roasted Butternut Squash Tortellini Soup
Total Time:
2 hours
30 minutes
Healthy soup made fresh right at home using seasonal vegetables for a cold day.
Ingredients
1 medium size butternut squash
1 onion, diced
4 carrots, peeled and diced
2 cups frozen peas
1 4 ounce bag tortellini
10 cups water
1 tablespoon salt
olive oil
Instructions
Preheat oven to 350. Line cookie sheet with parchment paper.
Cut butternut squash in half and scrap seeds out. Place on a cookie sheet skin down. Drizzle with olive oil and salt. Cook for 30 minutes or center is tender.
Allow to cool for 5 minutes. Remove skin and dice into pieces.
In large pot or dutch oven add onions and olive oil. Cook on medium low heat until onions are translucent.
Add 1 cup of water at a time. Allow to boil, then continue to add the next cup until you have added all 10 cups of water, making sure to allow the water to come back up to a boil between each cup.
Add in carrots, peas, squash and salt.
Cook on medium heat for 1 hour.
Add tortellini and continue to cook for 20 minutes or until tortellini is soft.
Serve and ENJOY!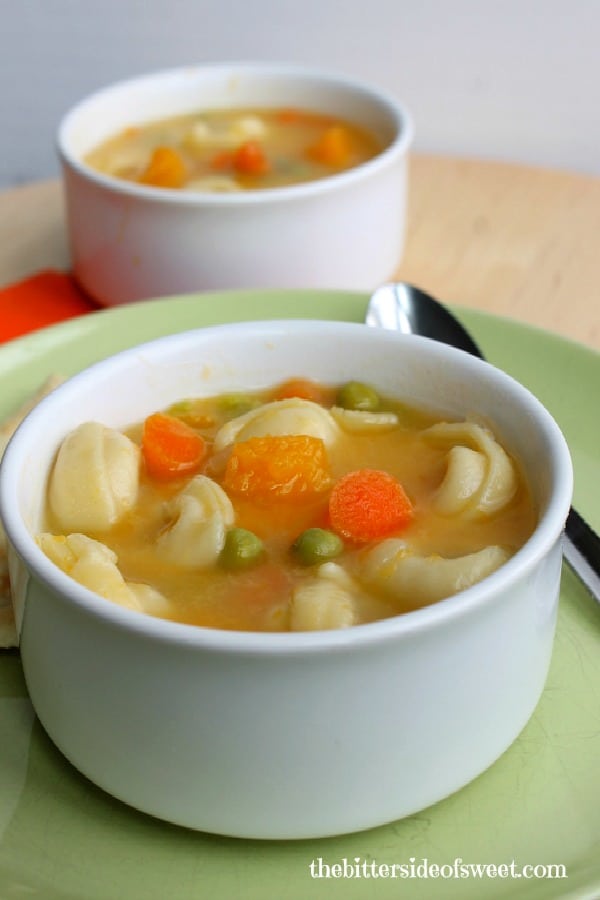 Looking for more comfort foods? Here you go!
Sausage and Vegetable Soup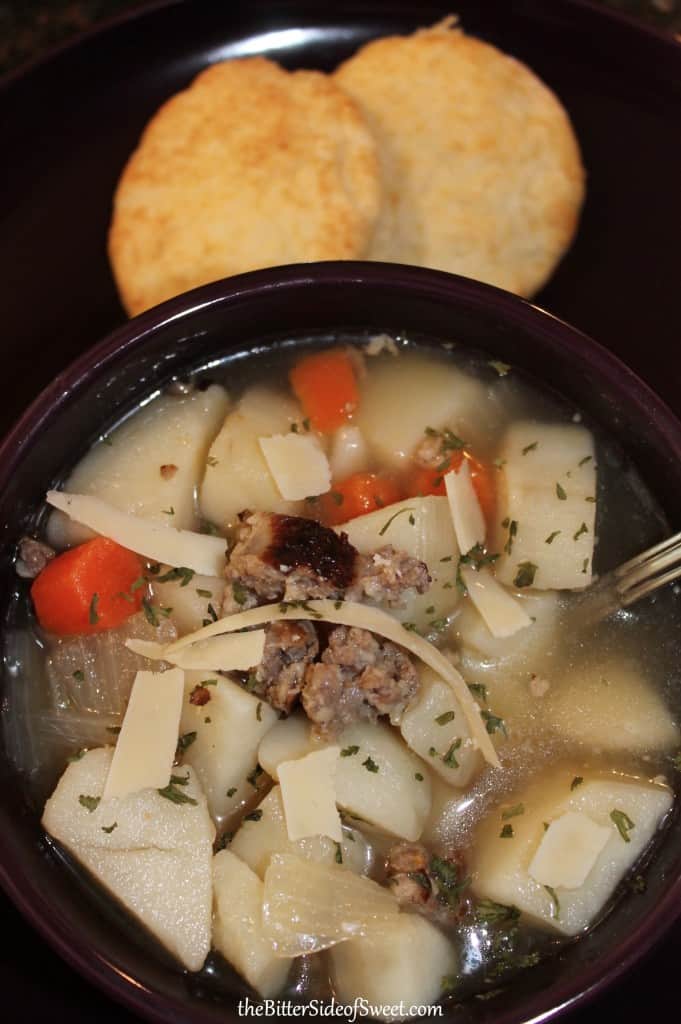 Lima Bean Polska Kielbasa Soup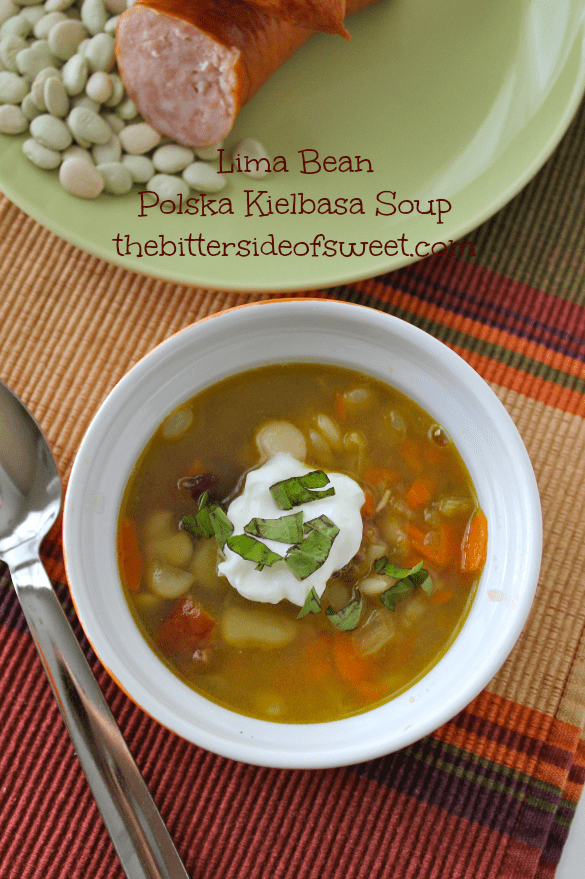 Homemade Macaroni and Cheese