Freshly cut shoe string potatoes, veggies, cheese curds and gravy are all you need to make this Ratatouille Poutine.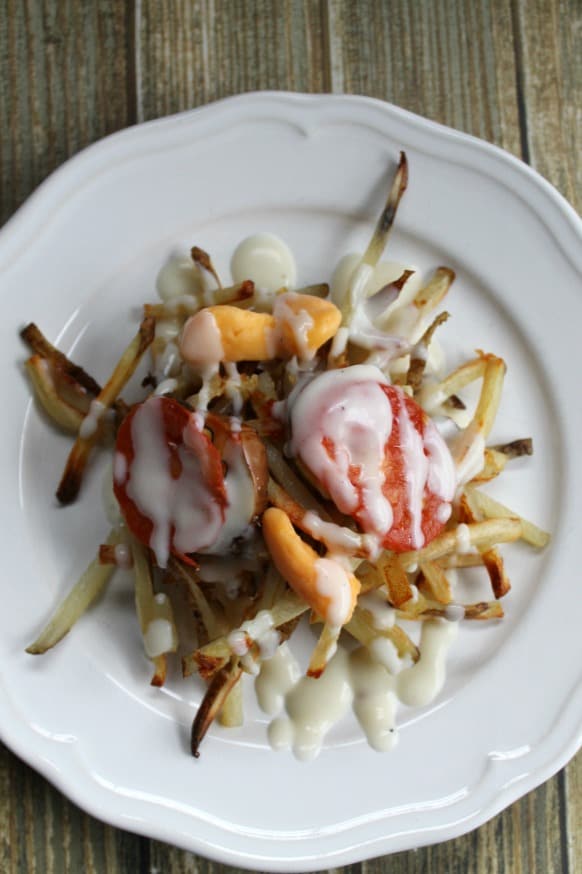 What is poutine you may ask? Well I was wondering the same thing when I was in Florida last July. I had never heard of it and was a little skeptical. When I found out it was a potato dish, I was sold!
I am one of those meat and potatoes kind of gals, so when I was told that poutine is a Canadian dish with potatoes, cheese curds and gravy I couldn't wait to try it. But then I was like, well what are cheese curds? I think I might of heard of them one time and never had seen them, so I was super excited to be introduced to two new foods in one weekend.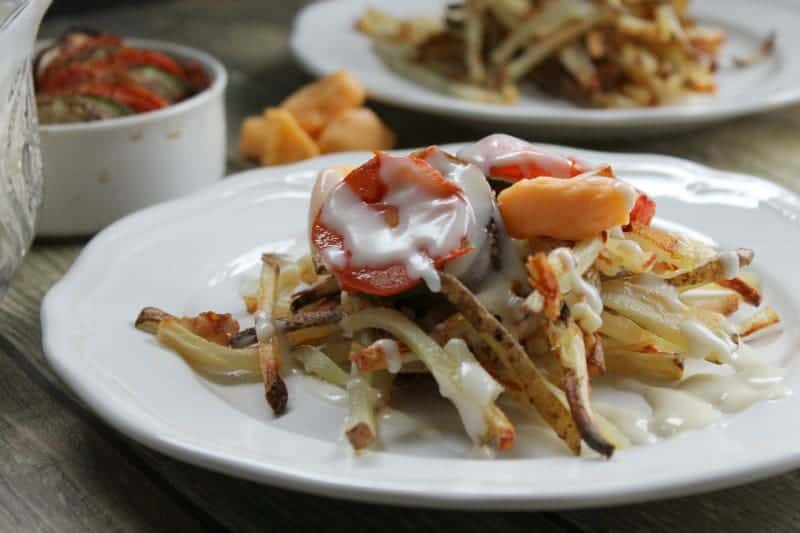 Now that we have moved to IN I actually found cheese curds in my grocery store and I bought them. When the family was trying them, they said it's cheese. I said, yes I know but it's cheese curds. They said, what's the difference? I said, I don't know but it's cheese curds! They laughed, I laughed and then we dug into this dish!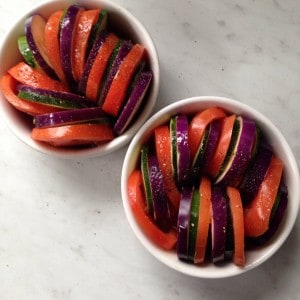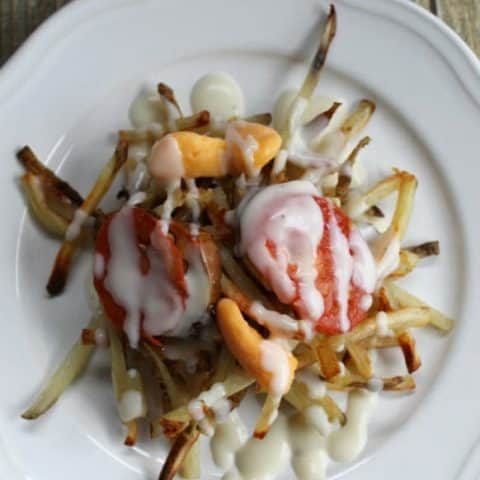 Ratatouille Poutine
Total Time:
1 hour
10 minutes
Ingredients
For the shoestring potatoes:
4 medium Idaho® potatoes
salt for taste
3 tablespoons olive oil
For the ratatouille:
3 roma tomatoes, thinly sliced
1 japanese eggplant, thinly sliced
1 zucchini, thinly sliced
1 cup tomato sauce
salt and pepper for taste
olive oil
For the gravy:
3 tablespoons butter
4 tablespoons flour
1 cup milk
salt and pepper to taste
2 cups cheese curds
Instructions
Preheat oven to 400 degrees. Lightly coat baking sheet with non stick cooking spray.
To make the shoestring potatoes:
Using a mandolin, cut the potatoes into shoestrings.
Toss potatoes in olive oil and spread onto baking sheet.
Sprinkle with salt and bake for 30 minutes or until crispy.
To make ratatouille:
Divide tomato sauce in the bottom of two 8 ounce ramekins.
Arrange tomato, eggplant and zucchini in a circle starting on the outside of your ramekin working your way to the center.
Drizzle with olive oil. Sprinkle with salt and pepper. Bake at 400 for 20 minutes.
In the meantime prepare your gravy:
Using a medium pot melt butter on medium heat. Add flour and whisk.
Slowly add milk until you have a creamy mixture.
Allow to simmer on low for 15 minutes. Add salt and pepper. Set aside.
When potatoes are done divide onto 4 plates.
Divide ratatouille equally on top of potatoes.
Place 1/2 cup cheese curds on each plate.
Drizzle with gravy. Serve warm and ENJOY!
To make this Ratatouille Poutine there are a few steps but mostly you are letting the oven do all of the work and then you just make it look real pretty on your plate and dig in! ENJOY!
You can make your own poutine-inspired recipe using Idaho® potatoes. Head on over to Sunday Supper Movement to get the full details. And remember that conference I was tell you about that I attended in July of last year? Well you have a chance to win a ticket! The Food Wine Conference is a great one to attend if you enjoy food and want to hang out with foodies all day!