Peanut Butter Brownie Ice Cream Cake is easier to make than you think and is full of rich, decadent chocolate and peanut butter!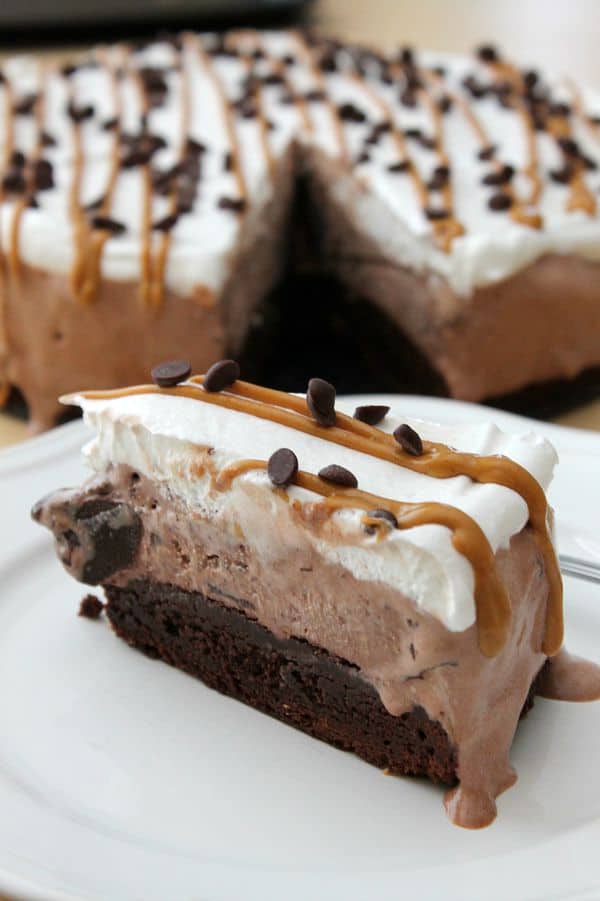 Hey hey everyone! I feel somewhat back to normal now that I have baked in my new kitchen and unpacked all of the boxes.
The kids have been in school for over a week now and the cool air has been with us for a few days here in the Midwest. It makes me think of fall but I am not quite there yet because today I have this amazing ice cream cake for you!
It was actually one of the last things I made in my old home before moving. So it is a special cake. I also made it for my son's 16th birthday so it is actually double special for me.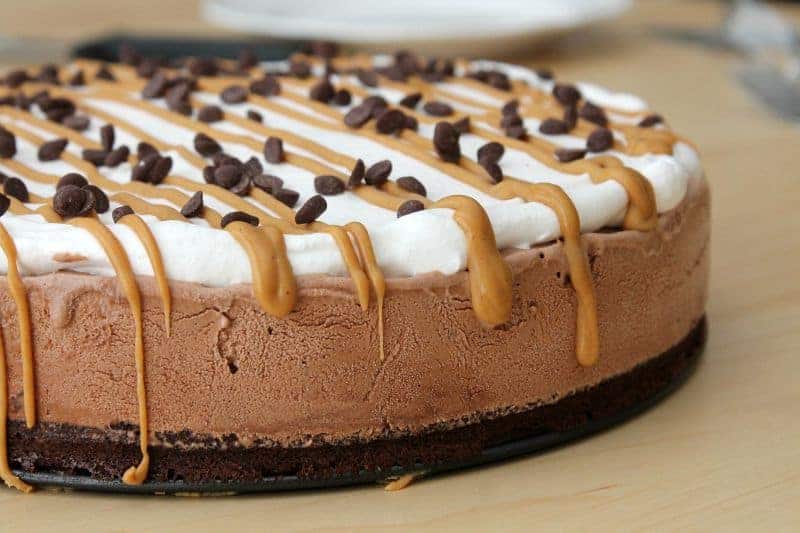 Don't hate me but I cheated in making this cake. Let me explain. I used a brownie mix. Seriously I had too. But that is okay because I love brownie mixes. I have an excuse though. Most of my kitchen was packed so it was complicated to pull this off without having all of my usual tools handy.
And for a birthday I could not disappoint! So how did I make this?
I whipped up the brownie mix and poured it into my springform pan. I didn't even know I could do that with my springform pan. I have only made cheesecake in it. I was secretly worried that the brownie mix would seep through the bottom when cooking, but it didn't and boy oh boy was I glad!
The next step was taking a container of ice cream and letting it get soft. Then when my brownie was cooked and cooled I pressed the ice cream on top of the brownie with a spoon! So easy really!
Lastly I added some cool whip, peanut butter drizzle and chocolate chips!
So so easy and oh so good! Summer's not over! You still have time! Now go make an ice cream cake!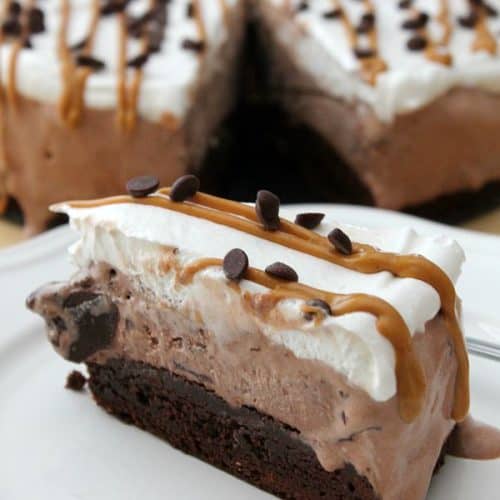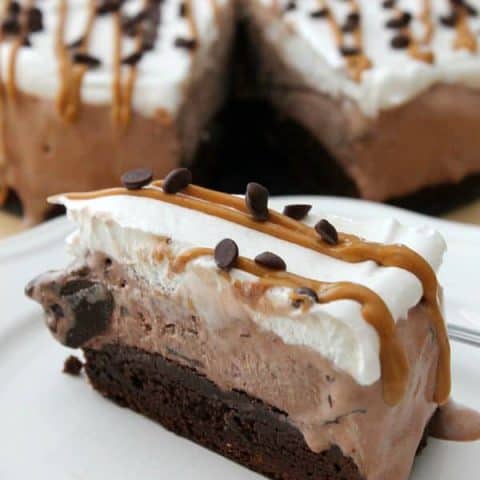 Peanut Butter Brownie Ice Cream Cake
Prep Time:
2 hours
30 minutes
Total Time:
3 hours
3 minutes
Peanut Butter Brownie Ice Cream Cake is easier to make than you think and is full of rich, decadent chocolate and peanut butter!
Ingredients
1 brownie mix
2 Eggs
1/4 Cup Water
1/2 Cup Vegetable Oil
1 48 oz chocolate peanut butter ice cream
1 8 oz cool whip
1/2 cup peanut butter
1/2 cup chocolate chips
Instructions
Preheat oven to 350°F.
Empty brownie mix, eggs, oil and water in large bowl. Stir until well blended.
Spray 9 inch springform pan with cooking spray.
Spread mix into pan.
Bake for 30-33 minutes.
Brownies are done when toothpick inserted 1 inch from edge of pan comes out clean.
Cool completely.
In the meantime soften ice cream.
Spread on top of brownie layer.
Refreeze for 1 hour.
Spread on cool whip.
Refreeze for 1 hour.
Melt peanut butter in microwave for 30-45 seconds. Drizzle on top of cool whip.
Sprinkle with chocolate chips.
Refreeze until ready to serve!
Remove side of springform pan.
Cut and enjoy!