Easy Homemade Chicken Pot Pie made with simple pantry staples and a homemade buttery crust for the top of this delicious pie!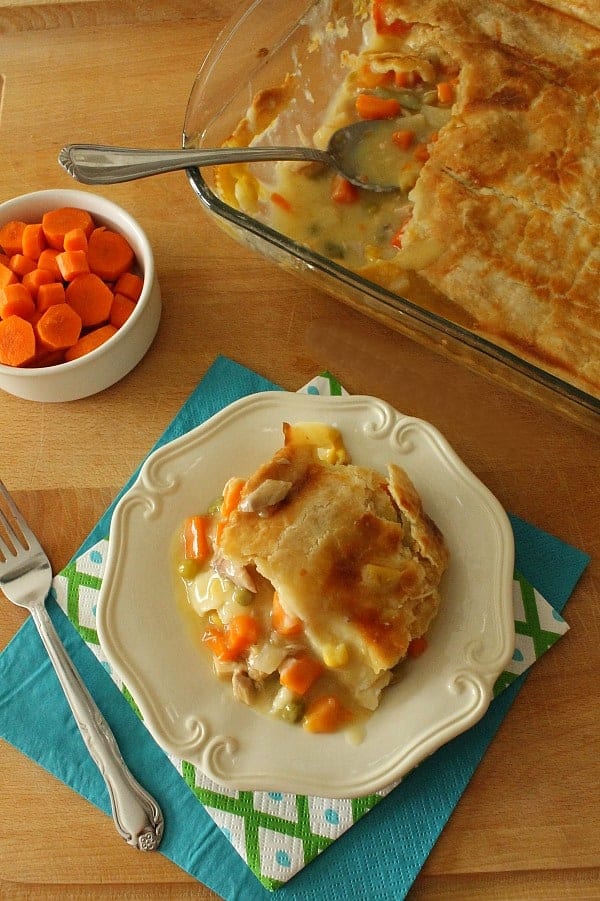 You know me right? I'm all about the simple easy meals that gets dinner on the table and hungry kids fed with minimal effort. That is exactly what you get with this pot pie.
Making this homemade chicken pot pie is the perfect way to use those pantry staples and frozen foods! So easy too!
Click here to save this recipe on Pinterest!
HOW TO USE PANTRY STAPLES OR FROZEN FOODS?
The way to use your pantry staples and frozen foods is pretty simple! You will need canned goods like vegetables, soups and broth. Flour is something that most of us keep on hand and.
Also to substitute fresh eggs you could used pasteurized. They have a long shelf life in the refrigerator, so definitely something good to have on hand!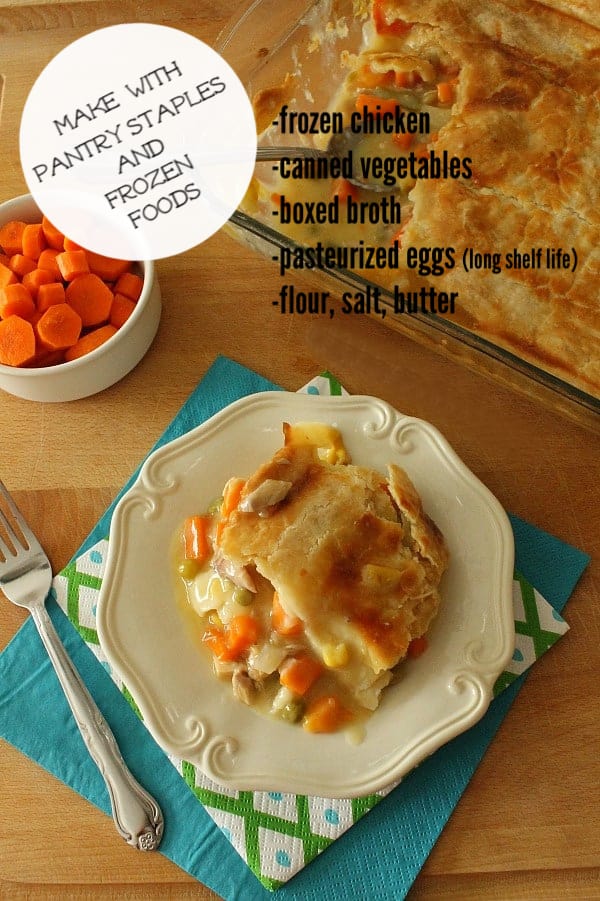 I am pretty sure I have made crust before but it had been awhile so I took a look.
I found this Classic Chicken Potpie Recipe from Martha Stewart which guided me along on how to make the crust.
I made it before we headed out the door to church.
Left it in the oven cooling while we were gone and the best meal was there when we came home.
How to make it?
This pot pie is something my Mom used to make all of the time growing up! Here are the list of ingredients to help you get start!
Chicken, cans of vegetables
Cream of chicken
Broth
Salt
Add the homemade crust crust on top and it is almost ready to go! ENJOY!
You may also enjoy these individual puff pastry chicken pot pies for something a little easier. This leftover turkey pot pies is a family favorite as is this puff pastry taco pot pie!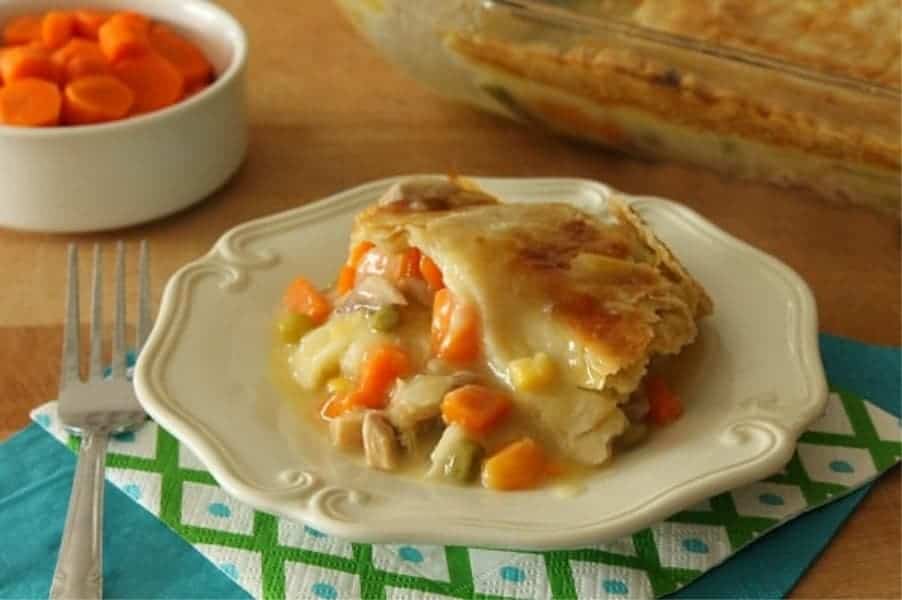 Want to follow along?
If you're on Facebook come check out this fun little group I've got going on. Instagram is a fun resource I'm using right now, too. If you make any recipes be sure to tag them with #bittersideofsweetrecipes so I can see your creations!
Want to connect more with The Bitter Side of Sweet? Follow at:
Facebook | Pinterest | Instagram | Twitter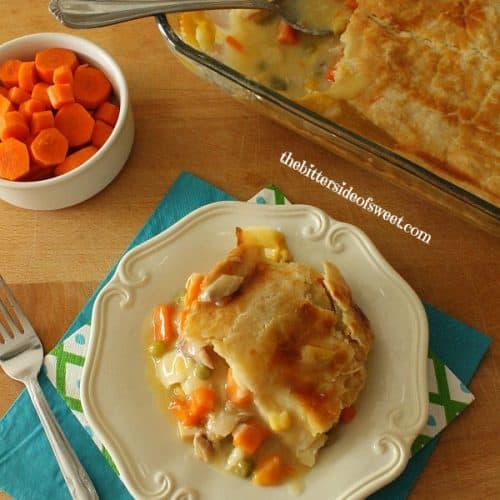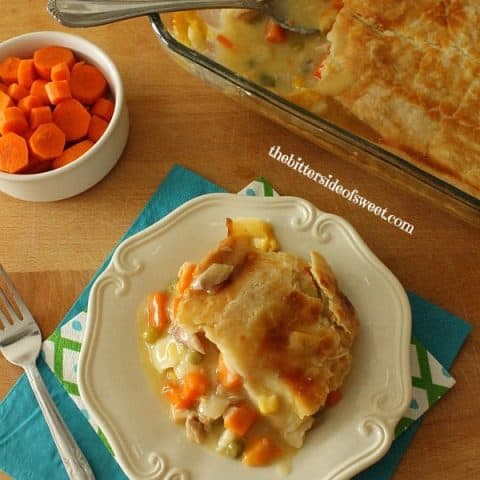 Homemade Chicken Pot Pie
Prep Time:
1 hour
30 minutes
Total Time:
2 hours
20 minutes
Easy, delicious homemade pot pie!
Ingredients
FOR THE CRUST:
1 1/2 cups all purpose flour, and a little extra for rolling out dough
1 teaspoon salt
1 stick cold butter, cut into cubes
5 tablespoons ice cold water
FOR THE FILLING:
2 14.5 ounce cans of vegetable mix, drained
1 14.5 ounce can cream of chicken
1/2 cup chopped onion
1/2 cup chicken broth
1 cup chicken, cooked and diced
1 egg
1 tablespoon water
Instructions
FOR THE CRUST:
Add flour and salt to mixing bowl. Add butter. Using the flat blade on your mixer mix the flour and butter together till butter is pea size.
Slowly add one tablespoon water in till you get a nice smooth dough.
Form dough into a disk and wrap in plastic wrap. Place in the refrigerator for 50 minutes or until ready to use.
FOR THE FILLING:
Preheat oven to 375 degrees. Spray 9x13 rectangle glass casserole dish with non stick cooking spray.
Mix vegetables, cream of chicken, onion, broth and chicken together.
Pour into pan.
On a floured surface roll dough out to a rectangle of 1/8 inch thickness.
Place over your vegetable mixture.
Cut slits in the top of your dough.
Whisk 1 egg and 1 tablespoon of water together and brush onto the top of your crust.
Bake for 45-50 minutes or until you have a nice golden brown crust.
Allow to cool in oven for 30 minutes. Cut and serve! ENJOY!
Notes
With the crust: I simply laid it on top of my vegetable mixture without pinching the edges.