This shop has been compensated by Collective Bias, Inc. and its advertiser. All opinions are mine alone. #RealFlavorRealFast #SmithfieldRealFresh #CollectiveBias
This Grilled Pork Loin Salad with Grilled Apples is a refreshing salad loaded with flavor! Top with bacon, carrots and feta cheese and you have perfection!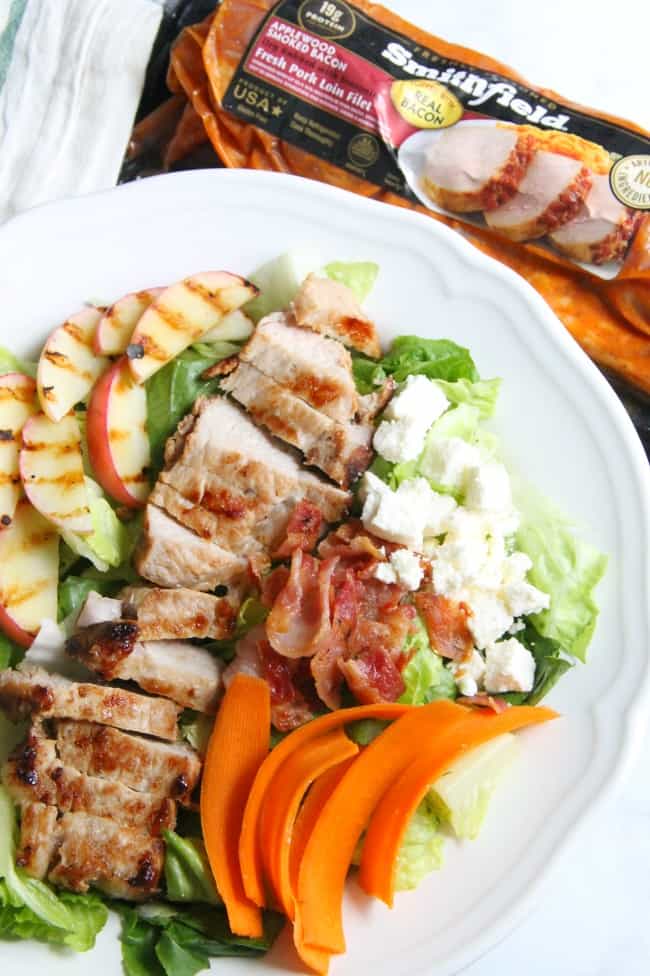 Click here to save this recipe on Pinterest!
Adding some really nice flavor to a salad makes me want to eat one every day, which is what I have been doing for the last two weeks!
I set a goal for myself a few weeks ago that I wanted to move my body more. My job, food blogging, tends to keep me behind my computer a lot more than I need to be.
So I purposely started tracking my steps daily. My goal is 10k. It is hard to get to that on a daily basis but it hasn't stopped me from trying!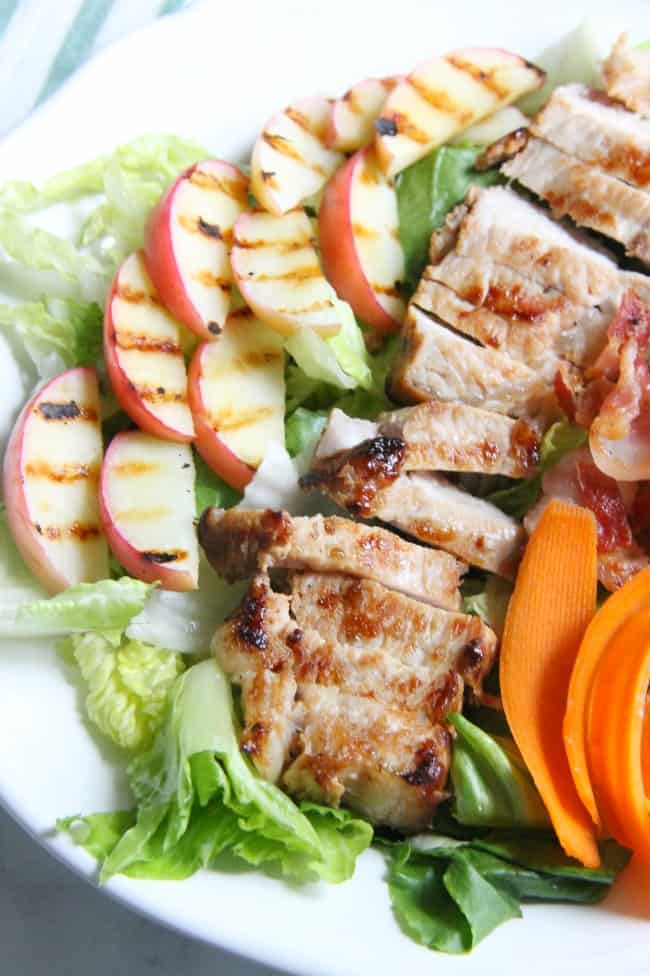 Eating salads on a daily basis has been pretty easy for me but it is so much better when I add some real flavor to it such as adding this Smithfield Applewood Smoked Bacon Pork Loin Filet!
It's perfect for any night and any meal you want to make!I ran to Walmart and picked up all of my ingredients in one simple trip!
While you are there make sure to take part of this offer for Smithfield® Marinated Fresh Pork products! There is also a contest that you could take part in:
Details for the contest are: Create an original dinner time-saving tip and/or trick that includes Smithfield Marinated Fresh Pork product in one of three categories, meal preparation, cooking method and fresh pairing to be entered to win a trip Wine Country. Contest is running through Aug 31 at SmithfieldRealFlavorRealFresh.com! Good luck!
Smithfield Marinated Fresh Pork provides Real Fresh, Real Flavor, Real Fast… they provide real solutions for real life.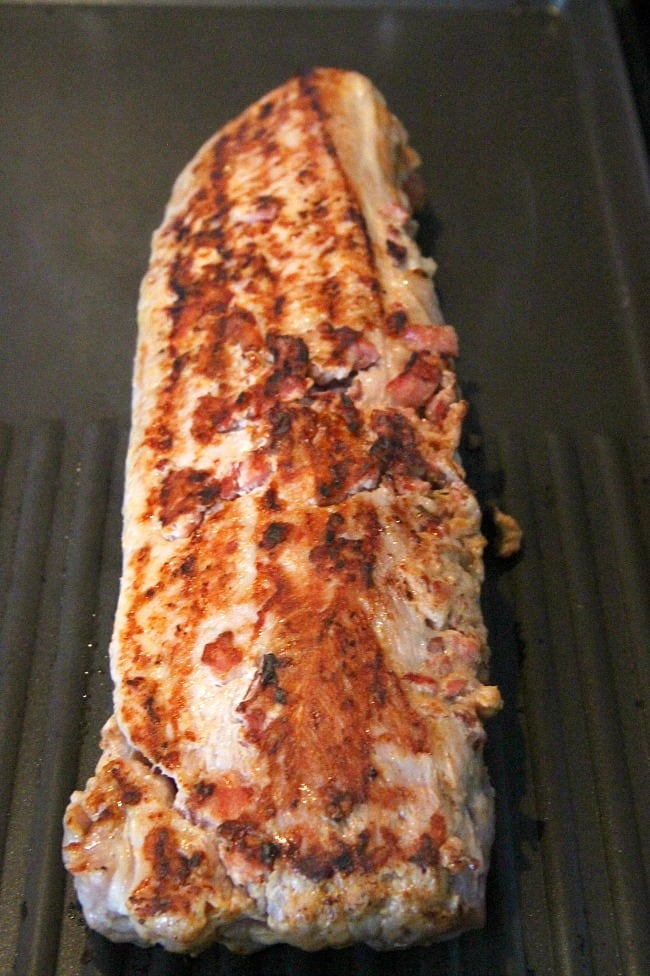 HOW TO MAKE THE SALAD:
I used romain lettuce and iceberg, but when putting together a salad you could use any kind of green you want. Such as when I made this zucchini carpaccio salad.
Also you can put any kind of protein you prefer such as when I made this roasted cod and edamame salad!
Lastly it's all about color! The more color you add to your salad the more vitamins you get!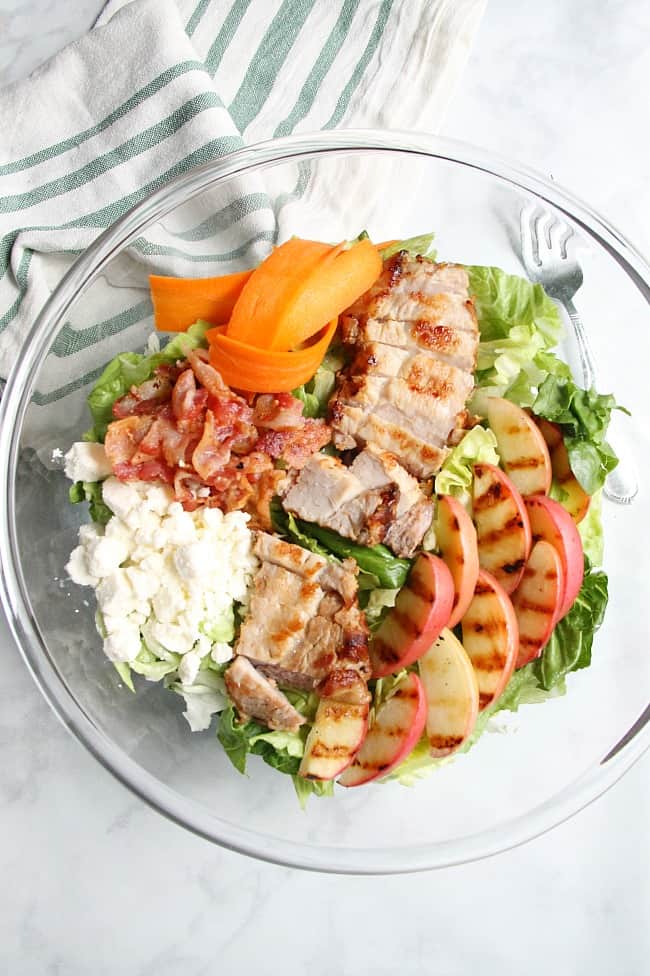 If your on Facebook come check out this fun little group I've got going on. It's quiet right now because of summer but I'd love to hear more from you!
Instagram is a fun resource I'm using right now. If you make an recipes make sure to tag them #bittersideofsweetrecipes so I can see your creations!
Want to connect more with The Bitter Side of Sweet? Follow at:
Facebook | Pinterest | Instagram | Twitter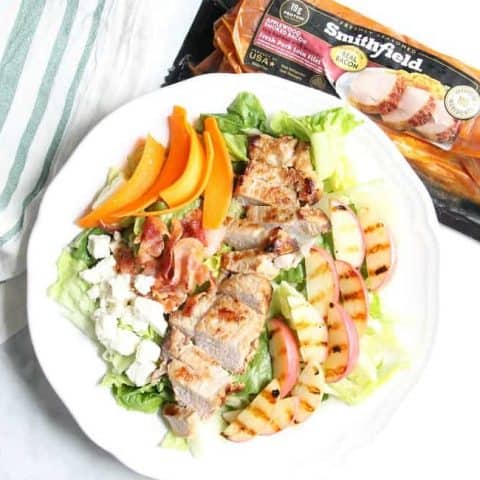 Grilled Pork Loin Salad with Grilled Apples
Ingredients
2 heads romain lettuce, chopped
1/2 head iceberg lettuce, chopped
8 slices bacon
2 apples, slice
1 27.2 oz Smithfield Applewood Smoked Bacon Pork Loin filet
3 carrots, shaved
1 cup feta cheese
olive oil, opitonal
balsamic vinegar, opitiona
Instructions
Preheat grill or grill pan to medium high heat.
Place lettuce in large bowl, set aside.
Place apple slices in a water for five minute, remove and place on grill pan. Cook for 2 minutes on one side, Flip and cook for an additional 2 minutes. Remove and set aside.
Place bacon on grill pan and cook on medium high for 4 minutes. Flip and cook for 2 minutes. Remove and place on plate lined with paper towel. Allow to cool. Chop into pieces. Set aside.
Remove pork loin from package and place on grill pan. Searing it for 4 minutes on each side. Remove from heat. Slice meat and return to grill pan. Cook for an additional 6 minutes on each side or until internal temperature reaches 160 degrees F. Set aside.
Assemble salad by topping your lettuce with pork loin, grilled apples, carrots, feta cheese and bacon crumbles. Top with dressing, my preferred is olive oil and vinegar. Serve and ENJOY!