Chocolate Zucchini Bread made with zucchini straight from the garden and its hidden so your kids will love it.
I have a very dear friend to me that made zucchini muffins one time and brought them to a pool party. We were only acquaintances at the time and it is my first memory of her, hanging out socially. I was instantly impressed because I loved to bake and she brought baked goods! I knew we could be instant friends!  I had never had a zucchini muffin before and I thought they were the most amazing things ever.
I have actually not been able to recreate what she made. A few years ago she gave me the recipe but they never quite tasted the same.
So when our garden started exploding this year with zucchini I knew instantly that I wanted to make zucchini bread. My 6 year old was not too excited about that. Sure she loves the raspberry bread and the banana bread but she is having an aversion to zucchini.
I told her don't worry, you won't even know it is in there. She was not convinced. The zucchini actually shows up so pretty in the bread with little flakes of green but other than not you would not even know.
Well let me tell you, my daughter loves it. Especially since I added chocolate. But how could I not? It just goes so well together!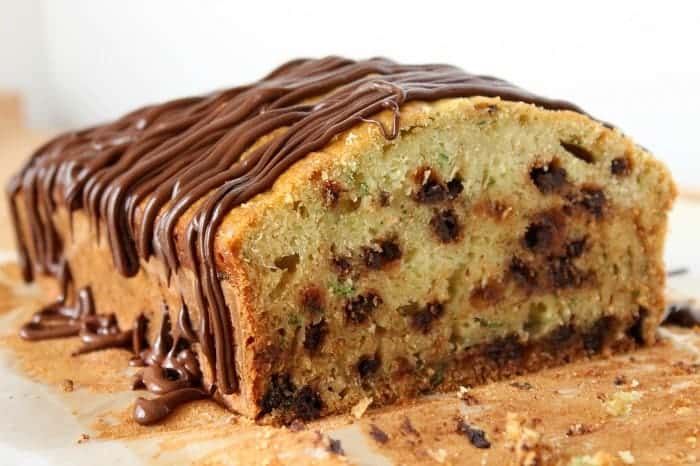 I used a very large zucchini. This was for two reasons. One because it was easier for me to shred and the second reason was because it was full of water. This was actually a good thing because the water added moisture to the bread, so I didn't have to add any more than what the recipe called for.
So go one make the bread! Convert those non zucchini lovers. They will thank you for it! ENJOY!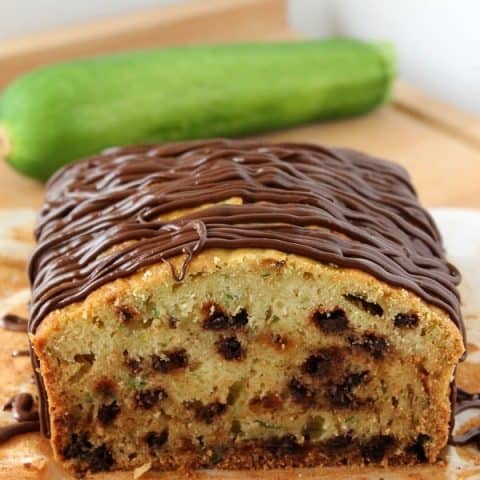 Chocolate Zucchini Bread
Total Time:
1 hour
15 minutes
Drool worthy bread loaded with chocolate and lots of flakes of zucchini hidden inside.
Ingredients
2 cups flour
¾ teaspoon baking soda
⅛ teaspoon salt
2 teaspoons cinnamon
½ cup sugar
¼ cup brown sugar
⅓ cup sour cream
¼ cup vegetable oil
2 eggs
2 teaspoons vanilla
1 cup shredded zucchini
1/2 cup mini chocolate chips + 1/2 cup for drizzle
Instructions
Preheat oven to 350 and prepare 9×5 inch loaf pan with parchment paper.
In one large bowl mix flour, baking soda, salt and cinnamon.
In another large bowl mix together sugar, brown sugar, sour cream, oil, eggs and vanilla.
Add wet mixture to the flour mixture and stir well till all is incorporated.
Stir in zucchini and chocolate chips. Pour into loaf pan.
Bake for 1 hour and 10 minutes.
Cool before removing from pan. Cut and ENJOY!
OPTIONAL: Melt 1/2 cup chocolate and drizzle on top of bread. Allow to set for 20 minutes before cutting.