Weather it is cold or hot get your grilling on by making these Barbecue Bacon Swiss Sliders!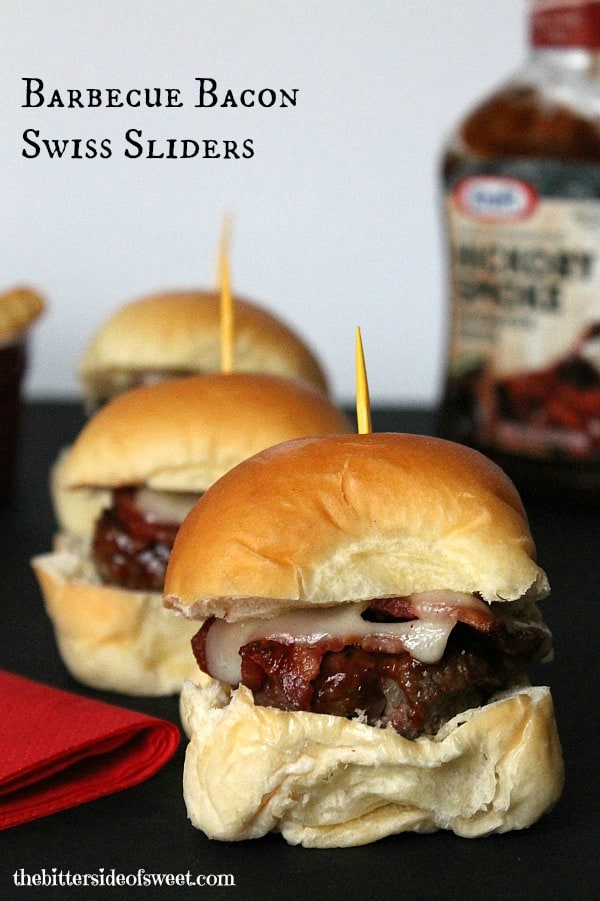 I'll admit it. I do most of the cooking around my house. I'm home so why not right? Well when it comes to grilling I am not the one who does it normally. That would be my hubby. Sure I bring all of the ingredients to the grill, I may even flip a burger every now and then. I definitely can grill a good pizza but you see he was out of town and we were in the mood for sliders. So guess what? I had the job of grilling. Wanna see? Scroll down and you will see me standing in the cold getting my grilling on using my new Evergriller Grill 'N' Flip Mitt which was inspired by barbecue lovers as they fire up the grill no matter the weather conditions, hence me.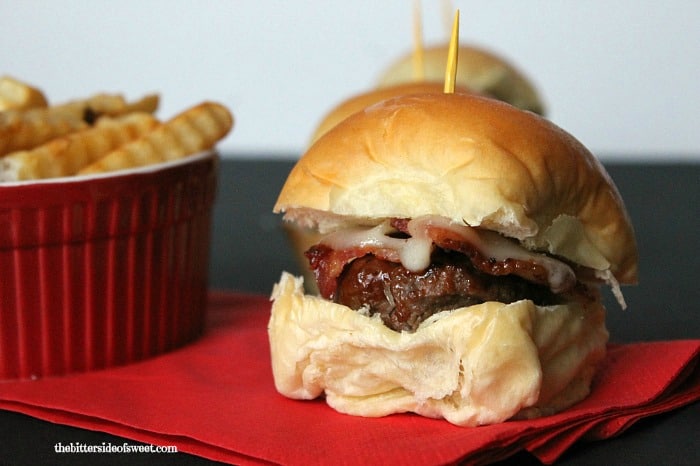 The Evergriller Grill 'N' Flip Mitt is a specially designed, fire-resistant grilling glove that protects the griller's hands from both the heat of the grill and the chill of the outdoors. I felt no heat at all. Tested it out myself just to be sure!
Making these sliders were easy but sliders are little and they cook quick, which is not a bad thing but they can be tricky. A couple of tips when cooking them. Spray your grill. It's needed. You do not want those babies sticking. Secondly because they cook up fast, have your toppings all ready to go. I cooked my bacon in a pan inside, cut my cheese and poured my Hickory Smoke Barbecue sauce in a bowl so it could dip and go.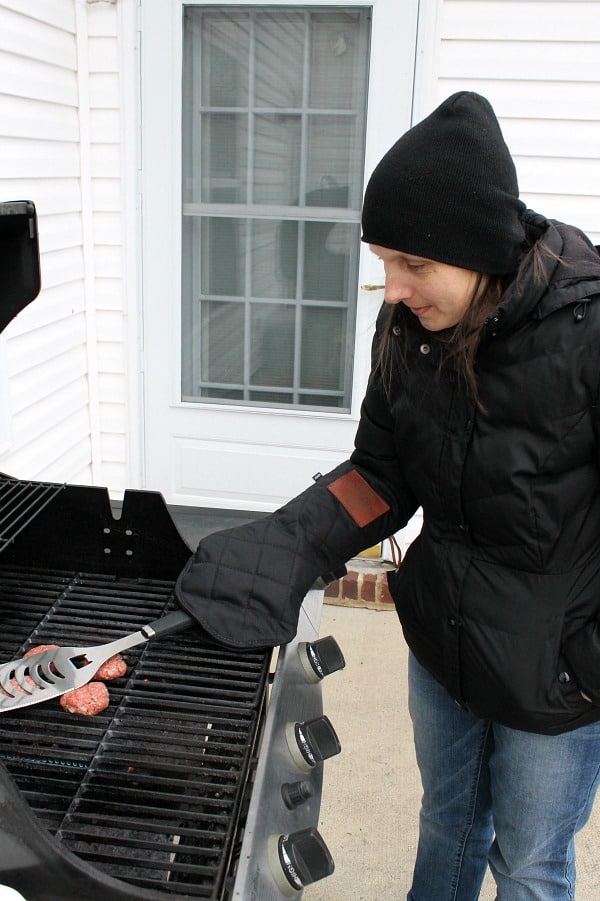 I had never tried hickory smoke barbecue sauce before. Niether had the kids. It was seriously amazing. Paired with the bacon and swiss it was one delicious bite!
This January, Kraft Barbecue Sauce is celebrating the launch of a newly revamped line of sauces, including the Hickory Smoke, with recipes that feature high-quality ingredients like tomatoes, sweet molasses, cider vinegar and cane sugar. In addition, the sauces will be in a new package design. Kraft has lots of new recipes that I think are definitely worthy giving a try!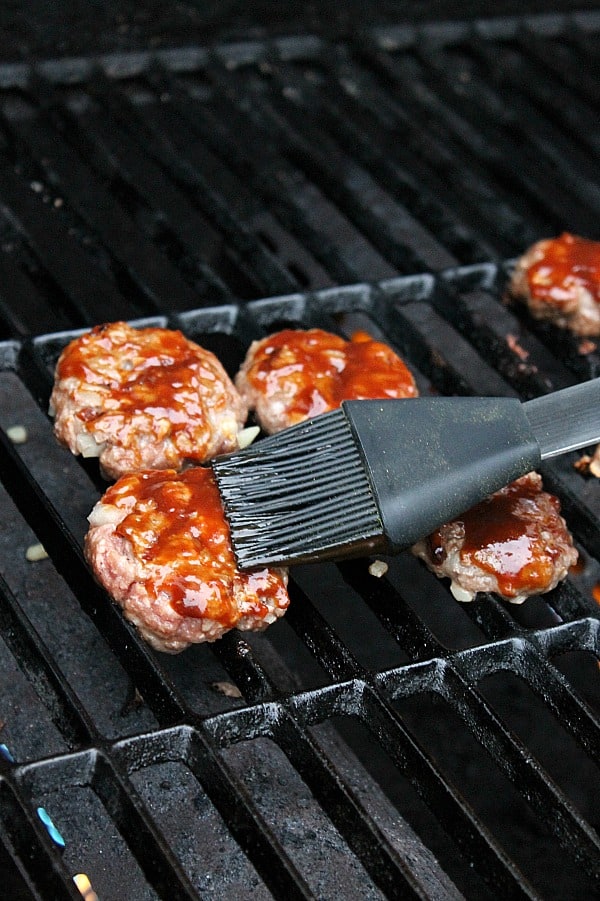 So if you feel like heading out doors this weekend despite the weather makes these sliders! You will be glad you did! Don't forget to go enter the giveaway!
Barbecue Bacon Swiss Sliders
Bite size sliders full of smoky flavors topped with bacon and swiss cheese.
Ingredients
1 1/2 pound ground beef
1/4 cup onions, chopped
1 teaspoon salt
2 tablespoons bread crumbs
1 egg
4 slices cooked bacon cut into 3 pieces each
3 slices swiss cheese cut into 4 pieces each
6 tablespoons Kraft Hickory Smoke Barbecue Sauce
12 dinner rolls
Instructions
Preheat grill to medium heat.
In a bowl combine ground beef, onion, salt, bread crumbs and egg. Mix with hands until everything is incorporated together.
Make 12 patties.
When ready to grill, brush the grill grate with oil to keep the sliders from sticking. Place the sliders on the grill and cook for 4 minutes. Turn the sliders over and cook for another 4 minutes until medium rare (or cook longer if you prefer them more well done).
For the last 2 minutes of cooking time, brush on 1/2 tablespoon of barbecue sauce, add 1/3 piece of bacon on top of sauce, add 1/4 piece of cheese on the top of each slider and close the grill lid until cheese has melted.
Remove the sliders to a platter and ENJOY!
Grillers everywhere can enter for a chance to win an Evergriller Grill 'N' Flip Mitt of their own and a year's supply of Kraft Barbecue Sauce. To enter, grill fans can visit
GillinFools.com
between January 19 and January 30. The winner will be randomly selected at the close of the giveaway.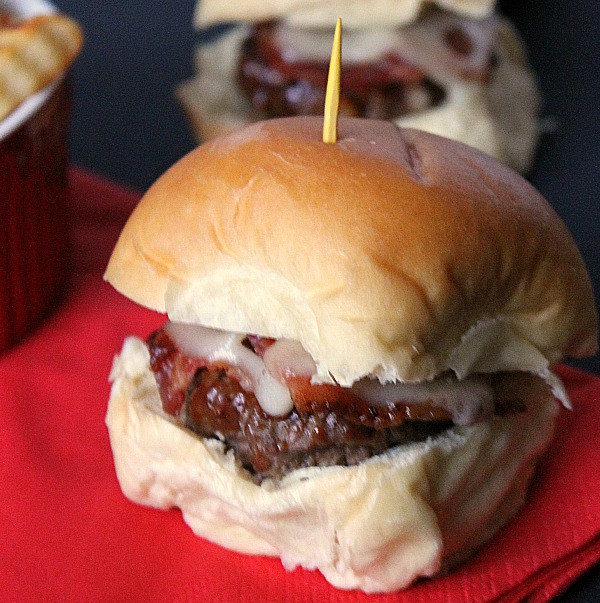 I was selected for this opportunity as a member of Clever Girls and provided product samples by Kraft Foods, and the content and opinions expressed here are all my own.