When I am doing lunch just for myself or making the kids an afternoon snack I like to cook up these quick and easy Ham and Cheese Quesadillas!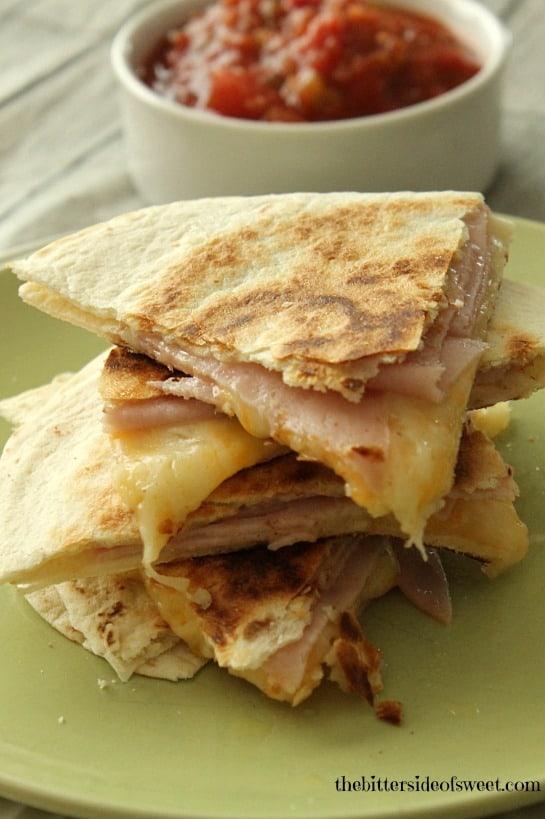 Since the kids have started school I find myself home alone at lease once a week for lunch. When it is just me I tend to gravitate toward eating chips for lunch. I try to get most of my blogging work done that day and I feel stuck at the computer or working on a recipe for a post so I don't eat properly.
Now that I realize that this is a problem I have been trying to do better at making something for myself. I try to make sure there are leftovers so I can heat up something quickly or I like to make quesadillas. Seriously I really could eat them everyday but I did that and then I got tired of them. So I do it once a week, on my day when no one is home.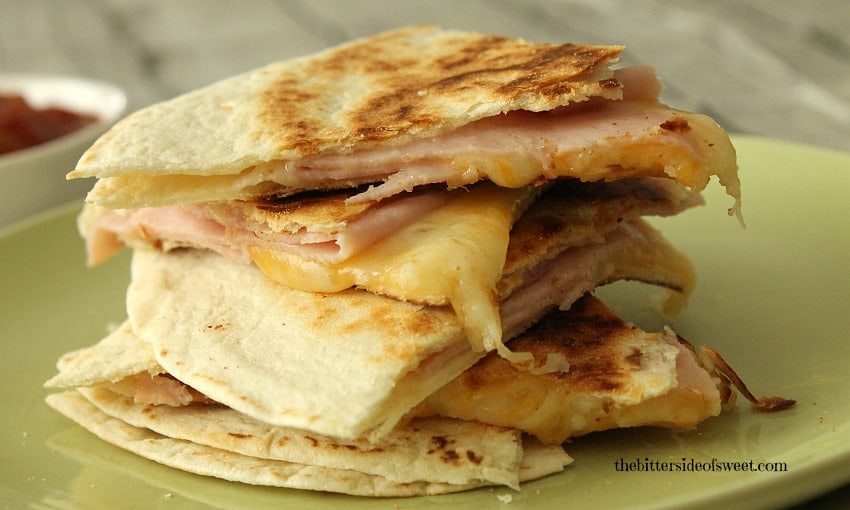 I just grab my pan or skillet, and pretty much throw the quesadillas together and within five minutes lunch is served. I can put anything in them I want and they literally are done in a matter of minutes. I like to add sour cream and salsa to mine, kind of makes me feel like I am having a full meal.
What's even better is that the kids like them too. They like them in their lunches or for an afternoon snack as well. It's not too heavy that it spoils their dinner and it is perfect for school lunches. ENJOY!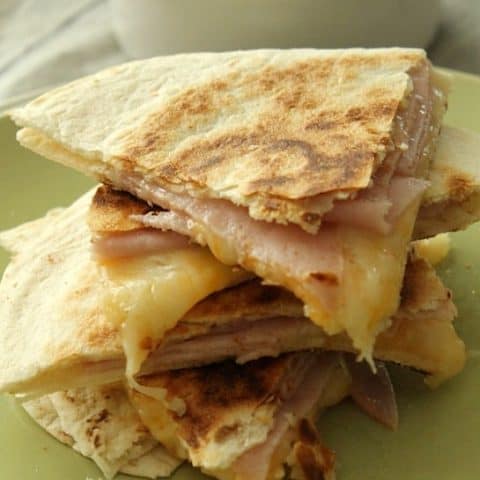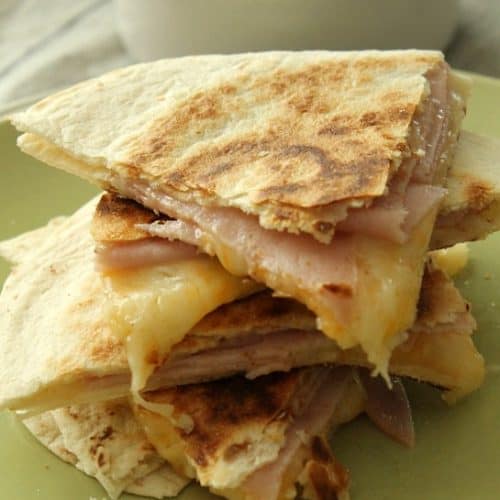 Ham and Cheese Quesadillas
Ingredients
2- 9 inch round tortillas
2 slices of deli style ham
1/4 cup shredded mexican cheese
Instructions
Using a medium size pan, lay one tortilla in the pan.
Place the slices of ham on top.
Sprinkle with cheese.
Add another tortilla on top.
Allow to cook on medium heat for about 3 minutes or until the bottom starts to get golden brown.
Flip and cook for another 2 minutes or until the bottom is golden brown and cheese is melted on the inside.
Remove from pan, cut and ENJOY!
Blogger Disclosure:  Posts may include links to my affiliate account at Amazon.com, and The Bitter Side of Sweet earns a few cents on the dollar if readers purchase the items I recommend, so thanks for supporting my blog when you shop at Amazon!
NEED MORE AFTERNOON SNACKS OR QUICK LUNCH IDEAS? HERE YOU GO!
Pepperoni, Ham and Cheese Pizza Sandwhiches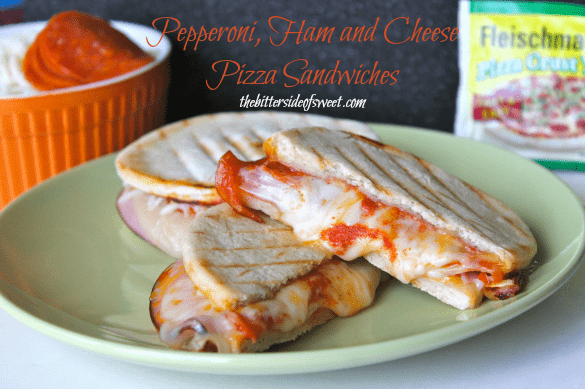 Easy Homemade Apple Sauce