Summer has come and to be honest with you I am not trying to cook a whole lot. One of our go to salads any time of the year really is this Tuna Potato Veggie Salad!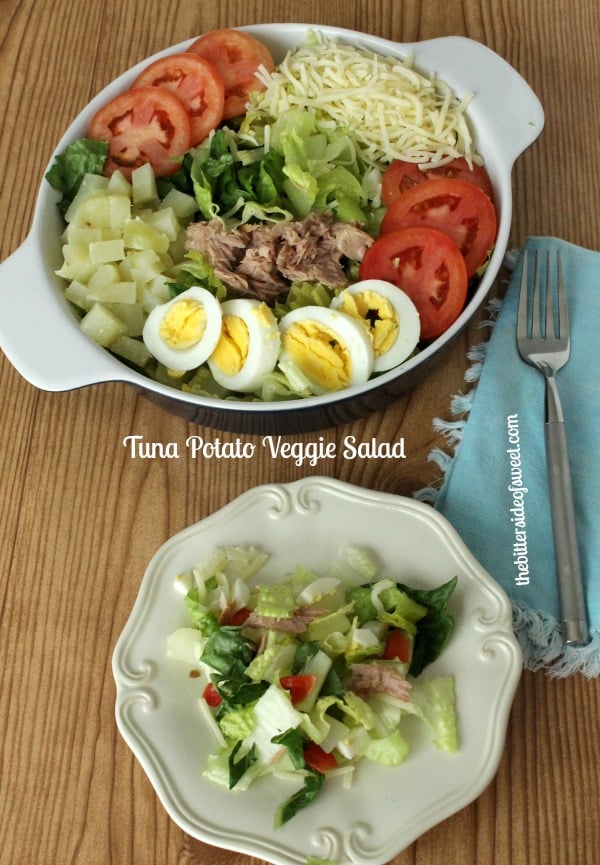 I know, I know I can hear the sounds of "no way" right now but really guys stay with me. So after my husband and I got married I was working full time so he would do more of the cooking in the house. One day he decided we were going to have a salad. And THIS is what he made.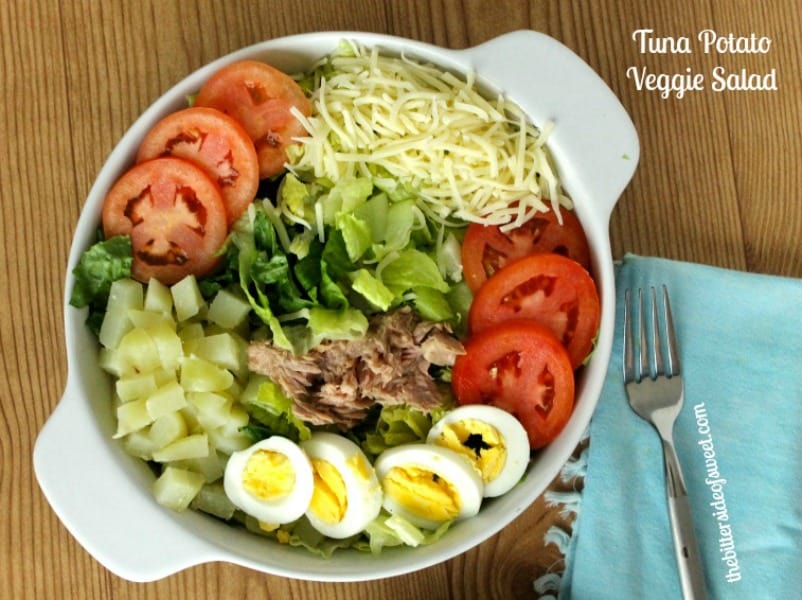 At first I thought, I am not eating THAT. And then I took a big bite and it has become one of my favorite salads to eat. I really thought putting potato in a fresh salad was a crazy idea but hey we eat potato salad all of the time. Then I was thinking putting tuna in a fresh salad was a crazy idea but hey we eat tuna salad all of the time as well, so why not!
What we do is we add the salad to our bowl then add the tuna, tomatoes, potatoes, egg and cheese, also sometimes zucchini and lightly toss because the toppings will want to collect in the bottom of your bowl.
We always use olive oil and balsamic vinegar to dress the salad with a little salt. If you want to try some other salad dressing, let me know how it turns out, we just do not normally buy a lot of dressing so I would not have any knowledge of how it would taste. ENJOY!
Want to connect more with TheBitterSideofSweet? Follow at:
Facebook | Bloglovin | Pinterest | Instagram | Google+ | Twitter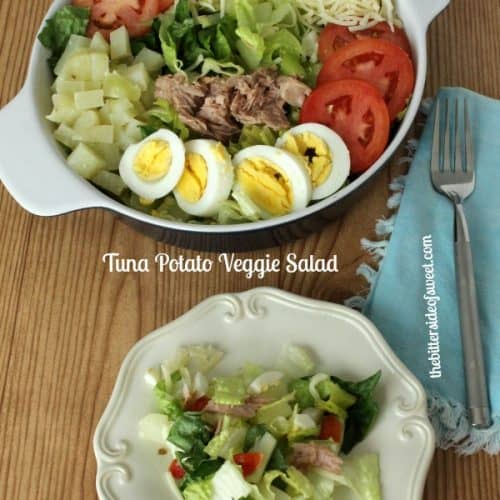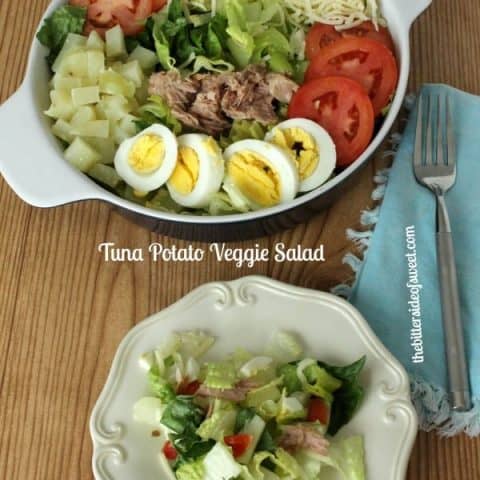 Tuna Potato Veggie Salad
Fresh salad mix with lots of protein and garden vegetables!
Ingredients
2 romaine hearts, cleaned and chopped
3 hard boiled eggs, diced
2 medium potatoes, boiled and diced.
2 roma tomatoes, chopped
1 5 oz can tuna in oil, drained
1/2 cup shredded monetary jack cheese
1/2 cup fresh zucchini, chopped (not pictured)
Instructions
In a medium pot full of water boil eggs for 10 minutes. Drain and set aside to cool. Peel and dice. Set aside.
In another medium pot full of water (or the same one!) boil 2 medium potatoes for 15 minutes. Drain, cool for 10 minutes and peel the skin. Dice into pieces. Set aside.
In a large bowl add salad. On top add egg, potatoes, tomatoes, tuna, cheese and zucchini.
Toss, serve with your favorite dressing, though I recommend olive oil and balsamic vinegar. ENJOY!
Notes
To cut the time down on making this salad I actually boil my eggs and potatoes together and just take the eggs out after 10 minutes and continue to boil the potatoes for five more minutes.