You can have the taste of store bought pizza right in your own home with this Stuffed Crust Sausage Pizza! Filled with lots of cheesy goodness!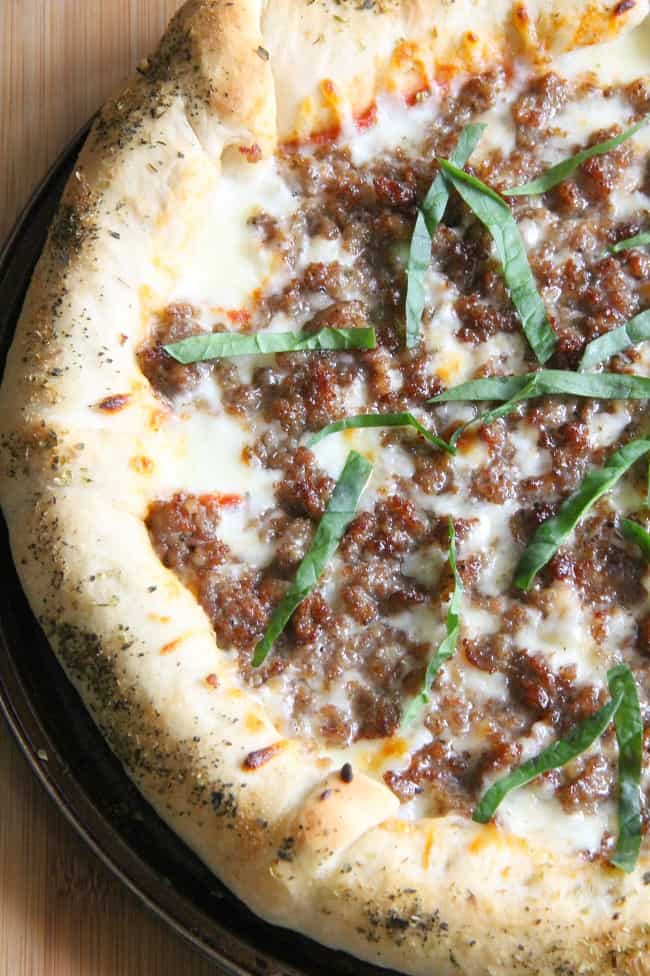 Click here to save this recipe on Pinterest!
Apparently there is a National Pizza Month that I forgot about! Pizza is my all time food! Pizza is life, ok? 🙂
I am super excited to introduce you to my latest pizza creation, this Stuffed Crust Sausage Pizza!
We have been playing around with stuffed crust of the last few weeks. I wanted to test it out before I gave you the recipe!
It's been hard work testing out all of that pizza but someones has to do it! Hahah!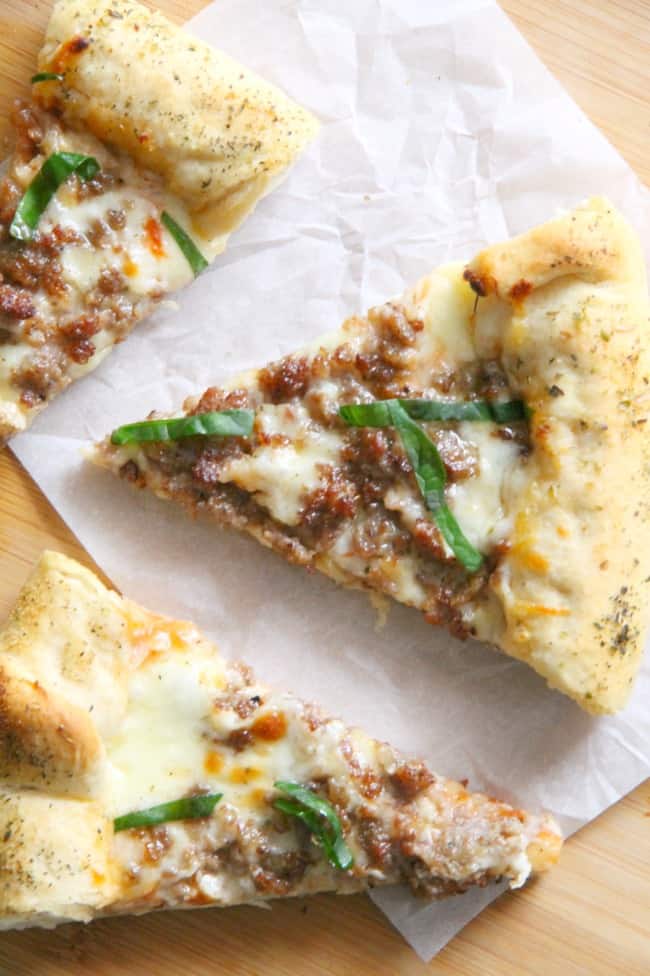 PIZZA VARITATIONS:
As you know I love my pizza. So I have several on my blog to give you lots of options!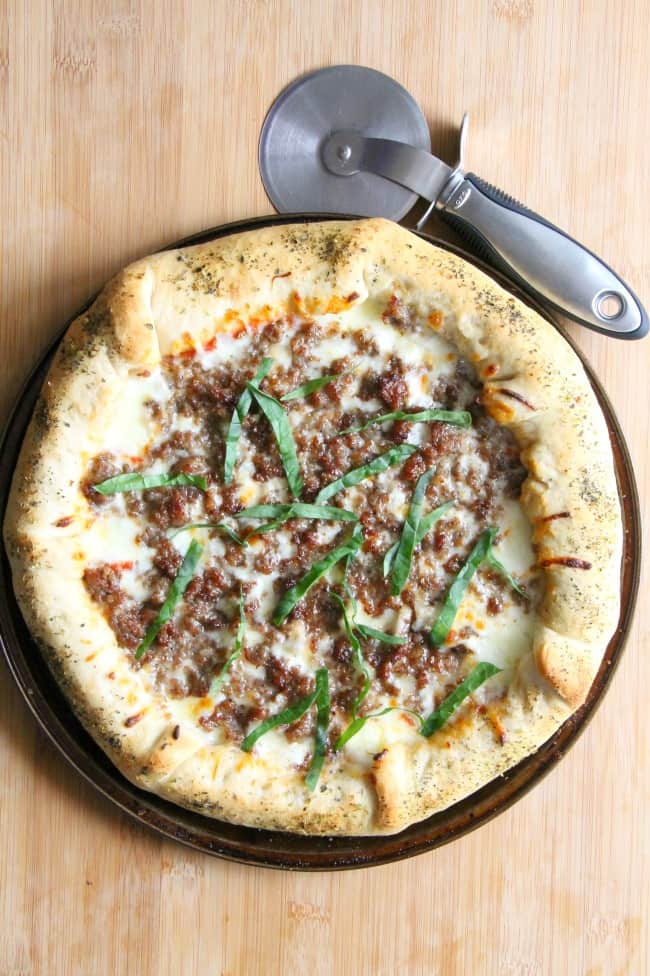 To celebrate national pizza month a few bloggers and I are getting together to share with you our favorite pizza recipes! Don't forget to scroll down and enjoy all the pizza!
If your on Facebook come check out this fun little group I've got going on. Instagram is a fun resource I'm using right now. If you make an recipes make sure to tag them #bittersideofsweetrecipes so I can see your creations!
Want to connect more with The Bitter Side of Sweet? Follow at:
Facebook | Pinterest | Instagram | Twitter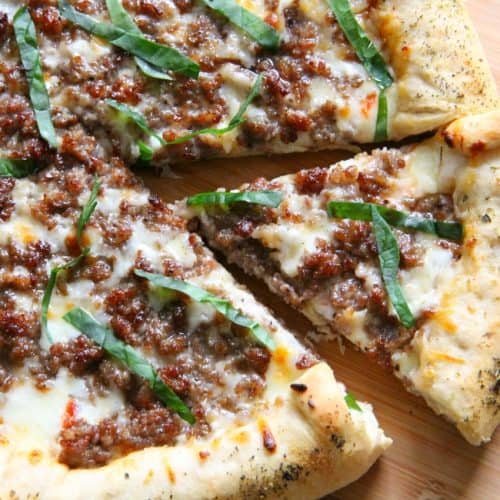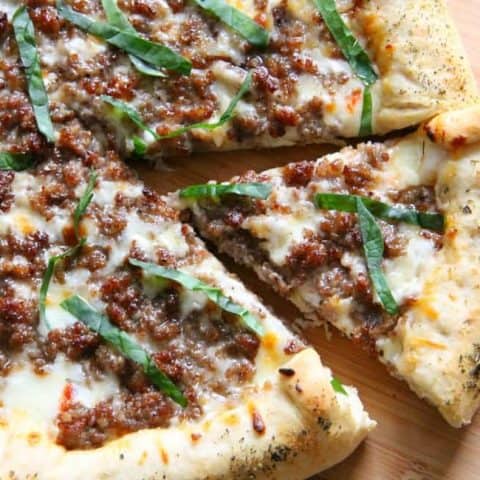 Stuffed Crust Sausage Pizza
Ingredients
1 1/4 oz. packet quick rise yeast
3 to 3 1/2 cups flour
1 1/4 cup warm water
4 ounces pork sausage
6 string cheese sticks
1/3 cup tomato sauce
1 1/2 tsp garlic powder
1 1/2 tsp dried basil
1 1/2 tsp dried oregano
1/2 cup mozzarella cheese
Instructions
Preheat oven to 450℉. Spray pizza pan with non stick cooking spray.
In large mixing bowl add 2 cups flour and yeast. Whisk together.
Using dough hook and mixer on low, slowly add water until combined.
Slowly add 1/2 cup flour at a time till dough forms. Knead by hand for 1 minute. Add more flour if dough is sticky. Set aside.
In pan cook sausage on medium heat until throughly cooked. Drain, set aside.
Roll dough out on a lightly flour surface to form a circle. Place on pizza pan allowing the edges to extend over edge by one inch.
Place cheese sticks around the inside edge of the pizza. Fold outside edges over the string cheese. Pinch dough firmly to seal.
Spread tomato sauce in the center of the pizza. Sprinkle with 1 tsp garlic powder, basil and oregano. Top with mozzarella. Top with sausage.
Brush edges of pizza with olive oil. Sprinkle edges with 1/2 tsp garlic, basil and oregano.
Bake for 12-15 minutes or until golden brown and cheese is melted.
Cut, serve warm and ENJOY!
NATIONAL PIZZA MONTH RECIPES: