You know those speckled eggs you see all over the place around this time? They are pretty fabulous in cookies! Malt Ball White Chocolate Chip Cookies is what I made with them!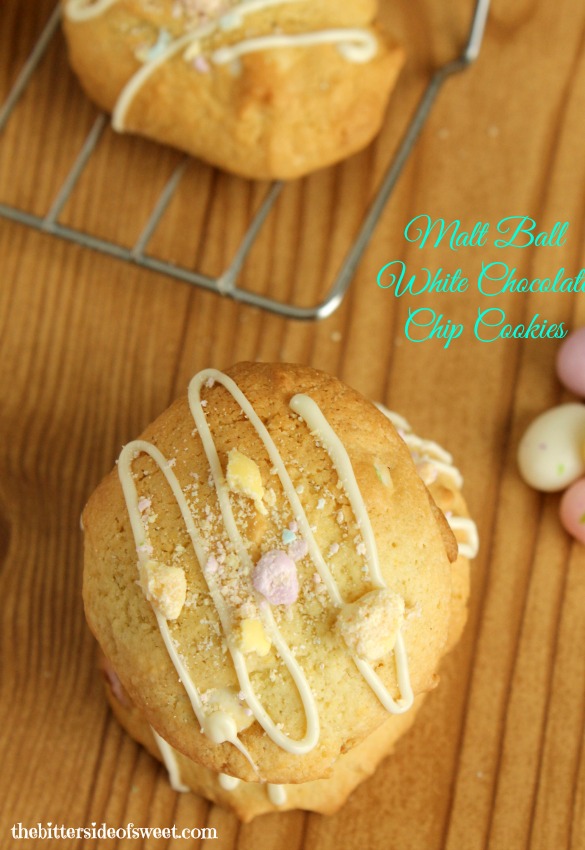 A while ago I made some white chocolate chip cookies and sent them to my son in college. He said it was his favorite, so I was happy to oblige. As I made them I thought they would be a good base to throw some other things into. Sorry if I start parading cookies around here. They are my weakness, which is probably why I bake them and give them away!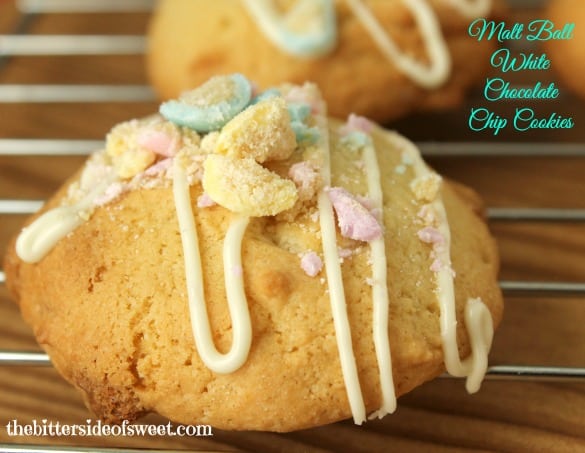 That is exactly what I did with these cookies this last weekend. I headed to my Mom's for a quick visit and I brought cookies along with me. I wanted to do something festive so I added chopped mini speckled eggs to them. I have always been a malt ball fan but I wasn't sure how everyone else felt. Much to my surprise and delight they cookies were a huge success! I was thrilled beyond words!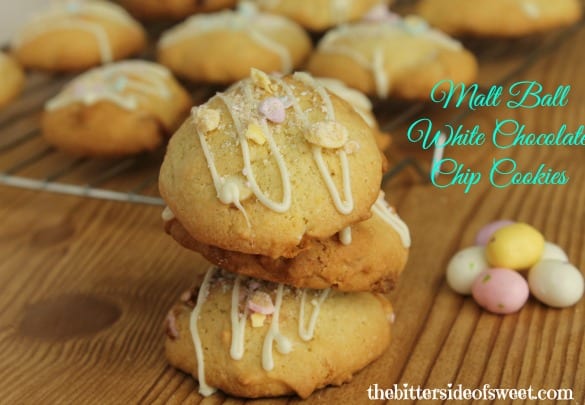 This recipe is super simple and the one I always go back to when I make cookies. This time I didn't have any brown sugar, shocking I know, so I just made them with only white sugar and they still came out great! They come together pretty quickly as well too so within 30 minutes you can have warm yummy cookies! ENJOY!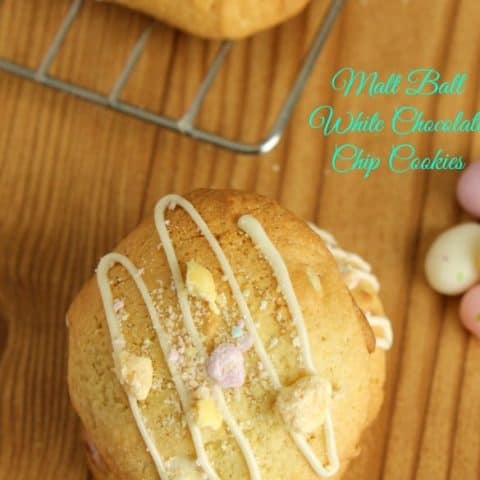 Malt Ball White Chocolate Chip Cookies
basic cookie dough recipe flavored with white chocolate and malt balls
Ingredients
7 tablespoons unsalted butter
2/3 cup white sugar
½ teaspoon vanilla
1 egg
1½ cups all purpose flour
½ teaspoon baking soda
½ teaspoon salt
2 ounces Mighty Malts Mini Speckled Malted Milk Eggs or any kind of malt ball, chopped
1/2 white chocolate chips
Instructions
Preheat oven to 375 degrees. Prepare 2 cookie sheets with silpat or parchment paper.
In mixer add butter, brown sugar, white sugar and vanilla. Mix till creamy.
Add egg and mix till creamy.
In separate bowl combine flour, baking soda and salt.
Add flour mixture to mixing bowl and continue to mix.
Stir in malt balls and white chocolate chips.
Using two tablespoons scoop out cookie dough and place on ungreased cookie sheets.
Bake for 9 minutes or until golden brown. Cool and ENJOY!