Collard Greens are a super simple side dish to any dinner you have planned. Cooked up with garlic and onion the flavor is out of this world!
Click here to save this recipe on Pinterest!
I can not even believe I am writing a post about collard greens!
A few years ago I never would of imagined that I would have ever eaten them.
I was not a fan as a kid or young adult. I have also found as I grow older I am more likely to try something that I don't remember trying or have always said I didn't like.
That is what happened with these. I was in Aldi a while back and they had this bag on sale for .99.
Now when you have family of 6 you are always looking for a bargain. So I jumped on them and brought them home. Then I thought, now what?
So I posted on Instagram a pic and asked around. I got a response from Amy at So There By Amy. She gave me a quick way to cook them up and now I. CAN. NOT. GET. ENOUGH.
They cook up really easy and quick. I actually made these while I had some cookies in the oven! More about those on Friday.
So if you are looking for something quick and easy and taste out of this world you should definitely give these a shot! ENJOY!
If you're on Facebook come check out this fun little group I've got going on. Instagram is a fun resource I'm using right now. If you make an recipes make sure to tag them #bittersideofsweetrecipes so I can see your creations!
Want to connect more with The Bitter Side of Sweet? Follow at:
Facebook | Pinterest | Instagram | Twitter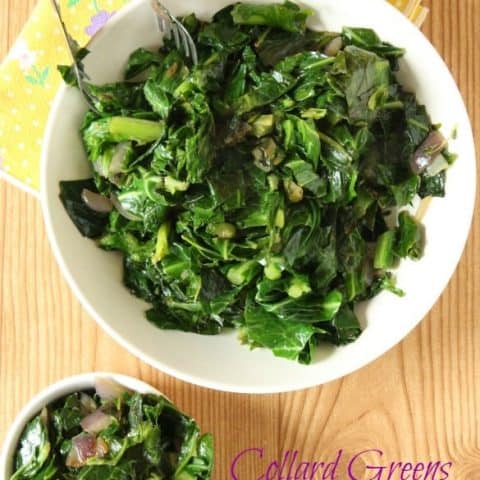 Collard Greens
Quick and easy side dish that complements any meal!
Ingredients
1 16 oz bag collard greens
1 medium size red onion, roughly chopped
1 teaspoon salt
1 teaspoon garlic powder
2 tablespoons extra virgin olive oil
Instructions
Prepare collard greens by chopping them up.
In a large saute pan add onions, 1 tablespoon oil and salt.
Turn heat on medium and add half of your greens.
Cook for a few minutes, stirring often.
Then add the remaining half of greens, 1 tablespoon oil and garlic powder.
Continue to cook for 10 minutes or until greens are soft. ENJOY!