Did you ever think you could put frozen cookie dough into cupcake batter and get a great tasting cupcake? Well look no further because these Chocolate Chip Cookie Dough Cupcakes does that for you!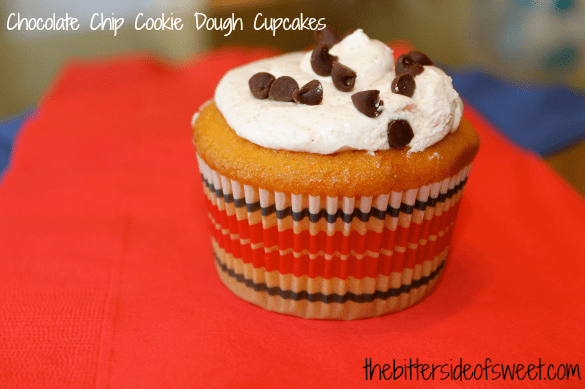 First let me tell you. This is not my recipe. I did not invent this. I just adapted it very slightly to fit my needs and time constraints. You must go look at the website I found this on! Amanda's cupcakes are just beautiful and makes you want to eat them right off the screen!! She also has step by step instructions if you are a visual person like me and need to see it!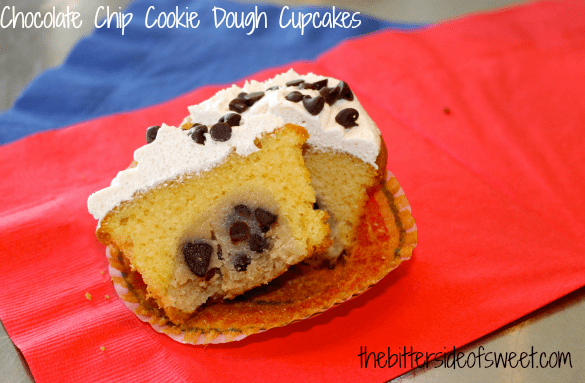 Ok so what I will tell you is that you must make these immediately! They are that good. Really! I am serious. Who likes to eat raw cookie dough? Most everybody who doesn't worry about getting sick from raw eggs. What is so great about this cookie dough is that this is eggless! Woot! Woot! Now are you going to believe me that you must make these immediately?
Also I took a short cut and used boxed cake mix. I know that means these are not 100% homemade but it makes the process in getting these cupcakes done fast. ENJOY!!!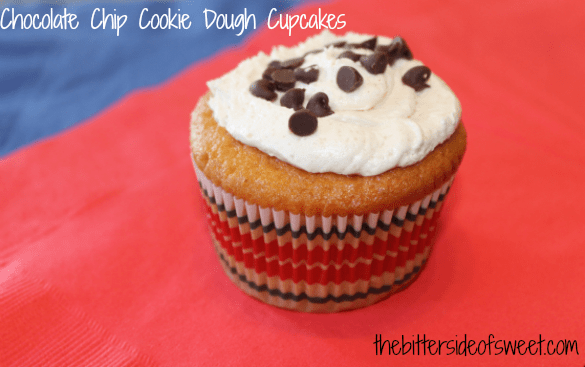 Want to connect more with TheBitterSideofSweet? Follow at:
Facebook | Bloglovin | Pinterest | Instagram | Google+
Chocolate Chip Cookie Dough Cupcakes
Vanilla cupcake stuffed with cookie dough topped with brown sugar icing that has you coming back for seconds!
Ingredients
FOR THE COOKIE DOUGH:
1 1/2 sticks butter, room temperature
3/4 cup sugar
3/4 cup brown sugar, packed
4 tablespoons milk
2 1/2 cups flour
1/4 teaspoon salt
1 cup mini chocolate chips
FOR THE CUPCAKES:
1 yellow cake mix, I used Duncan Hines
1 cup water
1/3 cup extra virgin olive oil
3 large eggs
FOR THE ICING:
2 sticks butter, room temperature
3/4 cup light brown sugar, packed
3 1/2 cups powdered sugar
3 tablespoons milk
Instructions
FOR THE COOKIE DOUGH:
Prepare two cookies sheets lined with parchment paper.
In a large mixing bowl beat together the butter and sugars together.
Beat in milk till batter is smooth.
Combine flour and salt. Slowly add the flour mixture into the batter and beat till the mixture is incorporated well.
Stir in mini chocolate chips.
Using two large spoons (about the size of a tablespoon) scoop out some of the dough and roll into tubes.
Place on prepared cookie sheets and freeze overnight.
FOR THE CUPCAKES:
Prepare two 12 cup muffin tins with cupcake liners.
Preheat oven to 350.
In large mixing bowl combine cake mix, eggs, oil and water till you have a smooth batter.
Fill cupcake liners 2/3 of the way full.
Then add one frozen cookie dough tube to each cupcakes by pushing it down into the center of the batter.
Bake for 18-22 minutes.
Do not insert the toothpick in the middle because of the cookie dough.
Set aside and cool.
FOR THE ICING:
In a large mixing bowl, beat the butter and brown sugar together till smooth.
Slowly add the powdered sugar till the mixture is smooth.
Add in milk and mix till icing is creamy.
Pipe onto cooled cupcakes. Top with mini chocolate chips and ENJOY!!
Want more cupcakes? Here you go!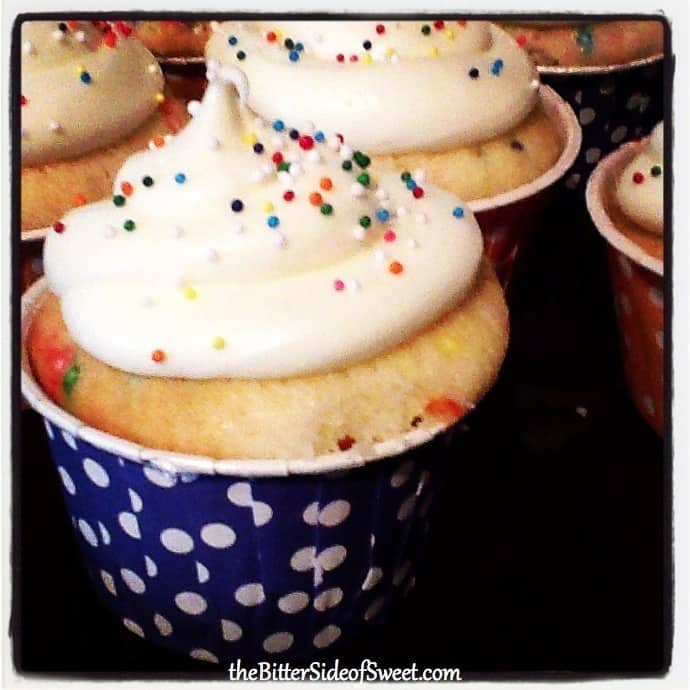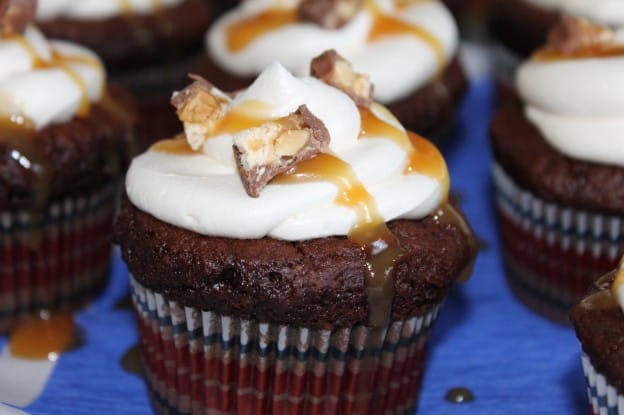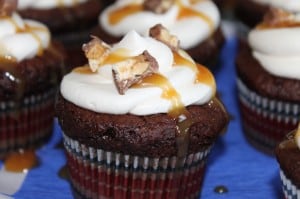 Cotton Candy Funfetti Cupcakes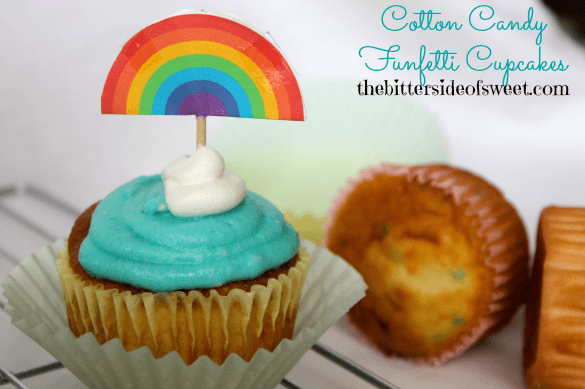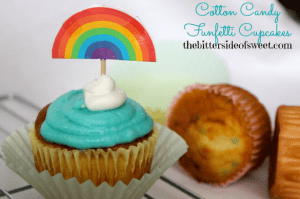 This recipe may be linked at these sites!