Baked in 15 minutes this Cheesy Sloppy Joe Braid is easy to make with just a few ingredients!
Happy Friday all! It's been awhile since I shared with you something easy to cook for dinner! I actually felt a little inspired by one of my friends back in NC. Let me explain.
I am a semi stay at home mom. What I mean by that is up until January I was a stay at home mom, so getting dinner on the table was never a problem. Now I work a few hours a day at my kids school. It's not a lot but I feel the hours that I am away from the house. And although I am home when the kids get there and I still have plenty of time to get dinner on the table, I still feel rushed.
Then one of my friends made a comment on her FB page about having to eat out because of all of their after school commitments and a full day of work. This got me to thinking about the gift of time. What if I could make meals for busy working moms and dads who could do simple steps of prepping on the weekend and can have a quick, easy, flavorful, home cooked meal during the week.
This was my first attempt, Cheesy Sloppy Joe Braid. The part that can be prepared on the weekend is the meat. Simply cook it up, add your favorite sloppy joe sauce to it and put in the the freezer or refrigerator (this depends on which day of the week you will eat this.)
Then on the day you want to make it pull it out and follow the rest of the steps. Seriously this cooks in 15 minutes, serve it along side a salad and you have dinner! ENJOY!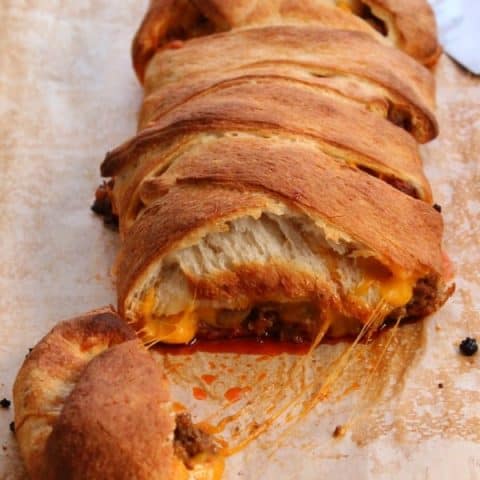 Cheesy Sloppy Joe Braid
Ingredients
1 pound lean ground beef
1 cup diced onion
9 oz sloppy joe mix, I used McCormick Sweet & Smoky Sloppy Joe Skillet Sauce
1 can, 11 oz refrigerated thin pizza crust
2 cups cheese
Instructions
Preheat oven 415 degrees.
In large pan cook beef and onion. Drain off fat.
Add sloppy joe mix and cook for 3 minutes. Set aside.
Line baking sheet with parchment paper.
Roll out pizza crust.
Cut 7 slits on each long side of crust.
Place 1 cup cheese on crust down the center.
Add meat on top of cheese.
Place remaining cheese on top.
Fold over slits like a braid.
Place on baking sheet and bake for 15 minutes.
Serve and ENJOY!
Recipe adapted from Tasty Kitchen.