This Butter Rosemary Roasted Turkey will surely impress your guest! Cooked to perfection, this is moist buttery turkey with lots of flavor!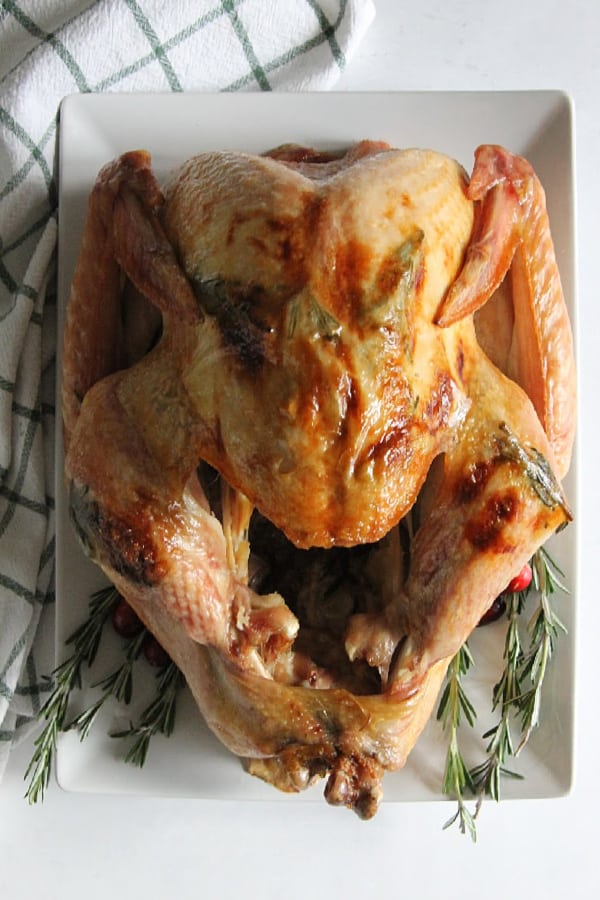 So for the next installment of helping you get ready for the holidays I decided to make a turkey for you! Little do you know that I made this like four years ago and never posted it.
Now I updated a little on how I cook it, took new photos and we are on our way to the perfect turkey!
Click here to save this recipe on Pinterest!
Funny story, I used to stay up all night basting my turkey. Why? Well because I remembered seeing my parents to it and I thought you had to.
Let me tell you that you in fact do not need to do this! I bought a 12 pound turkey that was done in under three hours!
Please remember I have a gas oven so my baking times are a little faster than most but a general rule of thumb is for every pound of turkey you need 15 minutes to cook it. So 12 pounds typically takes 3 hours.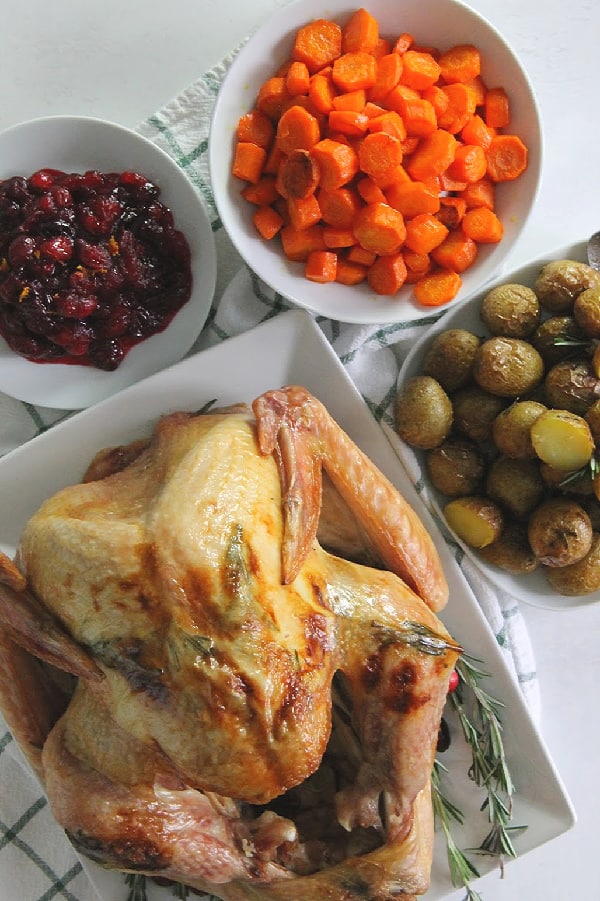 HOW TO MAKE BUTTER ROASTED ROSEMARY TURKEY!
How to get the turkey ready?
Don't forget to thaw your turkey out ahead of time. There have been one or two times where I didn't have my turkey thawed out good enough before the big day and I was scrambling at the end!
It's important to remember that you need lots of butter. This is how I flavor my turkey so if you are not okay with that you might need to find a different turkey recipe. The butter needs to be super soft. I left mine at room temperature for about three days before I used it.
For the rosemary, I used organic fresh rosemary. Not sure if it has to be organic but can I just tell you that this particular rosemary was so fresh and vibrant in flavor that I may never buy anything else again!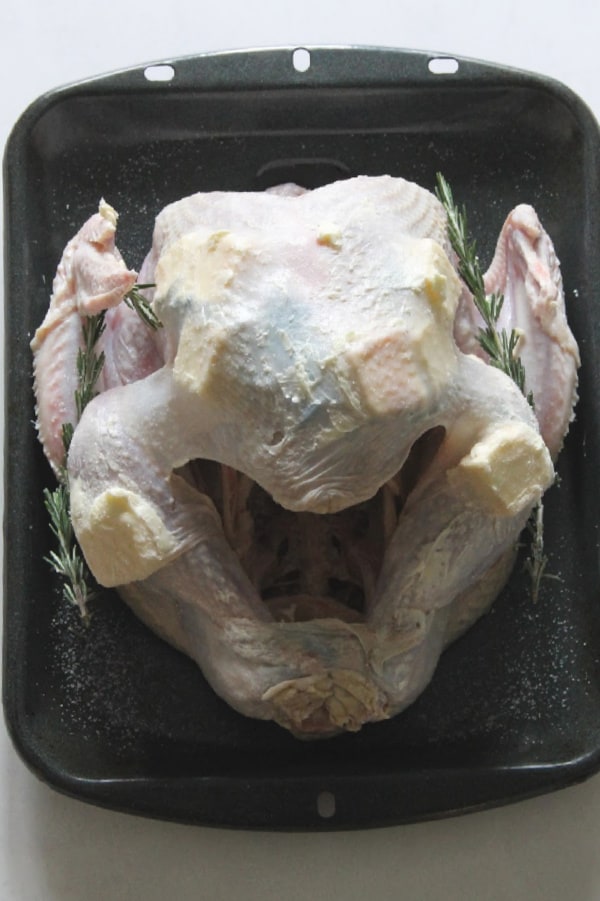 More ways to prepare your turkey?
The one thing I wish I had done with this turkey was to truss is. What does it mean to truss a turkey. Basically you are using kitchen twine to tie it up so your legs and wings stay nice and close to the bird. Here is a great article on how to do it!
Also to get a more golden brown texture on the skin of the turkey. Place it under a broiler for 2-5 minutes or until nice and golden brown!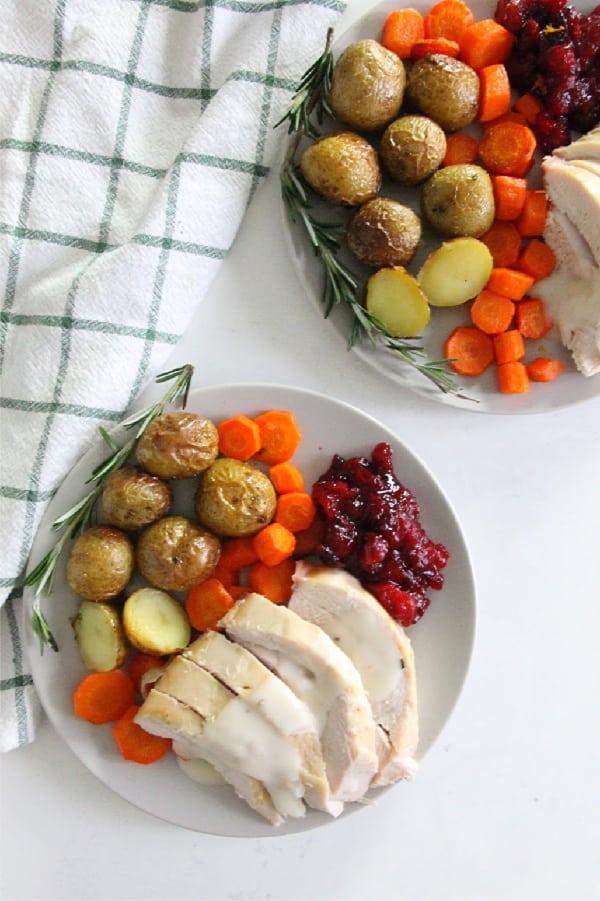 What kind of side dishes to serve?
There is a lot of debate on what sides to serve because we all tend to make what our mothers did. I have big ideas every year to do something different but my kids always want the classics. Nothing wrong with traditional but sometimes throw something a little different in there from time to time, they will love it!
Orange Cranberry Sauce is a must for us as are these spicy roasted rosemary potatoes, instant pot carrots and sea foam salad! A year can't go by without sea foam salad being made at some point!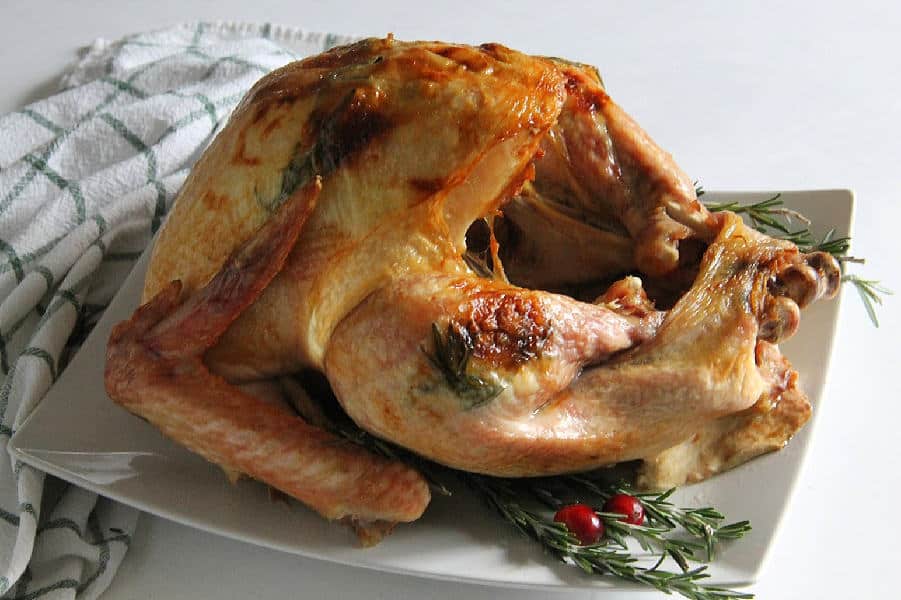 Want to follow along?
If you're on Facebook come check out this fun little group I've got going on. Instagram is a fun resource I'm using right now. If you make any recipes make sure to tag them #bittersideofsweetrecipes so I can see your creations!
Want to connect more with The Bitter Side of Sweet? Follow at:
Facebook | Pinterest | Instagram | Twitter
Disclosure:
**There may be affiliate links in this post! By clicking on them, or purchasing recommended items I may receive a small compensation. However, I only recommend products that I love! Thank you for supporting The Bitter Side of Sweet! See my disclosure policy for more info**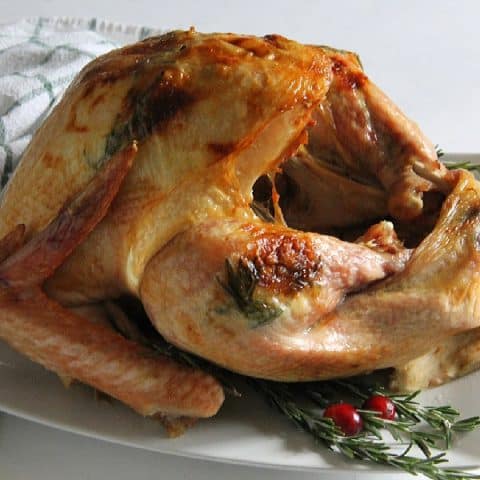 Butter Rosemary Roasted Turkey
Total Time:
3 hours
15 minutes
Buttery, rosemary turkey roasted to perfection every time! Perfect for your holiday meal!
Ingredients
12 pound turkey, thawed
8 tablespoons unsalted butter, cold
4 stalks rosemary, fresh and cut in half
4 tablespoons unsalted butter, softened
2 stalks rosemary, fresh
salt
Instructions
Preheat oven to 325° F. Allow turkey to sit out of refrigerator for 30 minutes.
Pat turkey dry. Place turkey in roasting pan, breast side up.
Starting with 1 tablespoon cold butter and 1/2 sprig rosemary, carefully pull the skin away from breast and put butter and rosemary under skin. Careful not to tear skin.
Repeat until you have 3 tablespoons butter and rosemary on each side of the breast.
Place 1 tablespoon butter and 1/2 sprig rosemary under the skin in each leg.
Rub the outside of the skin carefully with softened butter.
Sprinkle generously with salt.
Place 1 sprig of rosemary in between wing and body of turkey.
Roast turkey for 1 1/2 hours. Pull out and cover with foil.
Roast turkey for 1 hour. Check temperature. Continue to cook until it reaches 165 degrees.
Allow to rest for 20 minutes before carving.
Serve and ENJOY!
Notes
Please follow the directions of your turkey for thawing instructions.
If
Recommended Products
As an Amazon Associate and member of other affiliate programs, I earn from qualifying purchases.
Nutrition Information:
Yield:

12
Serving Size:

1
Amount Per Serving:
Calories:

960
Total Fat:

45g
Saturated Fat:

17g
Trans Fat:

0g
Unsaturated Fat:

25g
Cholesterol:

525mg
Sodium:

517mg
Carbohydrates:

0g
Fiber:

0g
Sugar:

0g
Protein:

130g
*Nutrition facts are an estimate and not guaranteed to be accurate. Please see a registered dietitian for special diet advice*
Are there any good leftover turkey recipes?
You might be wondering what to do with all of that leftover turkey. Well I have found a handful of recipes for you to use!
First of all I have these Leftover Turkey Puff Pastry Pot Pies that you must make! Super easy and you can even use your leftover vegetables!
Creamy Leftover Turkey Wild Rice Soup is calling my name! Here in Minnesota because it is cold for a good five months I make lots of soups!
Easy Leftover Turkey Casserole! Basically throw it all on there and you have another perfect meal!
Turkey Tetrazzini. I have actually never had tetrazzini but I think it is always a good idea to throw your leftovers in a pasta sauce!
Leftover Turkey Chili! This screams comfort food!