Cute Pink Chocolate Chip Cookies that are a perfect Valentine's Day Treat!
So apparently there is a blizzard going on! What happens if you are stuck at home for days and days with the kiddos or the family? Bake cookies! It's something that you can make fairly easily and the kids can help.
Mine love adding in the ingredients such as the flour, sugar and of course the chocolate chips!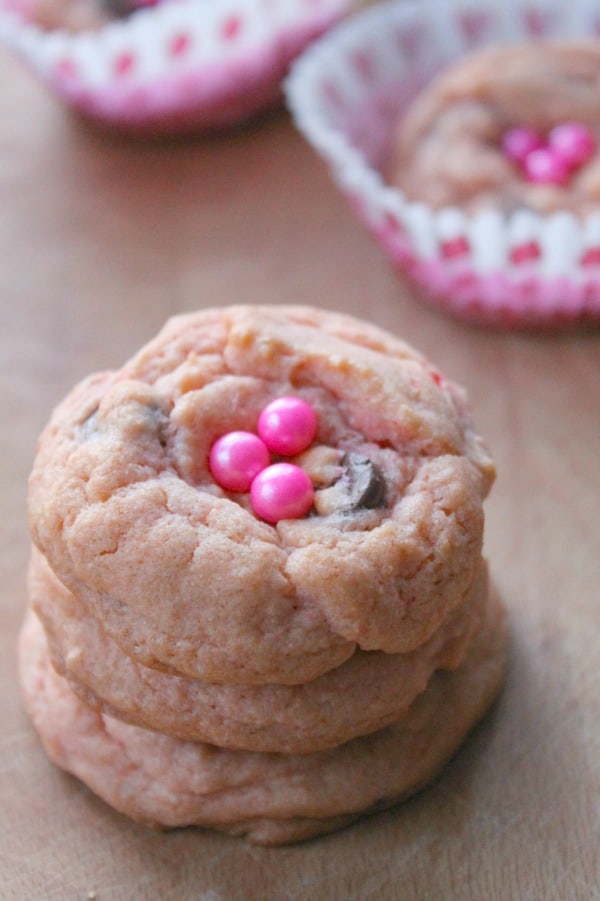 While some of America is covered in snow I have been spending some time at the kids school. In fact I am working there now! The lunchroom needed some help and it is just a few hours a day so I signed up.
I really love seeing the kids for a few minutes during the day. I like the fact that it is at lunch because it is more of a low key type environment. I have always felt like if I was in the classroom I would be more of a disruption to my kids then a help. So being in the background totally works for me!
Now my 1st grader loves to see me and she gives me hugs when she comes into the lunchroom and when she leaves. My 8th grader is a little different. I think she likes seeing me but how many 13 year olds are going to "act" like they want to see their parents. Not many that I know. She always leave the house in the morning and says "see you at lunch!" So I know she likes to see me and that makes me happy!
Either way it is something they can remember when they grow up and have kids of their own. They will have that memory about having their mom around their school and those are the type of lasting memories I want to create.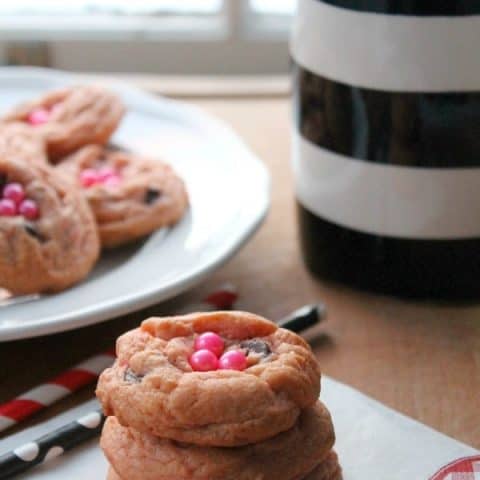 Pink Chocolate Chip Cookies
Ingredients
7 tablespoons unsalted butter, I used Kerrygold
⅓ cup brown sugar
⅓ cup white sugar
2 eggs
½ teaspoon vanilla extract
2 1/4 cups all purpose flour
½ teaspoon baking soda
½ teaspoon salt
4 drops red food coloring
1/2 cup chocolate chips
Pink edible pearls, optional
Instructions
Preheat oven to 375 degrees. Cover two cookie sheet pans with silpat or parchment paper.
In mixer add butter, brown sugar, and white sugar. Mix till creamy.
Add eggs and mix till creamy. Add extract and continue to mix.
In separate bowl combine flour, baking soda and salt.
Add flour mixture to mixing bowl and continue to mix.
Mix in food coloring.
Stir in chocolate chips.
Using a small cookie scoop or two tablespoons scoop out mixture and drop onto cookie sheets.
Bake for 9 to 11 minutes or until golden brown. Cool and ENJOY!
(if using the pearls take cookies out at 8 minutes, press 3 pears into the top of each cookie and continue to bake for 2 minutes.)
Want to connect more with TheBitterSideofSweet? Follow at:
Facebook | Bloglovin | Pinterest | Instagram | Google+ | Twitter
More cookies from around the web:
Flourless Triple Chocolate Chip Peanut Butter Cookies from Cupcakes and Kale Chips
Gingerbread Cookies that Don't Spread in the Oven from Baking A Moment
Palmier Cookies from Pint Sized Baker