It's that time of year where we start to see a little green everywhere. How about adding chocolate with these Chocolate Lucky Cookies!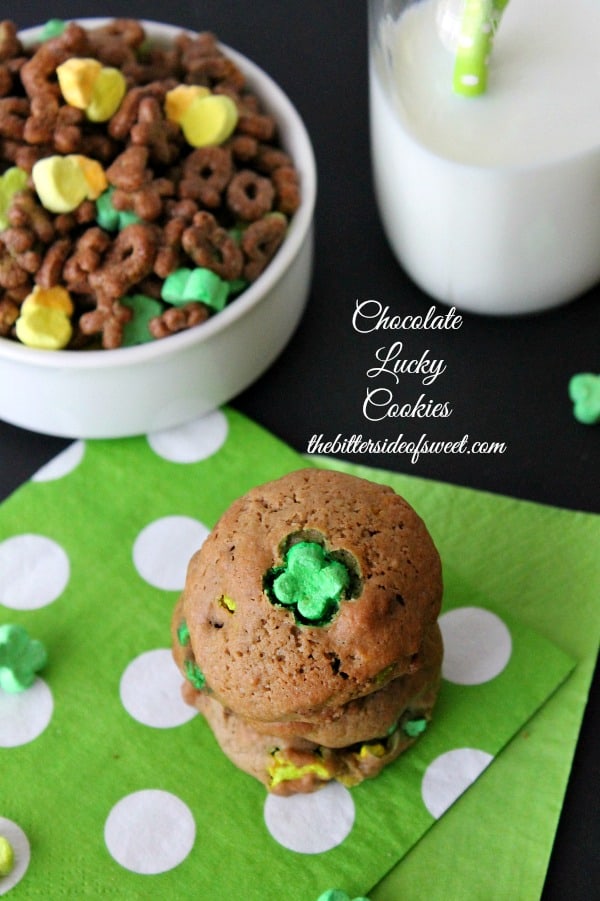 I have a really AWESOME giveaway for you so make sure you scroll to the bottom to enter! So about these cookies. How often do you walk through the store and something just screams at you? For me ALL. THE. TIME. Especially because I like to blog about food, so shopping trips are normally about getting ideas, looking for new items. Basically research!
Anyways last year I did this whole Luck of the Irish Week and made some not so traditions soda bread for St. Patrick's Day. During that week I shared with you some Lucky Sugar Cookies, remember?
As I was walking through a store I saw Chocolate Lucky Charms! Seriously did not know they made those. I also noticed that the marshmallows were clovers and pots of gold!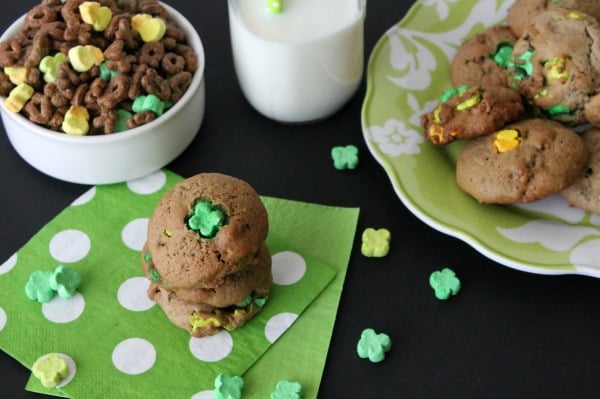 They box was screaming out my name and I even passed by it 4 times before I actually picked it up. I immediately thought that I could do cookies. But I had not really planned on making anything this year for St. Patrick's Day. I then thought they would go perfect with this giveaway!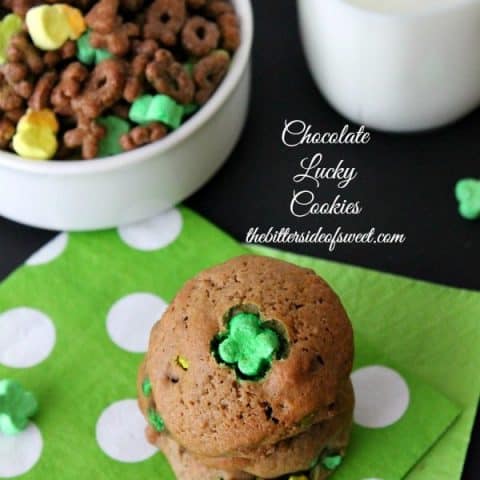 Chocolate Lucky Cookies (+ a giveaway)
Ingredients
7 tablespoons unsalted butter
⅓ cup brown sugar
⅓ cup white sugar
½ teaspoon vanilla extract
2 eggs
1½ cups all purpose flour
½ teaspoon baking soda
½ teaspoon salt
2 cups chocolate Lucky Charms Cereal
Instructions
Preheat oven to 375 degrees. Prepare two cookie sheet pans with silpat or parchment paper.
In mixer add butter, brown sugar, and white sugar. Mix till creamy.
Add eggs and mix till creamy. Add extract and continue to mix.
In separate bowl combine flour, baking soda and salt.
Add flour mixture to mixing bowl and continue to mix.
Stir in cereal.
Using a small cookie scoop or two tablespoons scoop out mixture and drop onto cookie sheets.
Bake for 9 to 11 minutes or until golden brown. Cool and ENJOY!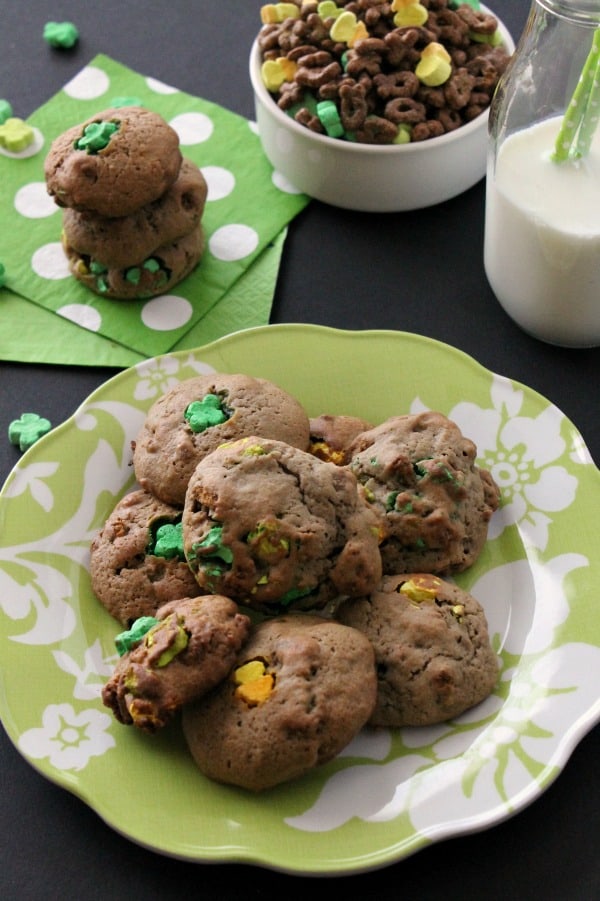 One Lucky Reader is about to get a whole bunch of cookbooks! Will it be enter? Enter to win!
This giveaway is open to U.S. residents only. All entries for the winner will be checked and verified, so please make sure you are doing what you are claiming in the Rafflecopter or all your entries will be voided. No funny business, folks. ;). By entering, you give the right to use your name and likeness. Number of entries received determines the odds of winning. One winner will be selected. The winner will be notified via the email they provide, and will have 48 hours to reply to the email. If the winner does not reply back within the 48 hours, they forfeit the prize and a new winner will be chosen via Rafflecopter. Each cookbook will be sent directly from each blogger hosting the giveaway. Entries must come from your MAIN social media accounts, not accounts that have been set up separately just for entering giveaways. Entries from these types of accounts will be disqualified. Bloggers in this group giveaway and their immediate family members in their household cannot enter or win the giveaway. No purchase necessary. Void where prohibited by law.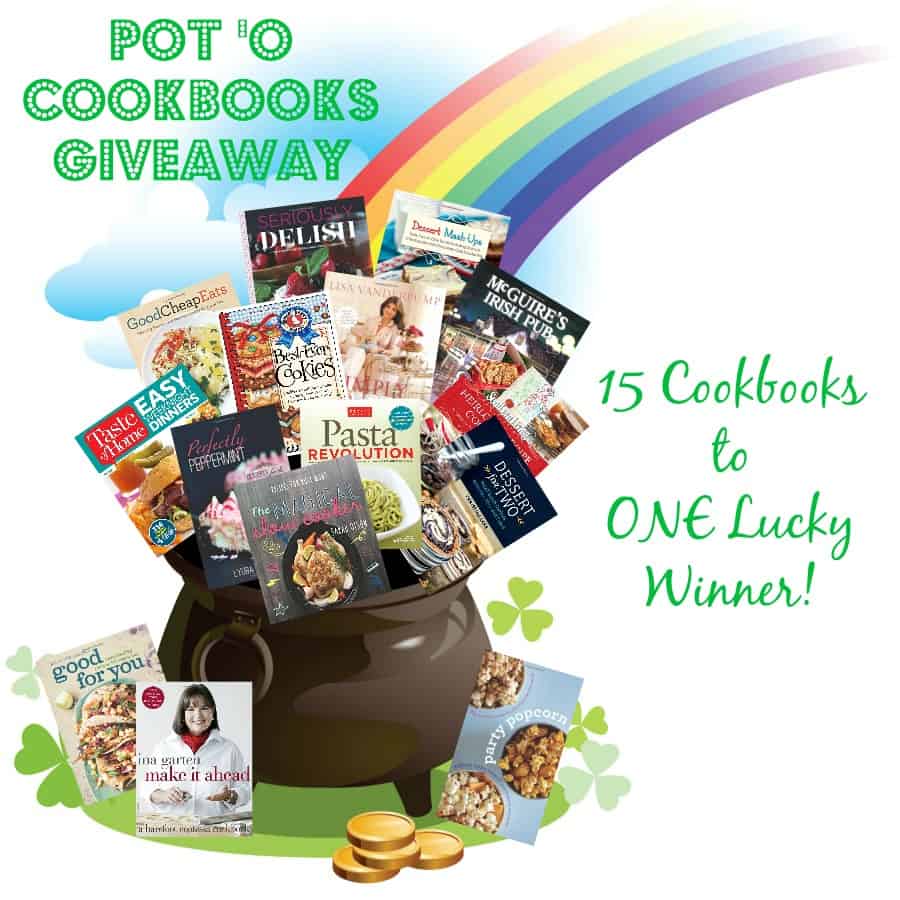 Here is a list of each book you could win and the blogger who is giving it away!