Good morning! Welcome to November! This month is the prequel to all of the holiday madness that is about to descend upon us. So how about we start this month off with a little giveaway. A Holiday Baking Giveway!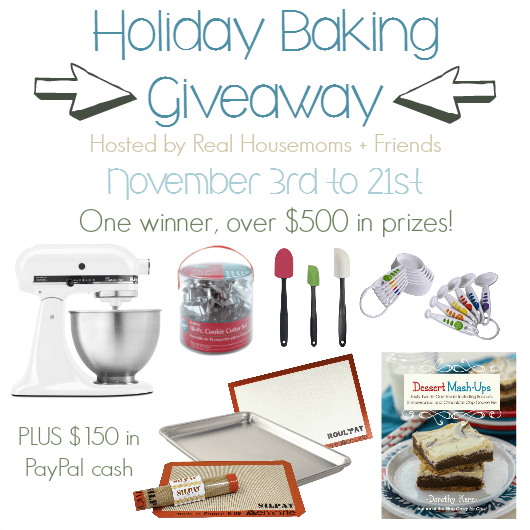 So I have told you lots of times here that I contribute over at Real Housemoms once a month. Well Aubrey and all of her contributors got together and decided to help you get into the holiday baking season mood! Seriously just looking at these prizes gets me in the mood. Dorothy from Crazy for Crust is joining us in this giveaway by adding her new book Dessert Mash-Ups to the pot! I want to win this prize! I have been drooling over that book since I first heard about it!
We also have a fall blog hop going on as well! We are giving you some ideas to get into the kitchen and start baking! And if you happen to win this prize you will have lots of ideas to get you started! ENJOY and GOOD LUCK to you all!
a Rafflecopter giveaway
Don't forget to click around and find some amazing recipes for you to enjoy!