Need a no nonsense type of cookie recipe? How about a 2 ingredient cookie? Well today is your lucky day because I've made Lucky Sugar Cookies!!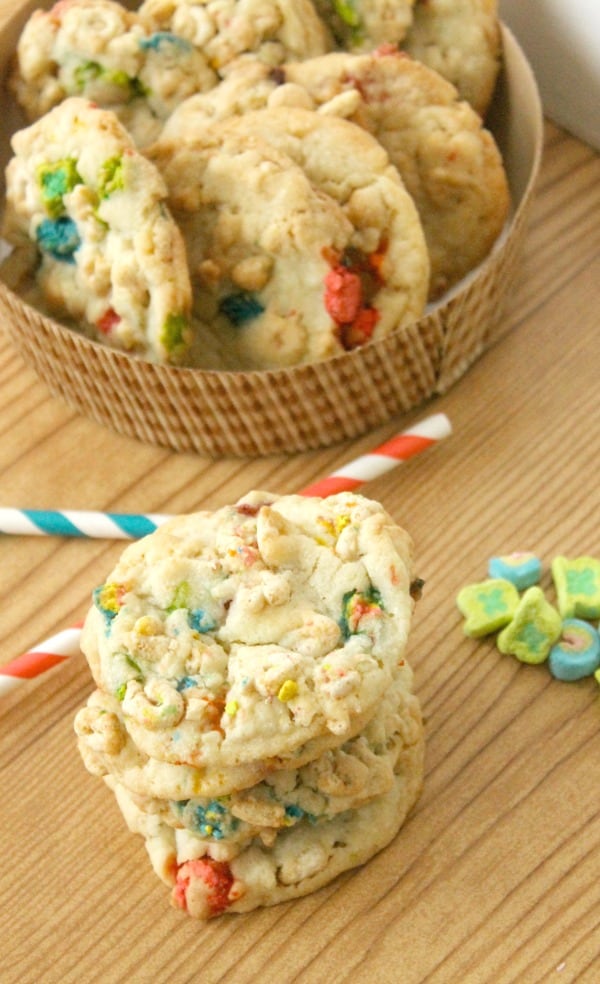 When we moved into our new house a year and a half ago my kids had a difficult time with it. So every Friday while they were in school I would do Rainbow Fridays. They would come home from school and have some sort of rainbow treat. Let me tell you, it was hard coming up with some kind of rainbow treat for 32 weeks! I used a LOT of food coloring. They are always asking me to bring back Rainbow Fridays. I'm thinking maybe I should, what do you think??
With these cookies I knew I did NOT want to use food coloring. Not because I am against it but just because I try to limit my use of it. I knew I wanted them to be colorful and bright! Rainbows make me feel happy so why not some sort of rainbow treat?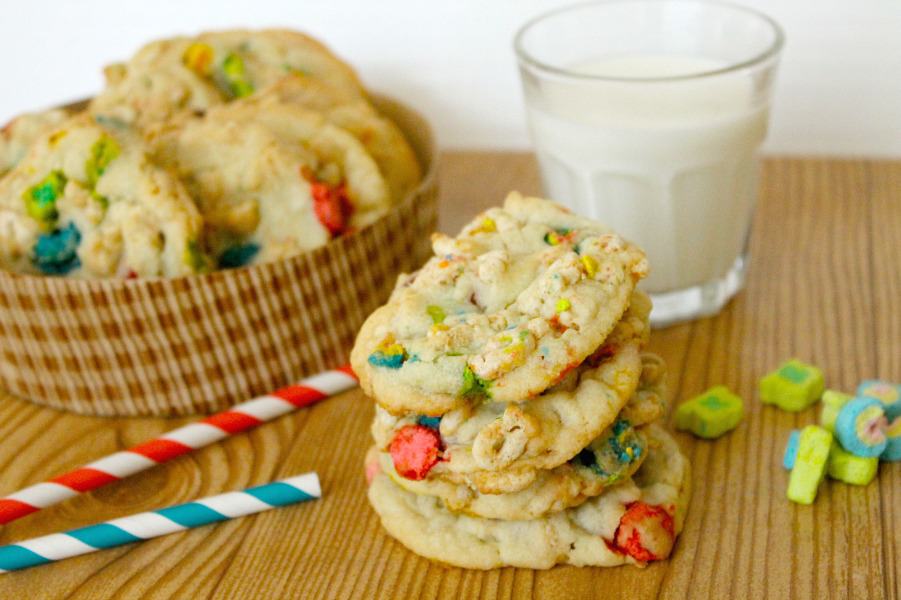 These cookies are super easy to make and they will add a little rainbow into your day! All you have to do is use premade sugar cookie dough and add cereal. Then bake and your are done! Take the fuss out of making cookies by trying these Lucky Sugar Cookies! ENJOY!
Want to connect more with TheBitterSideofSweet? Follow at:
Facebook  | Pinterest | Instagram | Twitter
Lucky Sugar Cookies (Luck of the Irish Week Day#2)
Prep time:
Cook time:
Total time:
2 ingredient sugar cookie recipe that will charm any guest!
Ingredients
1 16.5 oz sugar cookie roll, room temperature ( I used Pillsbury Sugar Cookie Dough)
2 cups lucky charm cereal
Instructions
Preheat over to 350 F. Prepare two cookie sheets with silpat or parchment paper.
Place in mixer, add 2 cups of cereal and mix till incorporated.
Form into balls and place onto cookie sheets.
Bake for 10-13 minutes or till brown.
Allow to cool for 3 minutes before removing from pan. ENJOY!

Don't forget! Today is Day 2 for #luckoftheirishweek! Make sure you click over to see what my blogging buddies are up to for today!
{{Four Leaf Clover}} Chicken Pesto Pizza from Clarks Condensed
Luck of the Irish from Organized Island
Shepherds Pie by From Gate to Plate
St. Patrick's Day Float from The Plaid & Paisley Kitchen
Sugar Free, Low Carb Mock Lime Cheesecake for St.Patrick's Day  from One Creative Mommy